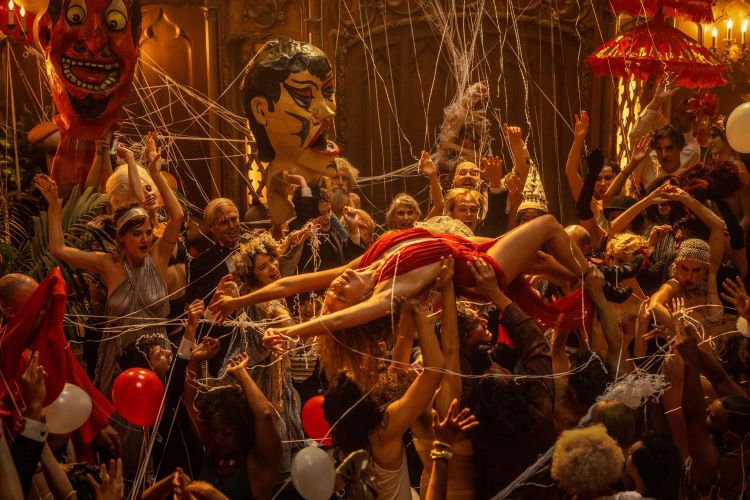 Damien Chazelle's Babylon romanticizes and vilifies Hollywood: ripping open the façade to reveal the ruthless pursuit of success, the excesses and decadence of those who succeed, and the flagrant absence of moral or ethical considerations, it also conveys the dedication, passion, relentless hard work and vision with a reverential glow. Watching the film is like riding a rollercoaster in a storm of images, lifted on the rhythms of Justin Hurwitz's compelling score.
Set in the mid-1920s, at the heart of the film are two young outsiders and a star. Nelly LaRoy (Margot Robbie) a Jersey girl who insists that she is "already a star" literally and figuratively crashing her way into an exclusive Hollywood party where she meets Manny Torres (Diego Calva), who longs to work on a movie set. A frenetic bacchanale of any and every indulgence imaginable, the party scene is reminiscent of an Hieronymus Bosch painting come to life – updated of course to include so many more than seven deadly sins. At the other end of Hollywood hierarchy is Jack Conrad (Brad Pitt), a silent film star who is the embodiment of the romantic illusion. He lives as one might imagine a movie star to live, shedding wives as casually as he sheds his clothes. Yet even when he is so drunk he can barely stand up, he can still pull it all together in an instant for a perfect take. Emerging unscathed through bitter divorces and flying errant spears, nothing can hurt him or his image, until the advent of sound. The party proves fateful in many ways, among them – Nelly gets her chance, and Jack spontaneously takes Manny on as an assistant. Throughout the film Chazelle constantly references Hollywood tropes, history, and myths – that is part of the film's appeal. None of these narrative trajectories are new or dramatically different, but they are all part of this densely textured cinematic collage, somewhere between pastiche and homage, with the intensity and volume about as high as it can go.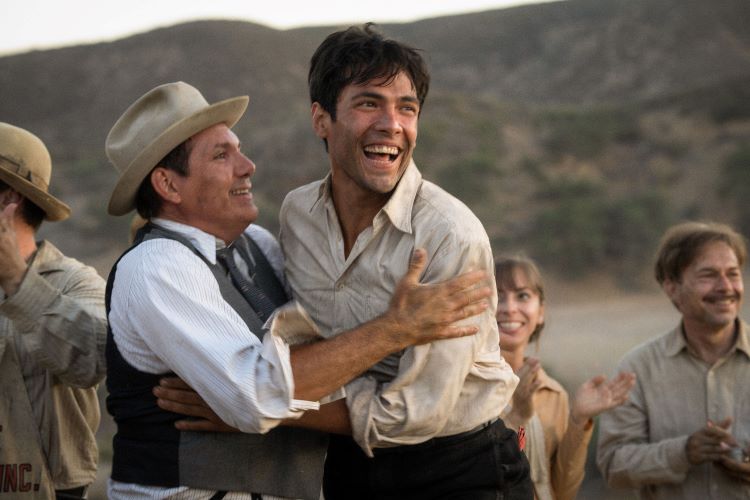 Diego Calva is a wonderful discovery, through Manny's eyes Hollywood does seem magical. Calva infuses Manny with an almost desperate resourcefulness, a willingness to do anything and everything for his two loves: film and Nelly. Margot Robbie's light can probably be seen from space, she is on fire, burning so brightly and bringing a dazzling energy to her portrayal of Nelly. The entire ensemble cast creates a wonderful cohort of characters, such as Jean Smart's portrayal of gossip columnist Elinor St. John. Two of the most intriguing characters are given relatively less attention, perhaps because they are different in many ways. Lady Fay Zhu (Li June Li) is a cabaret singer and writer of intertitles, who is brave and kind. Jazz trumpeter Sidney Palmer (Jovan Adepo) stands out from the very first party scene. He wants his share of the limelight like everyone else, and struggles with the choices that confront him as a Black man.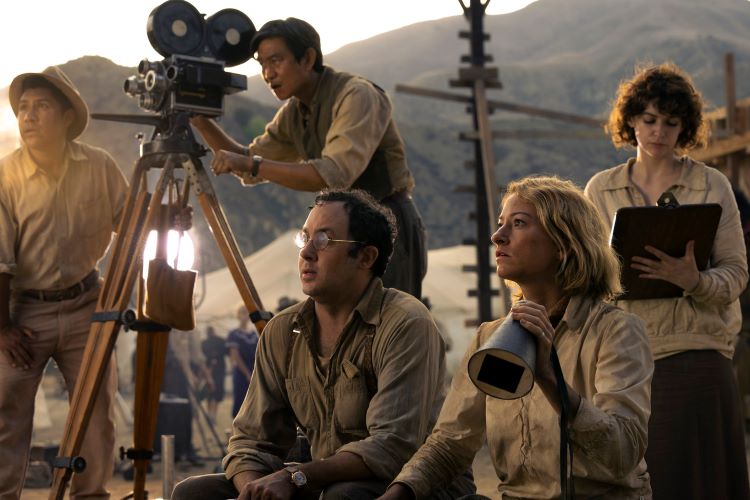 There are some wonderful scenes that are at once hilarious and magical. An extended scene that shows Nelly's first day on the set, working with Ruth (Olivia Hamilton), a director whose character is reminiscent of Dorothy Arzner, a prolific film director from the 1920s through early 40s. Nelly's exuberant commitment to the role, her focus and dedication, are matched by Ruth's realization that she has more to work with than a pair of tits, and her excitement as a director. The atmosphere of those early days of silent films, with different movie sets cheek by jowl all shooting at the same time – because sound is not an issue. The dependence on daylight, and the many, many, extras. Spike Jonze is extremely funny as an ecstatically intense director. The laborious take after take, as they try to shoot their first sound film is yet another riveting scene.
Yet as Chazelle meanders through the rise and fall of his characters, there is a lack of coherence, as some scenes appear almost random in their disconnect or lack of development, while others spin out in self-indulgent detail that seems of little purpose. Oddly, that doesn't really detract from the film's impact. It's as though Chazelle is throwing lots of images, and characters, and sound, and movie references at us, and some of them miss their mark, and by the film's end one might feel rather pummeled, but one will feel something.
Babylon
US/2022/3 hours 9 min
Director: Damien Chazelle; Screenplay: Chazelle; Cinematography: Linus Sandgren; Editor: Tom Cross; Music: Justin Hurwitz; Cast: Brad Pitt, Margot Robbie, Diego Calva, Jean Smart, Jovan Adepo, Li Jun Li, P.J. Byrne, Lukas Haas, Olivia Hamilton, Tobey Maguire, Max Minghella, Rory Scovel, Katherine Waterson, Flea, Jeff Garlin, Eric Roberts, Ethan Suplee, Olivia Wilde