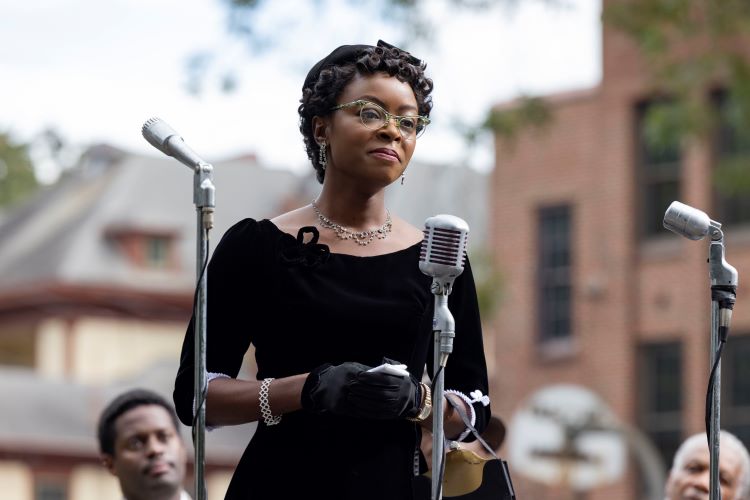 In Till, director Chinonye Chukwu explores the systemic racism that took the life of a 14-year-old youth, and the impact of his lynching on his mother, Mamie Till-Mobley. Accused of whistling at Carolyn Bryant, a white woman, and grabbing her, Emmett Till was abducted, tortured, and killed in Mississippi in August 1955. His youth and the brutality of his lynching raised awareness of the pervasive racism in the US at the time, and the lynching of Emmett Till became a rallying cry for the Civil Rights Movement. In remembering this important chapter in history, Chukwu has chosen to focus on Mamie Till-Mobley, her perspective, strength, and courage. Danielle Deadwyler delivers an outstanding performance as Mamie, reflecting the character's emotional journey.
The film opens as Emmett (Jalyn Hall), affectionately called Bo or Bobo by the family, and Mamie go shopping to prepare for Emmett's trip to Mississippi to visit relatives. The close connection and affection between the two is immediately apparent, As the two sing along to the radio, Mamie's smile fades, and her concerns are reflected in her somber look. Jalyn Hall invites the viewer's empathy in his portrayal of Emmett as a youth full of energy and joy, who is perhaps somewhat sheltered and naïve. Emmett is surrounded by an affectionate, loving, family that includes Alma Carthan, Mamie's mother, and Mr. G – Gene Mobley (Sean Patrick Thomas), Mamie's fiancée. Goldberg brings so much depth to the role of Alma, making her a strong presence in the film in just a few brief scenes.
Coming from the South Mamie knows how potentially dangerous it might be for a boy like Emmett who has never experienced that kind of legally sanctioned racism (Jim Crow Laws). Emmett is eager to spend time with his cousins, and like any 14-year-old, eager to try out some independence. Once in Mississippi it is clear that he does not fully understand the different conditions of his family's life there, and the constraints under which they live. The scene in the grocery store is brief, yet full of foreboding. Haley Bennett infuses Caroline Bryant with cold-blooded venomous racism. Chukwu's choices as a director – in terms of what is shown in the film and what is offscreen – reflect respect for Emmett Till and his family, as well as the responsibility to speak out, to shout out at the injustice. Roy Bryant and JW Milam are seen taking Emmett by force from his uncle's home, but the beating takes place in the dark of night, hidden from view.
Suffering the worst blow a mother can receive, knowing that her child died in agony, Mamie Till-Mobley made an unusual and bold choice, to have Emmett's funeral held with an open casket, with his disfigured body on view because "the whole world has to see what happened" to her son. Chukwu is faithful to Mamie's choices, showing Emmett's body at the morgue and at the funeral, and showing Mamie's grief and love for her son. Mamie's willingness to speak to the press and allow photographs to be taken made it impossible to ignore what had been done to Emmett, and the whole country took notice. Deadwyler's nuanced performance reflects Mamie's grief, as well as the resilience, courage, and determination that led her to turn that grief into activism.
Chukwu's film evokes the pervasive, flagrant racism of the South in the 1950s, and the less violent, yet ever-present racism and discrimination experienced in the North. She brings the era to life in a film crafted with precision.  Of note are the costumes, in particular the women's dresses – elegantly flowing and tailored with bright patterns and rich hues. Some, such as the dress Mamie wore to testify in court, were inspired by Mamie's actual outfits, as can be seen in photographs from the time.
This past spring, on March 29, 2022, the Emmett Till Antilynching Act, which makes lynching a federal hate crime, was signed into law by US President Joe Biden. Yet it has taken 67 years since Emmett's lynching for the bill to pass, and it has been more than a century since it was first proposed by Representative George Henry White of North Carolina in 1900, although there were many more attempts in the interim. It has taken 120 years for Congress to declare lynching a hate crime.
Till
Director: Chinonye Chukwu; Screenplay: Michael Reilly, Keith Beauchamp, Chinonye Chukwu; Cinematography: Bobby Bukowski; Editor: Ron Patane; Music: Abel Korzeniowski; Cast: Danielle Deadwyler, Jalyn Hall, Whoopie Goldberg, Sean Patrick Thomas, John Douglas Thompson