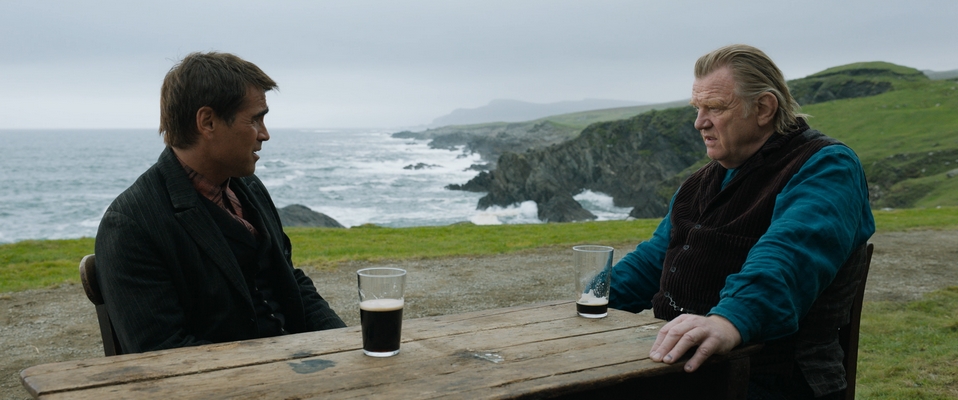 Martin McDonagh's The Banshees of Inisherin has the timeless resonance and deceptively simple structure of a folktale. On an island off the west coast of Ireland, Pádraic Súilleabháin and Colm Doherty have been good friends for years, going to the pub together every day at two o'clock. Until one day when Colm (Brendan Gleeson) tells Pádraic (Colin Farrell) that he wants to end the friendship. In following the consequences of that unexpected decision McDonagh (In Bruges, Seven Psychopaths, Three Billboards Outside Ebbing, Missouri) touches on essential moral and existential questions in a film that is grounded in profoundly powerful performances, and a script so clever and funny that I laughed out loud time and again, all the while fascinated, horrified, and deeply moved.
The film is set in a liminal space, at once historically specific – towards the end of the Irish Civil War in 1923, and yet utterly fictional, on Inisherin, an island that does not exist. McDonagh's longtime collaborator Carter Burwell enhances the sense of a fantastic space that is and yet is not Ireland, with original music and a soundtrack that draws on diverse sources. In the opening scene, the haunting harmonies of the Bulgarian folk song Polegnala e Todora reverberate over views of a green landscape traversed by low, stone walls and bound by a misty gray sea, like a chorus, heralding that which will come to pass. Knowing that a Banshee, in Irish folklore, is a female spirit who foretells the death of a family member, informs the film's title with ominous portent.
Pádraic is hurt and bewildered by Colm's rejection, and very naturally, hounds Colm to find out what has gone wrong. Colm's response brings Pádraic no relief or understanding, as he says: "I just don't like you no more." Older by several years, Colm is looking at the final chapter of his life and wants to make the most of the years he has left, in the hope of leaving his mark on a world that is swift to forget. A fiddler, he now seeks time and peace of mind to compose. It's a vision of a life that no longer has room for Pádraic's constant chatter. It's a vision beyond Pádraic's understanding. The more Pádraic struggles to make things right, the more they go awry, to a horrifying extent.
The isolation of life on the island makes the loss of a friend more acutely felt, although anyone who has experienced the end of a close friendship can relate to Pádraic's grief and bewilderment, as well as Colm's resolute distancing and awareness of the hurt he has inflicted. The impact of loneliness and isolation are explored through several characters in the film, in different ways. Mrs. O'Riordan, the proprietress of the grocery store is almost viciously hungry for news, while for police officer Peadar Kearney (Gary Lydon) the isolation gives him free rein to beat his son and anyone else he chooses without fear of censure. Barry Keoghan delivers a strong performance as Dominic Kearney, the poor fool of this comic tragedy, whom Pádraic turns to for companionship. Siobhán (Kerry Condon), Pádraic's sister, lives through books and feels a yearning she hesitates to express, knowing the limitations of life on the island for a single woman, and knowing her brother is not likely to comprehend the desire for a life with wider horizons. Condon imbues the character with intelligence and compassion, as well as a sharp sense of humor. Siobhán tries to talk some sense into her brother, and, separately, into Colm, yet their enmity soon spirals beyond sense. And perhaps loneliest and most isolated of all is Colm.
Exploring themes of friendship, loneliness, and the search for happiness, the film evokes essential moral questions. What do we owe the people in our lives? Is it right to pursue our own pleasure and fulfillment at the expense of another? And, as the ever-present Mrs. McCormick – portrayed with ghoulish glee by Sheila Flitton – is there to remind us, whatever we do, our time is limited, and it flies by. The Banshees of Inisherin is the kind of film that makes you laugh until it hurts and laugh because it hurts.
The Banshees of Inisherin
Ireland/UK/US/2022/114 min/English
Written and directed by Martin McDonagh; Cinematography: Ben David; Editor: Mikkel E. G. Nielsen; Music: Carter Burwell; Cast: Colin Farrell, Brendan Gleeson, Kerry Condon, Barry Keoghan, Pat Shortt, Gary Lydon, David Pearse, Sheila Flitton