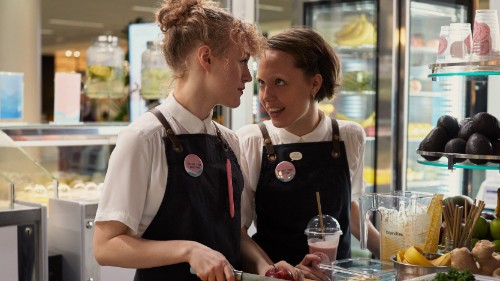 Friendship is at the heart of Girl Picture (original title Tytöt tytöt tytöt, tytöt means girls in Finnish), directed by Alli Haapasalo. Mimmi (Aamu Milonof) and Rönkkö (Eleonoora Kauhanen) are best friends who work together in a smoothie shop, talking about love and sex between making drinks with corny names like "take two to mango". The film takes place over three Fridays in the lives of the girls, who are in their late teens, still in school, but just on the verge of adulthood. It's like a series of snapshots that conveys a sense of their lives and characters, and the smoothie shop anchors the film. A third girl from Mimmi and Rönkkö 's school comes into the smoothie shop, Emma (Linnea Leino), a talented figure skater. Training in hopes of competing in the European Championships, Emmas has been devoted to the sport to the exclusion of all other distractions, until she meets Mimmi.
Mimmi brings a bold intensity to every aspect of her life, with her bleached eyebrows and cool demeanor she appears experienced and confident. Yet it's clear from the outset that there is unspoken rage and pain burning beneath her smooth surface, emerging in impulsive actions that she often regrets afterwards. Rönkkö is still figuring things out in terms of love and sex, and looks to Mimmi, the more experienced friend, for advice. The film is wonderfully honest and direct in its depiction of sexuality. Mimmi likes girls and Rönkkö is sure she's hetero, even though so far, it hasn't brought her much pleasure. Rönkkö's search for pleasure is a hilarious narrative thread running through the film, and yet very meaningful as well. Her ability to talk about her lack of pleasure in sex, to seek out advice, and to try different approaches in search of that pleasure, as well as her desire to understand herself better – are all welcome to see in a film about teens. The path of Rönkkö's search is conveyed in several brief adventures, each disastrous in its own, very funny, way.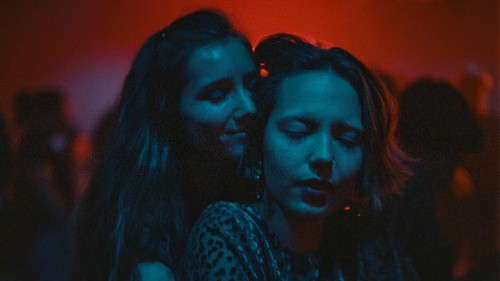 When Mimmi sees the lithe and lovely Emma it is, almost, love at first sight. One of the film's most romantic scenes takes place in a parking lot by night, as Emma demonstrates her skating routine and Mimmi watches in adoration, her features illuminated by love and streetlights. The film follows each of the three girls, each one has her own narrative and emotional trajectory. No one is an object; each is the hero of her story. There is a youthful feel to the film, it compares well with Booksmart and Ladybird, as a lively and honest portrayal of the emotional and sexual experiences of older teenagers, European style. The film is at its best in conveying the emotional ups and downs, intimacy, and support, as well as the awkward moments in teen relationships. Attempts to look at some of the underlying issues of Mimmi and Emma, respectively, are not given the weight, attention, and screen time that serious treatment requires, and that is where Girl Picture falters and disappoints. Yet ultimately, its strengths compensate for its weaknesses.
Girl Picture is a very entertaining film with captivating performances from all three leads and would definitely make my "happy lesbian film" list. The depiction of Mimmi and Emma's relationship does not fall into stereotypes of lesbian relationships; their issues are not about coming out or uncertainty about their sexual preferences, their difficulties are intrinsic to their characters.
Girl Picture
Finland/2022/100 min/Finnish
Director: Alli Haapasalo; Screenplay: Ilona Ahti, Daniela Hakulinen; Cinematography: Jarmo Kiuru; Editor: Samu Heikkilä; Cast: Aamu Milonoff, Eleonoora Kauhanen, Linnea Leino
*Originally seen at TLVFEST 2022