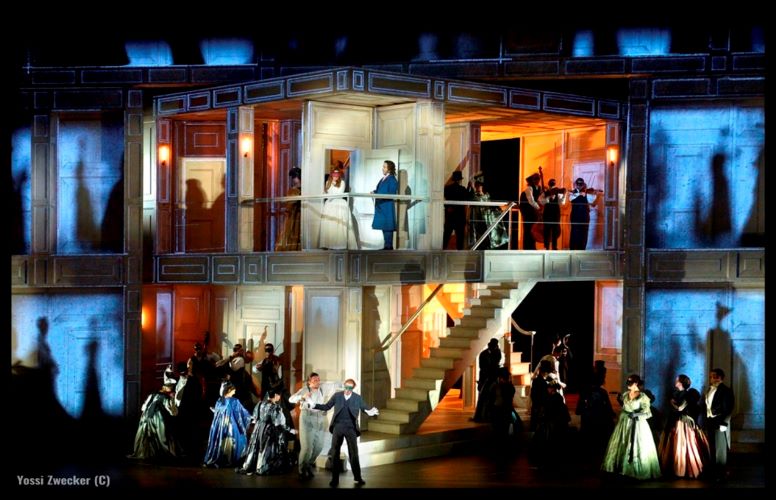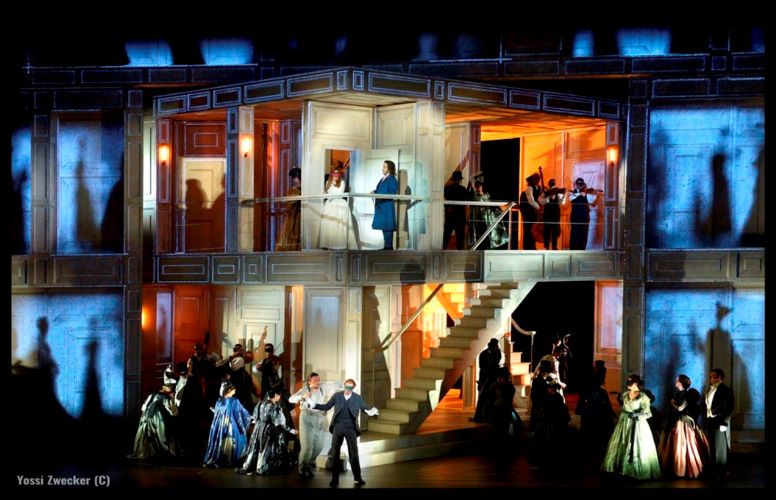 Mozart's notorious protagonist Don Giovanni returns to the stage of the Israeli Opera in a revival of the striking production directed by Kasper Holten. A coproduction with the Royal Opera House Covent Garden, Gran Teatre del Liceu Barcelona and Houston Grand Opera, the opera will be performed from March 17 – 29, 2023, and will be conducted by Karl-Heinz Steffans.
Midnight East's opera expert Lior Levy weighs in on Holten's Don Giovanni:
Meet Don Giovanni, a complete jerk who's slept with 2,065 (!) women. He's the playboy we all love to hate, and he's so carelessly evil and at the same time outrageously charming that he seems to always win – and even though we know better, we always seem to let him win. Who is he? Do we love him, hate him, worship him? Do we all secretly want to be him or be with him? Is there a good guy somewhere in there, very deep down? The Israeli Opera's production of Mozart's opera, based on the original story of Don Juan, is taking a stab at these questions, with a new staging by Kasper Holten.
Holten is a Danish director and somewhat of an enfant terrible in the opera industry, who doesn't toe the line of traditional expectations. Appointed Artistic Director of the Royal Danish Opera at the enviably young age of 26, he was the Director of Opera at the Royal Opera House Covent Garden from 2011 – 2017, he has directed over 65 productions, and was even knighted by Queen Margrethe II of Denmark. Holten's Don Giovanni was staged in 2014 at the Royal Opera House in London in 2014 and received quite a bit of attention for going slightly off-script in his attempts to read into the story and the characters. The set, a plain but complicated edifice that revolves and shapeshifts with each scene, is meant to represent the Don's restless, scheming psyche and his shock at finding his pursuits suddenly unsuccessful. It's supposed to confuse the characters and the audience both, with disorienting staircases and doors and with video projections of the names in Don Giovanni's little black book. The most controversial staging choice, however, is the portrayal of the women: instead of the innocent, naive and traditionally helpless female characters we expect to see, Holten gives these ladies more power than ever before – power that they sometimes abuse. Critics' opinions of the London performances ranged from praising to damning – we're excited to make up our own minds.
Described by many as Mozart's darkest opera, despite several famously comedic, farcical interludes, Don Giovanni is based on the original Don Juan play. Mozart's librettist and collaborator, Lorenzo da Ponte, had an interesting reason to take up this story: he actually met the greatest real-life Don Juan of the day, Giacomo Casanova, now synonymous with fictional libertine.
In the wake of the #metoo movement, when sexual violence, toxic masculinity, gender stereotyping, slut-shaming and virgin-shaming are on our minds more than ever, we could use a cathartic reminder of how bad things can get if we let them. The Don's character is a classic example of toxic masculinity, a star student of How Not To Be A Dude 101. Instead of using what power nature and society have given him to protect the weak, innocent, and less fortunate, he torments and abuses his servant, murders his opponents without remorse, and does absolutely atrocious things to women: rapes one, betrays another, and seduces a third. Other male characters in the opera also don't provide great role models, either playing yes-man to the Don or failing to challenge him. The ladies of the story are not much better – they have no backbone to stand up to the Don or rebuff his advances. Pretty much every character in this opera will make your head explode.
Luckily enough, Mozart gave them all some of his best music to make the plot easier to digest. Charles Gounod called this opera "a work without blemish, of uninterrupted perfection", while Gustave Flaubert listed Don Giovanni, Hamlet, and the sea "the three finest things God ever made."
Soloists: Don Giovanni – German Enrique Alcantara alternating with Oded Reich; Leporello – Paolo Bordogna alternating with Guido Dazzini; Donna Anna – Alla Vasilevitsky alternating with Lulia Maria Dan; Donna Elvira – Carmela Remigio alternating with Anat Czarny; Don Ottavio – Long Long alternating with Nico Darmanin; Masetto – Yair Polishook alternating with Noam Heinz; Zerlina – Daniela Skorka alternating with Tal Ganor; Commendatore – Petros Magoulas.
There will be an Opening Lecture an hour before each show, admission is free with tickets to the opera. Tickets may be ordered online from the Israeli Opera website, or call: 03-692777. https://www.israel-opera.co.il/eng
*Originally posted January 31, 2018, the article has been updated to reflect cast changes in the revival production.