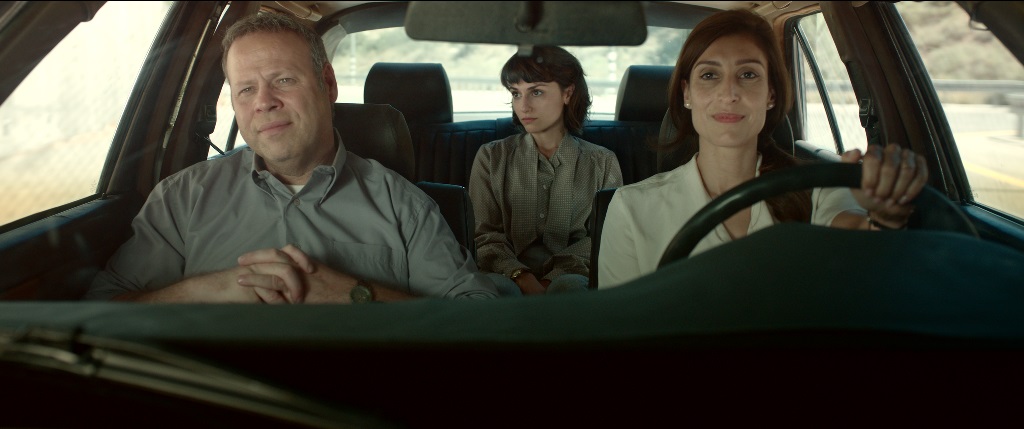 The Tel Aviv Cinematheque is celebrating its 50th anniversary with a series of festive events. Coming up – a special preview screening of Avi Nesher's new film The Monkey House. Following the screening, Nesher, known for films such as Turn Left at the End of the World (2004), The Matchmaker (2010) and Image of Victory (2021), will share his thoughts on cinema, Israeli cinema and the process of making The Monkey House, which is scheduled for release worldwide on September 28, 2023.
Adir Miller, who has collaborated with Nesher on several films, and won an Ophir Award in 2010 for his role in The Matchmaker, stars in The Monkey House as Amitay Kariv, a novelist whose popularity peaked in the 1960s, only to wane in the decades that followed. Blaming current cultural politics for his lack of success, in the late 80s, Kariv decides to fight for what he feels is his rightful place in the Israeli literary canon. His strategy for success is blatantly immoral, bordering on the criminal. To complete his plan he needs an accomplice, someone who is a literary researcher – or can pretend to be one. Enter Suzanna Papian as the scholar. It will be a life-altering experience for both Kariv and his young assistant.
The Monkey House will be shown at the Tel Aviv Cinematheque on June 6, 2023, at 20:30 in a pre-premiere screening courtesy of United King Films.
Cinephiles will have the opportunity to enjoy several more films in preview screenings, as the Tel Aviv Cinematheque has scheduled four more films for the month of June:

Rose, directed by Niels Arden, is a drama about the connection between sisters. Ellen and Inger, together with Ellen's husband, join a coach trip from Denmark to Paris. Inger announces her struggles with mental health to the group, and the responses are mixed, ranging from pity to suspicion and rejection. Yet once they arrive in Paris it becomes apparent that Inger has a hidden motivation for this journey, one that involves a figure from her past.
Rose will be screened on June 1st at 20:30.

A Hundred Flowers, directed by Genki Kawamura, also focuses on family relationships. Yuriko is a piano teacher whose son Izumi comes home to celebrate the new year and finds her wandering in a playground. Yuriko is diagnosed with dementia and the disease affects her memory and ability to function. Izumi must cope with his mother's illness, as well as the complications of their relationship.
A Hundred Flowers will be screened on June 10th at 16:15.

Judas, directed by Dan Wolman, is based on author Amos Oz's final, eponymous novel. Set in Jerusalem of 1959, Shmuel, a university drop-out, takes a job as the live-in companion to the elderly Gershom Wald. Atalia, the beautiful widow of Wald's only son Micha, also lives in the house, and Shmuel is attracted to her. Shmuel had been working on a thesis concerning Jewish views on Jesus, and has discussions on the topic, and on Judas, with Wald. In the background is the story of Atalia's father, Shealtiel Abarbanel, who had opposed the foundation of the State of Israel in 1948, because he believed that it would lead to endless bloodshed between Jews and Arabs. The past casts shade on the present.
Judas will be screened on June 8th at 21:00.

Wes Anderson's new film Asteroid City is set in a fictional American desert town in 1955, where a Junior Stargazers Convention will be held. A mysterious and surprising event disrupts the awards ceremony, and the visitors who have come to town for the convention find themselves under a government mandated lockdown. The film held its world premiere at the 76th Cannes Film Festival, and features a stellar ensemble cast, that includes Jason Schwartzman, Scarlett Johansson, Tom Hanks, Tilda Swinton, Bryan Cranston, Edward Norton, Margot Robbie and many more.
Asteroid City will be screened on June 20th at 21:00.
Tickets to all films are available from the Tel Aviv Cinematheque website.