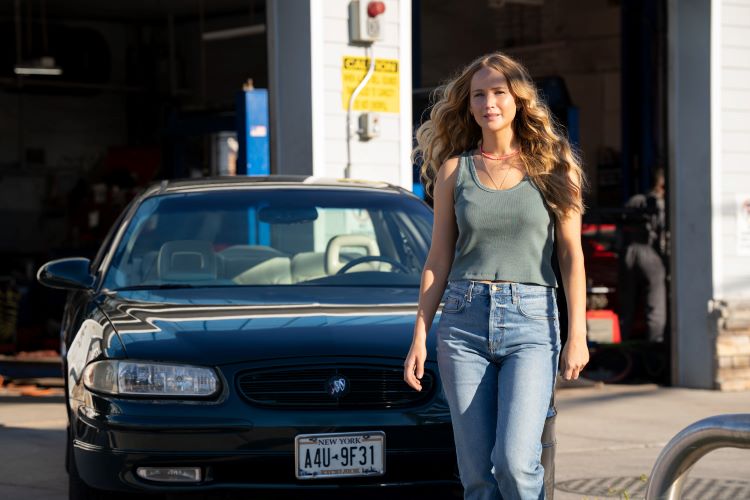 No Hard Feelings is funny, silly, sexy, outrageous, at times creepy and cringe-inducing, and yet also surprisingly thought-provoking for a sex comedy. Jennifer Lawrence flexes her comedy muscles as Maddie Barker, a 32-year-old who has never strayed far from her hometown of Montauk. A picturesque village on the Long Island Peninsula, this beach town suffers from the same dilemma as many others – city dwellers who purchase summer homes and tourists provide income for the locals, but their presence makes real estate prices rise, edging out those same locals. Maddie is expecting to get by and finally pay off overdue taxes by working as an Uber driver over the summer, only to have her car repossessed and towed away by ex-boyfriend Gary (Ebon Moss-Bachrach).
As it turns out, Gary is not the only ex-boyfriend on the scene, as Maddie seems to have a predilection for leaving any relationship that shows signs of becoming too long or too serious. She's not looking for love, and doesn't seem to have a particular ambition, especially perhaps since just getting by is hard enough. She needs money fast if she doesn't want to lose her house and finds a solution in Craig's List. An affluent couple, Laird (Matthew Broderick) and Allison (Laura Benanti) are worried about their 19-year-old son Percy (Andrew Barth Feldman) who is about to enter Princeton in the fall. Percy is a loner, spending most of his time in his room, or at the animal shelter where he volunteers. He's never had a girlfriend and doesn't seem to have any friends. One look at his uptight parents who hover constantly and even track his phone makes it plain to see how he came to be this way. Laird and Allison are worried he'll have a hard time at college, and for some bizarre reason think that losing his virginity with a sex worker will give him the confidence he needs to go out into the world. In exchange for dating Percy, they are offering a Buick. Perfect for Maddie.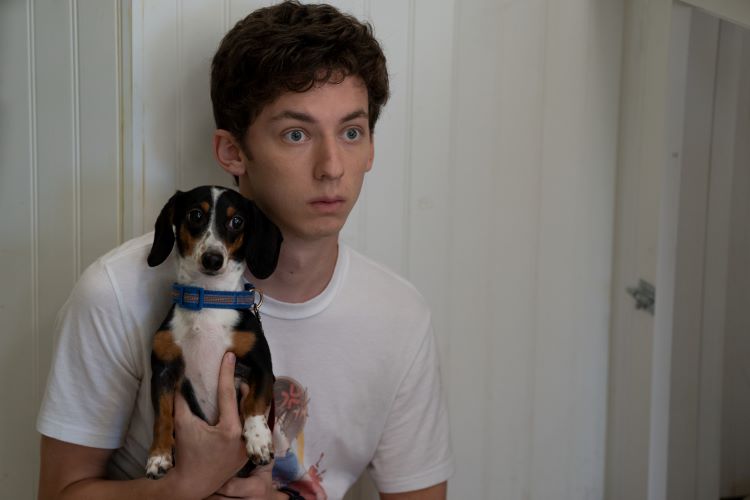 Maddie approaches Percy at the animal shelter, pretending she wants to adopt a dog, oozing over-the-top sexuality in a tight magenta dress and heels, and speaking solely in sexual innuendo. It's very predatory, creepy and cringe-inducing to watch, especially since Percy looks so young and fragile. It becomes funny when it's apparent that Percy has a strong mind of his own, and while he may be somewhat sexually intimidated by this older femme fatale, he is adamant about his moral code, telling Maddie "You're the kind of person we take dogs away from." It's the push-back that makes the situation funny, and the chaotic mayhem begins, with Maddie and Percy getting into all kinds of outrageous, silly, and sometimes sweet fun.
Jennifer Lawrence is extravagantly beautiful, and Percy is not entirely immune. He's at the very least flattered, and seems attracted, but for the most part follows his moral compass, and his own concept of dating and relationships. As Maddie begins to see Percy as a person and not just a means to an end, other aspects of her personality and backstory are revealed as well. Amid the crazy antics (yes, she's still trying to get him to have sex with her so she can get that Buick) there's a sense of genuine friendship developing between them. Andrew Barth Feldman is a terrific discovery in this film, he gives Percy charm and moral heft.  Jennifer Lawrence is impressive as she conveys Maddie's confidence, sensuality, and theatricality, as well as the more vulnerable aspects of the character.
It's a film of contrasts and contradictions, with an outrageous, mercenary, and twisted premise, and a lot of warmth. One of the film's greatest scenes is also its worst, revealing Maddie's strength of character even as it exploits Jennifer Lawrence's physical beauty. When Maddie entices (dares?) Percy to go skinny dipping in the ocean, some teenagers steal their clothes. Percy panics, saying "We need to find an adult" to which Maddie responds, "You are an adult," and runs out of the water naked to beat up those kids, even though it's three against one, and get their clothes back. She is brave and tough and deals with problems head-on, even if sometimes that means resorting to deception. It's a scene that establishes character, and delineates Percy's issues, but the extended images of Lawrence naked on the beach feel like gratuitous exploitation.
While I found Maddie's deceptive and aggressive pursuit of Percy somewhat disturbing to watch, as I reflected back on it after seeing the film, I realized that it reminded me of behavior I have seen (on screen and in real life) when men relentlessly pursue women (very often women who are much younger) with the single-minded purpose of achieving a sexual encounter, lavishing them with compliments and attention, behavior that is often seen as normative, or worse, romantic. Seeing this kind of behavior in an atypical configuration – a woman pursuing a much younger man, enables us to see the familiar with fresh eyes, and exposes the objectification inherent in this kind of interaction. Something to ponder. But you can also just sit back and enjoy a light, funny, summer comedy.
No Hard Feelings
Director: Gene Stupnitsky; Screenplay: Gene Stupnitsky, John Phillips; Cinematography: Eigil Bryld; Editor: Brent White; Music: Mychael Danna, Jessica Rose Weiss; Cast: Jennifer Lawrence, Andrew Barth Feldman, Matthew Broderick, Laura Benanti, Natalie Morales, Hasan Minhaj, Scott MacArthur, Ebon Moss-Bachrach, Kyle Mooney