Not quite mid-way through the Haifa International Film Festival, I feel that I have been experiencing one perfect day after another, seeing films that inspire and intrigue me, and films that made me laugh out loud. As several of these films will have more screenings at the festival, here are my enthusiastic recommendations:
THERE IS STILL TOMORROW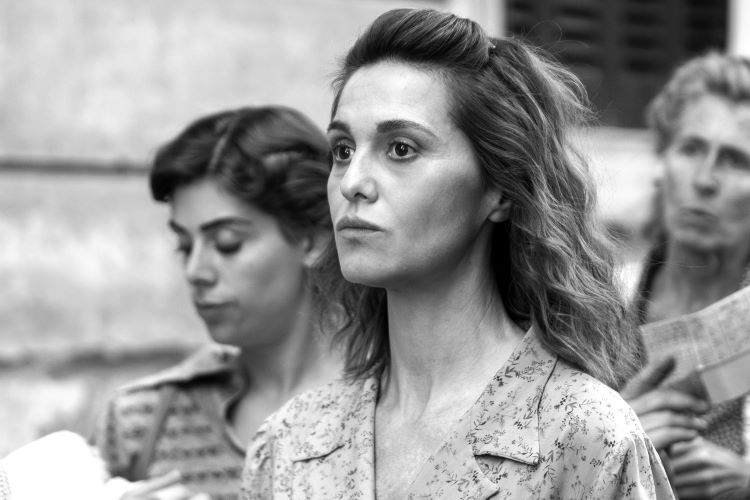 There is Still Tomorrow is a relentlessly hopeful title, as the phrase holds within it the knowledge that today was at best, disappointing, at worst, replete with pain, sorrow, failure, and suffering. Filmed in luminous black and white, and set in a late 1940s working class neighborhood in Italy, Director Paola Cortellesi, who co-wrote the screenplay with Furio Andreotti and Giulia Calenda, evokes the Italy of those times, an Italy that feels familiar to cinephiles, for we know it from films. Yet Cortellesi infuses the film with an acute awareness that it is seen from a contemporary perspective, and as such, There is Still Tomorrow is riveting, imaginative, funny, honest, suspenseful, and full of hope.
Cortellesi stars as Delia, who lives in a basement apartment with her husband Ivano (Valerio Mastandrea), her three children, and her bedridden father-in-law. The impact of the war is keenly felt in the long lines at the local grocers, in the ubiquitous presence of the American Military Police, and the animosity still rankling between neighbors for their past actions and loyalties. It's a man's world, and Ivano rules over his household with a firm hand, while Delia cooks, cleans, and scrambles to supplement the family income by doing whatever odd job she can find. She accepts Ivano's abuse because she feels she has no alternative. The two young boys, constantly fighting and swearing, seem to be following in their father's footsteps. Her daughter Marcella (Romana Maggiora Vergano) is appalled by the way her father treats them all, especially his violent and abusive behavior towards Delia. She feels angry and resentful towards Delia for allowing this behavior. In a home where her two brothers attend school, but Marcella is denied an education because she is a girl, a good marriage is the only way she can imagine escaping the horror of her home life. The prospect of a proposal from Giulio (Francesco Centorame), a young man from a prosperous family, might be the key to a better future.
Cortellesi imbues Delia with intelligence and compassion, inviting empathy for the character. In a brilliant performance, Cortellesi lets the viewer into Delia's inner world through the nuances of her expressive features. Even when she is silent, her eyes reflect her thoughts and feelings. When Delia receives a mysterious letter, it just might change everything for her. A thread of secrecy and suspense is punctuated by many hilarious moments, and Delia – courageous, resourceful, and ever hopeful, had me cheering for her all the way. An outstanding directorial feature debut.
There is Still Tomorrow will be screened: Tuesday, October 3rd and Friday, October 6th.
https://www.haifaff.co.il/eng/Films/9851/There_Is_Still_Tomorrow
FREMONT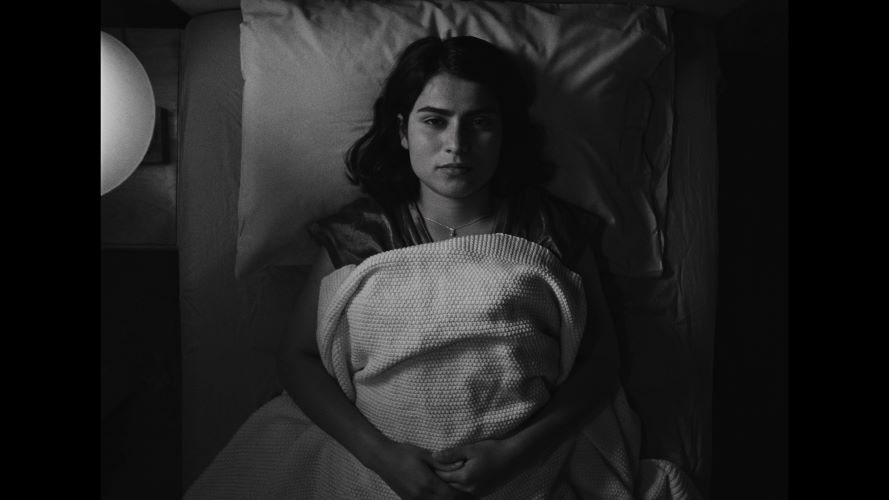 Fremont is a quiet gem of a film, directed by Babak Jalali from a screenplay by Carolina Cavalli and Jalali. Focusing on a painful chapter in history that is ongoing – the fate of Afghans who worked as translators for the Americans, the film chooses to tell an intimate story, full of humor and hope. Its protagonist Donya is a former translator, now living in Fremont, California and working in San Francisco at a Chinese Fortune Cookie factory. Anaita Wali Zada, who is an Afghan refugee, delivers a beautifully restrained performance as Donya, who is trying to build a new life for herself. Alone in the US, with her family still in Afghanistan, Donya is content with her job, and has a friend in her co-worker Joanna (Hilda Schmelling), but there is one small problem: she cannot sleep at night.
Filmed in black and white, Fremont almost has the feel of a documentary in its opening moments, with scenes of the cookie making process. Yet although her days are filled with very rudimentary tasks, stuffing fortune cookies into their plastic wrappers, Wali Zada conveys Donya's strong character and intelligence. Donya is a woman of few words. One senses that she has a rich inner world, yet she is not at peace. Her experiences have marked her, but she has survived, due in part to luck, and in part to the resilience she shows in her new life in Fremont as well. The apartment building where she lives in Fremont is full of refugees like herself, people who know, without being told, what she has gone through and the memories with which she lives. Seeking to resolve her insomnia, Donya goes to see a psychiatrist, Dr. Anthony (Gregg Turkington), to get sleeping pills. Annoyingly, Dr. Anthony insists on talking to Donya, asking her many questions that she would rather not answer. Turkington is compassionate and hilarious as the quirky doctor. As he persists, and tries some unique methods of drawing Donya out, the sessions are revealing, moving, and sometimes very funny.
The twist in the plot begins when Donya is promoted from cookie wrapping to writing fortunes. This is preceded by a brief and darkly humorous scene which I will not spoil for you but think you will enjoy. Inspired perhaps by something the good doctor says, Donya writes an unusual message to go inside the fortune cookie, which is a catalyst for subsequent events. As the film unfolds, Donya emerges as a kind and courageous woman with a wonderfully wry sense of humor.
Fremont will be screened Thursday, October 5th.
https://www.haifaff.co.il/eng/Films/9758/Fremont
THE BOOK OF SOLUTIONS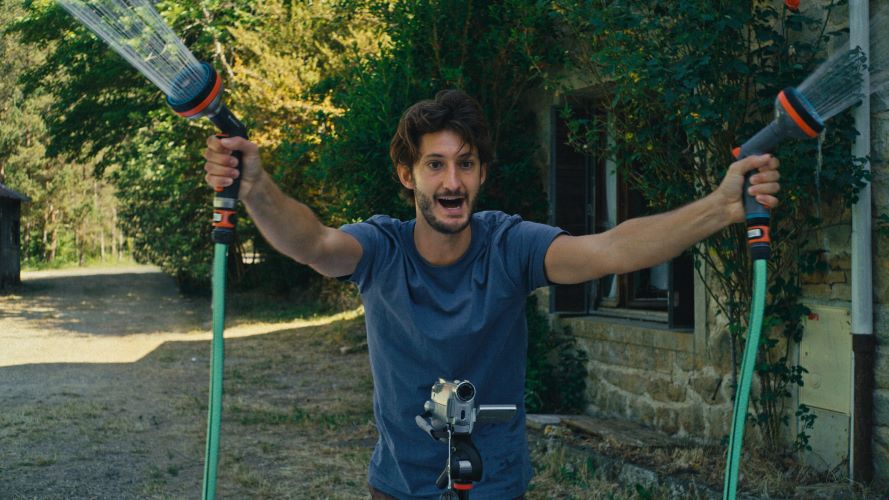 The Book of Solutions focuses on a film director, Marc (Pierre Niney), who is having trouble finishing his film. So much trouble, that as the film begins, Marc is fired, and his funding cut off. Fear not, Marc manages, with the help of his loyal team – film editor Charlotte (Blanche Gardin) and assistant Sylvia (Frankie Wallach), to abscond with the film to his aunt Denise's (Françoise Lebrun) remote home in the Cévennes, where they plan to edit and complete the film. There's just one hitch: Marc can't bring himself to look at the footage. Instead, he decides to toss his medication, a move that concerns his aunt, and leads him into many manic adventures. Fortunately for the film, the worse off the protagonist, the more problems he accumulates, the funnier the film – during the screening I attended there was so much laughter!
Gondry, who also wrote the screenplay, creates in Marc a character so entirely self-absorbed, and so clever, creative, and articulate that he is fascinating to follow, as one laughs both with and at him. Shooting for the film – the unseen film within a film, that is – was long since finished and the actors are not available to shoot any new scenes Marc might want. When he tries to improvise with Aunt Denise and the village Mayor lending a hand, the scene is wildly funny. Noting that since he stopped taking his medications he has "nonstop innovative ideas" March commences to write them down in his Book of Solutions. With the entire film crew, small though it is, staying with Aunt Denise, problems are inevitable, especially as Marc tends to burst into bedrooms in the middle of the night to share his latest great idea. While some of the plot points stretch credibility – who cares? It's a fun and wacky adventure all the way.
The Book of Solutions will be screened Saturday, October 7th
https://www.haifaff.co.il/eng/Films/9806/The_Book_of_Solutions
SCRAPPER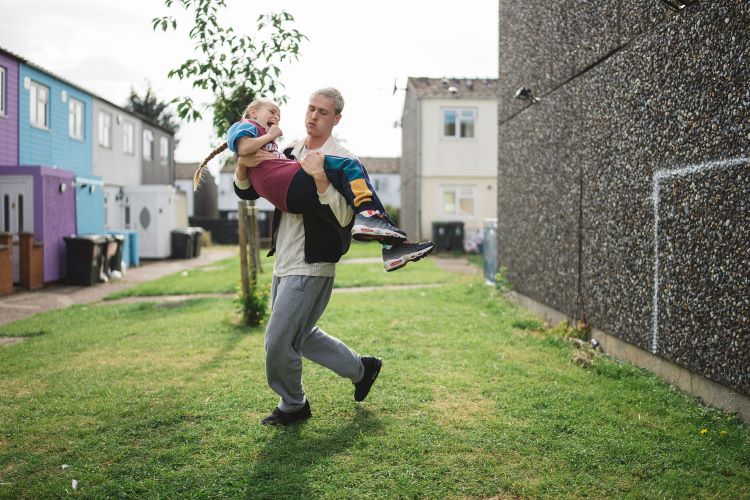 Scrapper, Charlotte Regan's feature debut won the Grand Jury Prize in the World Cinema Dramatic Competition at the 2023 Sundance Film Festival. Lola Campbell is extremely likable as the bold and capable Georgie, who at 12 is living on her own following the recent death of her mother. Successfully fooling social services by saying that her (imaginary) uncle is caring for her, she is meticulous about keeping the house just as it was when her mother Vicky was alive and has even found a way to earn a living. It's illegal and somewhat dangerous, but it works. Georgie and her best friend Ali (Alin Uzun) steal and re-sell bikes to local bike shop owner Zeph (Ambreen Razia). Suddenly Jason (Harris Dickinson – Triangle of Sadness), the father she has never known, comes into her life, and as far as Georgie is concerned, he is not a welcome visitor.
While Vicky did an excellent job as a single mother – resourceful Georgie is the proof, Jason is more of an overgrown kid than a father figure. He's been living in Ibiza, enjoying the sun, tasty food, and more. Georgie is understandably suspicious, and resentful of the father who abandoned the family. Although dealing with serious issues of Georgie's grief and her relationship with Jason, the pace is fast, the colors bright, and the tone is very light and edgy with cuts to "video interviews" with the various people in Georgie's life: social service representatives who work in a very tiny gray office, three identical triplets on yellow bikes, Georgie's teacher, and the mean girls from school, all in pink. Oh yes, and the spiders talk too. A dreamer and schemer, Georgie can talk her way through almost anything, and in that sense is perhaps very similar to her father Jason, whose moral code is not set very precisely. Jason may not be the best role model as he stumbles through parenting, but together Georgie and Jason make a very charming, if unconventional, daughter and father pair with great onscreen chemistry between Campbell and Dickinson.
Scrapper will be screened on Wednesday, October 4th and Saturday, October 7th
https://www.haifaff.co.il/eng/Films/9787/Scrapper