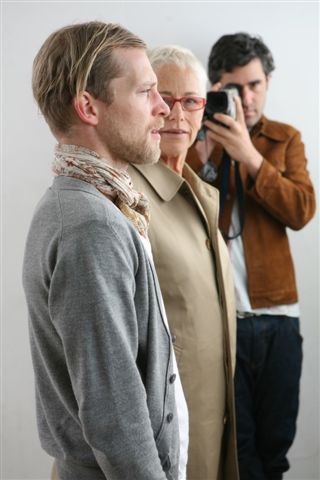 The title of Tomer Heymann's latest film: "I Shot My Love," is so allusive, sending out images and references like arrows into the mind, each one leading in a different direction. Yet tracking those arrows leads straight into the heart of this documentary; a deceptively simple, beautifully realized vision of close shots and even closer relationships. The film premiered at the Berlin International Film Festival in February 2010, and won the Best Mid-length Documentary Award at the recent Hot Docs Festival. "I Shot My Love," will have its Israeli premiere on June 26th, 2010 at the TLVFest, which will take place at the Tel Aviv Cinematheque from June 22 – 26.
Leaving Cupid out of the story for a moment, the first image that comes to my mind is black and white, with a splash of red: the iconic figure with a smoking gun in hand, standing over the dead body of a lover, surrounded by a pool of blood. Yet that is not what is intended by the title at all – the word "shot" here refers to the world of film. Tomer Heymann holds a camera in his hand; in fact, he never seems to let go of it, documenting his love. This is not a narrative of violence. Or is it?
The second arrow sent me to thoughts of Oscar Wilde's poem "The Ballad of Reading Gaol":
Yet each man kills the thing he loves
By each let this be heard,
Some do it with a bitter look,
Some with a flattering word,
The coward does it with a kiss,
The brave man with a sword!
The poem was written in May of 1897 when Wilde lived in exile, in France, and was inspired by his experiences while incarcerated in Reading Gaol after his conviction for "homosexual offenses" in 1895. Which takes me back to Heymann's film…
Heymann and his mother, who was born in Israel to German immigrants who escaped the Nazi regime, attend the Berlin International Film Festival. There Heymann presents his film "Paper Dolls" (2006), a documentary about a group of transvestite Filipinos who immigrated to Israel to take care of elderly religious Jewish men, and appear as drag performers, the "Paper Dolls," on their day off. While in Berlin, Heymann has a brief encounter with a German dancer, Andreas Merk; that is the beginning of a love story.
But the film does not begin here. The first person we see onscreen is Heymann's mother, reflected in the bathroom mirror, wearing only a bra, and saying, "I'm huge." Moments later, she stands next to Heymann onstage, telling the audience at the Berlinale: "He does what he wants not what I want, and I love him." Between these scenes we see a young man in the shower – Merk. The initial scenes establish the close scrutiny of private moments and feelings, the intimacy enhanced by the almost casual, handheld feel of the shots. Yet this very intimacy is put in question by the presence of the camera.
Can one tell the story of a love without, in the telling, violating the intimacy of the relationship? At several points in the film Heymann's mother asks him to stop filming. He does not stop, yet neither has he chosen to edit out those moments, allowing the questions to remain. An exploration of love – between lovers, between mother and son, and a love, bordering on obsession, for documentation, the movie leads us deep into the lives of Heymann, his lover and his mother as their relationships develop over time. We learn more about them as they become more deeply involved, and the questions become more complex. As intrusive and invasive as the process of filming feels at times, one is also tempted to ask whether the greater injury might be not to intrude, not to ask, not to hear, and not to see.
The connection to a wider historical, cultural context is a central element in the film. At times the narratives converge in a way that is as deeply moving as it is funny – as when Merk participates in his first Passover seder with Heymann's family, reading aloud from a German Haggadah from 1934 that the family managed to take with them when they escaped the Nazis.
In their openness to Heymann's gaze, and their honesty, Merk and Heymann's mother emerge as heroes in this film, revealed in all their human vulnerability and complexity. Whether flipping pancakes, singing in German to Heymann's mother, or unflinching in his confrontation of harsh truths – Merk is radiant, we see him through the eyes of love. Ultimately, Heymann's fidelity to the passing moment creates a contemporary love story, almost shocking in its sweetness.
AYELET DEKEL