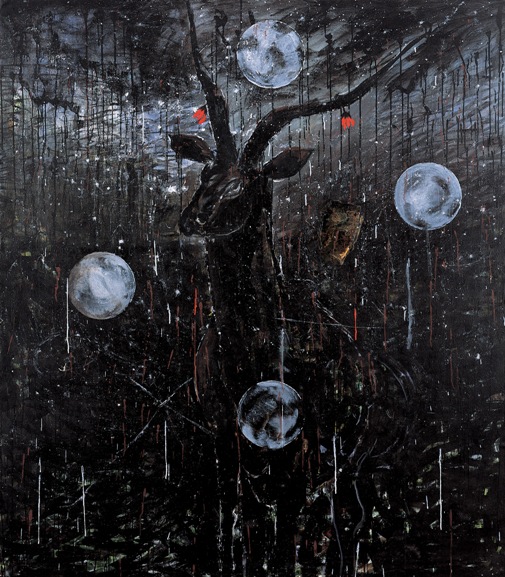 As the recipient of the Michel Kikoïne Prize for 2009, Israeli painter Yehuda Porbuchrai was guaranteed a full-scale exhibition this summer at the Genia Schreiber Art Gallery of Tel Aviv University. The time has now arrived, and he is currently showing a new collection of paintings on a romantic theme: the cosmos in flux, between birth and growth, death and renewal.
This exhibition space is large and alluring and it must have been tempting to show as many of his recent works as possible. In fact, more than 50 canvases from the last two years are on display. This may have been counterproductive, since the eye of even the most enthusiastic viewer eventually becomes jaded after seeing so many variations in style and approach. 
And yet a mini-retrospective of Porbuchrai's previous work (perhaps housed in a separate gallery) would have made a positive contribution to this exhibition. Not only as a means of familiarizing people with his artistic language (not everyone visiting the museum is familiar with his work) and providing a source for making stylistic connections to his present series; but just for the fact that Porbuchrai produced many fine paintings in the past, and a representative selection would certainly merit another showing.  As it stands now, only two paintings from the last two decades are on view. Both are nocturnal scenes from the early 1990s. One shows a dense thicket of trees set amongst a carpet of red flowers; the other, a mysterious piece, depicts a ram (symbol of sacrifice, or belief in redemption) looming out of the darkness, the outline of his body illuminated by four silver moons.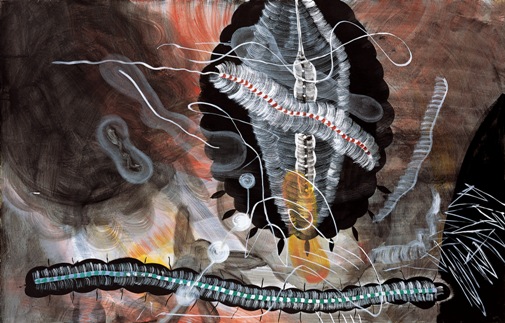 To briefly recap Porbuchrai's biography: Born in Iran in 1949, he came to Israel as an infant. After studying painting at the Avni Art Institute in the mid 1970s, he spent three years working in New York at a time when painting was a dominant medium.  He now lives and works in Tel Aviv.
Porbuchrai first achieved prominence in the 1980s as a neoexpressionist painter, producing highly colored portraits of bi-sexual figures surrounded by abstract, floral and amorphous forms. Paintings of claustrophobic black and white interiors followed. In 1997 he had a large solo exhibition at the Tel Aviv Museum in which he showed dreamscapes of fields, forests and pools of water. There,   paint splattered or dripped across the picture surfaces simulating falling rain or snow acted as a unifying screen.  In his most recent solo show Hava Nagilla  (Come, Let Us Rejoice) at the Julie M. Gallery, he displayed hundreds of small black and white paintings whose subject matter characterized by kitsch and nostalgia related to a now outdated touristic vision of 'little' Israel. His current choice of topic –the landscapes of the cosmos – seems light-years away, and perhaps a form of escape, from the realities of life in this country. .   
In the new paintings (acrylic on canvas) Porbuchrai suggests most effectively a galactic universe in turmoil. Once again, he alternates between employing a colorful and a monochrome palette, and the production of large and very small paintings. In some instances, his imagery is dominated by the shimmering bodies of outsize worms and caterpillars that appear to coil or slither across clusters of black paint.  In others, where sparks of light flare out of pale tubular constructions, the objects he depicts are more diverse, and crowd or overlap one another. They include biomorphic forms, tunnels, tubes, twisted cords and the skeletons of birds and flowers.  As in the past, Porbuchrai employs a screen device – in this case, a floating overlay of transparent shapes, in order to bring harmony to his compositions.  
Worth studying are his less flamboyant, more reflective pieces.  Conceived in a limited palette of white, blue-blacks and grays, they have a single focal point. This may be a single flower burst, a fountain, or circles of light strung together like fragile daisy chains.  Also noteworthy is a set of small format monochrome paintings featuring, in most instances, forms isolated from his larger compositions. These are transformed into striking gestural configurations akin to Oriental calligraphy. 
A distinguished exhibition from an important painter.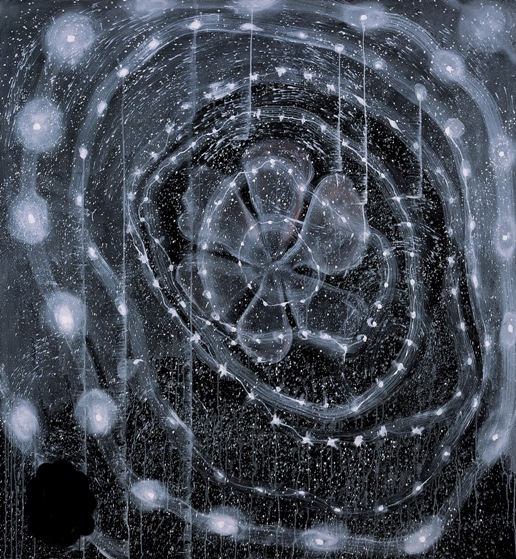 The Kikoïne prize to encourage and reward Israeli artists is the gift of Mrs. Claire Maratier-Kikoïne of Paris, the daughter of the artist Michel Kikoïne (1892-1968) who is represented in Israel by Dr. Catherine Supé- Kikoïne.
Michel Kikoïne was an important member of the Jewish School of Parisat mid 20th century. Born in Belarus, he studied with Soutine at Vilnia's Fine Arts School before moving to France in 1911 to join the artistic community gathering in the Montparnasse quarter of Paris. During World War I he served in the French army. With the outbreak of World War II and the subsequent occupation of France by the Germans, his family lived in Toulouse under constant threat of deportation. After the Allied liberation of France, he returned to Paris. In 1958 Kikoïne moved to Cannes where he concentrated on landscape painting.
A collection of his works, also donated by his daughter, is on permanent display in the Michel Kikoïne Foundation Gallery, part of the Tel Aviv University Art Gallery.
The exhibition Worms and Galaxies is open till July 15th 2010
University Art Gallery, Tel Aviv University. Tel: 03.6409022.
ANGELA LEVINE
.