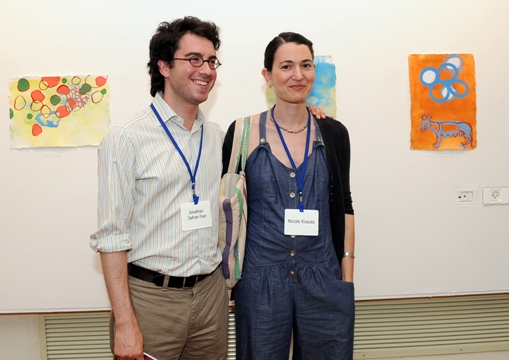 Laurie Anderson, Kenneth Arrow, Grace Paley, David Grossman, Jacques Derrida, Pablo Casals and Simone de Beauvoir – what do these luminary figures have in common? All were guests of Mishkenot Sha'ananim. The first Jewish community built beyond the walls of the Old City, Mishkenot has become an essential part of the cultural landscape of Jerusalem, a meeting place of the mind and heart, a place of dialogue. As it looks towards the future, Mishkenot has launched "The Jerusalem Cultural Fellowship," created in partnership with the Foundation for Jewish Culture, made possible by The Jerusalem Foundation and the Bracha Foundation. Reviving the tradition of inviting artists to reside and create at the center, the new program extends the possibilities for dialogue and exchange by bringing together people working in different fields.
The first cohort of artists in the pilot program includes: multidisciplinary visual artist Shelley Jordon, writers Jonathan Safran Foer and Nicole Krauss (recently featured in The New Yorker's 20 Under 40), urban planner Joshua J. Sirefman, and choreographer Reggie Wilson. During their three week stay at Mishkenot Sha'ananim they will have the opportunity to meet with Israelis working in their respective fields and become better acquainted with Jerusalem and Israel, in addition to conducting master classes and participating in events open to the public. Continuing the literary discussions of the recent Writer's Festival which took place at Mishkenot in May – "Writing Here, Writing There" – Jonathan Safran Foer will meet with Etgar Keret and musical guest Eran Tzur, and Nicole Krauss will meet with Yoram Kaniuk. Both events are open to the public.
The program is modeled after the American Academy in Rome, yet the emphasis here is on developing relationships through the interaction between the participants and the local cultural scene, enhancing mutual awareness, encouraging exchange of ideas and sowing the seeds for future collaborations.
Uri Dromi, Director of Mishkenot Sha'ananim, introduced the program and guests at a festive launch held on June 14, noting that Mishkenot is celebrating 150 years to its founding with a commemorative stamp that features Sir Moses Montefiore and Judah Touro. When Ruth Heshin, Director of the Jerusalem Foundation noted that the two could not have been photographed together in their lifetime, as Touro's contribution to Mishkenot Sha'ananim was through a bequest, Dromi was quick to reply: "Here at Mishkenot, we do the impossible!"
That spirit of spontaneity, creative energy and warmth imbued the entire evening with a sense of good things to come. The evening began with a tour of Shelley Jordon's exhibit "Flying/Falling" on display at the Konrad Adenauer Convention Center, and in the interdisciplinary vein, Nili Zaidel, a student of arrangement and composition at the Academy of Music, helped the formal part of the evening soar with a jazzy feel. Her first song of the evening was Eric Clapton's "You Are So Beautiful," which inspired Elise Bernhardt, CEO of The Foundation for Jewish Culture to comment, "That song captures how I feel about Jerusalem."
Bernhardt explained that the foundation has undergone a major change in the last four years, dropping the word "National" from its name – a semantic change which reflects an opening outward to international programs such as this one at Mishkenot. Says Bernhardt: "Culture ought not to have any borders."
Shelley Jordon arrived in Jerusalem directly from Berlin. Her current exhibit at Mishkenot reflects shifts in her personal life and artistic vocabulary. Of her residency here she said, "I came with an open mind, to engage, explore and respond to Jerusalem."
Nicole Krauss has a very different perspective on Jerusalem, saying, "I have been coming here for longer than I can remember. My parents met here, my grandparents lived here for 25 years. I really feel like this place for me is a kind of home away from home." Jonathan Safran Foer is clearly excited about working in Jerusalem, which he feels is "the kind of place that inspires creation." He recalled, "I became a writer half my life ago when I was 17 on a trip to Jerusalem where I met Yehuda Amichai. I don't think I've ever been changed so dramatically, so quickly."
Joshua Sirefman, whose planning projects in New York include Coney Island and the Brooklyn Bridge Park, modestly said, "I have no immediately apparent skills and create no lasting product." Yet spoke of the process of "place-making" as providing something that everyone can use and enjoy. Sirefman will explore Israel and meet with different groups here to exchange ideas on creating sustainable urban environments.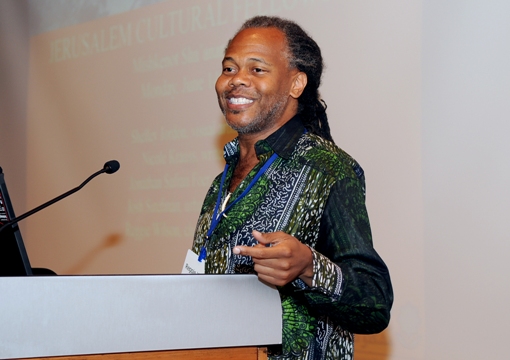 Choreographer Reggie Wilson not only talked the talk, he came in singing: "Come Jerusalem Come," sharing a hymn from the Spiritual Baptist Church in Trinidad. He spoke of his work methods: "Going into communities, binging their histories, cultures, forward to create contemporary work," and brought the audience together as a community to sing along with him.
Nili Zaidel ended the evening on an ever-hopeful note, singing John Lennon's "Imagine" in Arabic, English and Hebrew, the enthusiastic applause bringing her back for an encore of "What A Wonderful World."
Jerusalem Cultural Fellowship Events at Mishkenot Sha'ananim:
July 5 at 20:00 Jonathan Safran Foer with Etgar Keret and musical guest Eran Tzur
July 7 at 20:00 Nicole Krauss with Yoram Kaniuk
The discussions will take place in English. Tickets: 60 NIS, 50 discounts for pensioners and students, call: 02- 629 2212
AYELET DEKEL