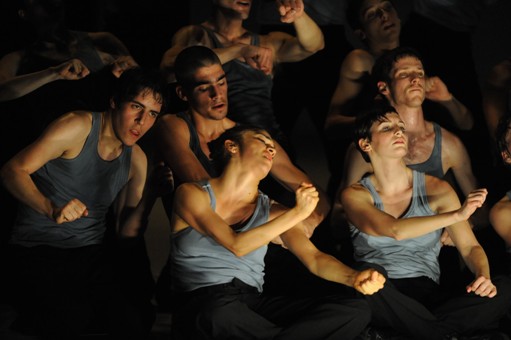 Summer's hottest remix is the Batsheva Ensemble's performance of Deca Dance, a program of excerpts from Ohad Naharin's works: Max (2007), Seder (2007), George and Zalman (2006), Three (2005), Moshe (1999), Zachacha (1998), Z/na (1995), Mabul (1992) and Kyr (1990). More than a panorama of Naharin's choreography over the past two decades, the tightly designed evening has a cool contemporary feel and the dancers are amazing.
The creative energy of Batsheva's junior company, who recently presented an evening of their own works, "Chimera," is apparent in every move. Whether they are swarming on the stage like hyper-agitated electrons, or slowly savoring each ripple of movement throughout the body, this is a group of powerfully expressive dancers.
Naharin's choreography invites a complex tangle of references and associations. The musical selection, ranging from Vivaldi to Dean Martin and Missy Elliott, enhances the sense of dynamic adventure that takes one easily from rap to renaissance.
This particular dance party is headed south, with performances tonight in Dimona, July 5th in Beer Sheva and July 8th in Yeruham. Subsidized tickets will be sold to these performances for only 25 NIS as part of the "Batsheva South" program initiated by The Batsheva Dance Company and Cellcom IDB group. In addition to performances in local venues, the community outreach program will include daytime performances in schools and dance workshops for the Sha'ar HaNegev regional dance program.
AYELET DEKEL