Midnight East has been wandering around the internet in preparation for a White Night of wandering around the streets of Tel Aviv on July 1, 2010. Random wandering is fun, but a little help from my friends is always welcome…
Tsvika Oren, Animation Expert and all-around interesting fellow, sent me in the direction of a fascinating blog – A Journey Around My Skull, and the illustrations of Adolf Hoffmeister (1902 – 1973).  Among Hoffmeister's intriguing illustrations are those created for the 1964 Czech translation of H. G. Wells "The First Men on the Moon" which can be seen on the blog. An exhibit of Hoffmeister's "Drawings and Collages" from 1926 – 1973 will open at the Minotaure Gallery on 100 Ben Yehuda Street at 19:00 (open until the last mesmerized visitor collapses in ecstasy). Born in Prague, Hoffmeister was "poet, novelist, translator and editor. He edited one of the main Czech daily newspapers, Lidové noviny (1928-30) and the main literary paper, Literární noviny (1930-32). He was also a talented artist and caricaturist, often illustrating his own work." (Granta Magazine) Images of the exhibited works and biographical information can be found on the Minotaure Gallery site.
Thursday night is also an excellent time to make an acquaintance with Zadik Gallery, a gallery that believes art can be a part of all our lives. The price range is such that you can walk into the lovely gallery on 16 Shimon Zadik Street in Jaffa, fall in love with a painting – and afford to take it home with you! "Hawks and Sparrows" a new group exhibit, will open on Thursday night at 20:00. The name is taken from the Pasolini film, which dissects social classes in post-war Italy. Focusing on the image of birds in Israeli art, the exhibit also hosts two international artists: the Japanese photographer Katsuyoshi Ueno and the Slovakian photographer Kristina Chrastekova who bring a different point of view.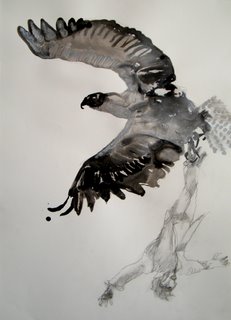 Among the artists exhibiting: Tsibi Geva, Kristina Chrastekova, Katsuyoshi Ueno, Thirtsa Ulman, Mnoukhine, David Boskovich, Michal Ben Zeev, and Atalia  Shachar. Guest artists Stefan Ferry and Avner Eitan will make this a night to remember – they will dance, DJ, and Create the Bird Cage until midnight.
"Seduction to Art" – a one night stand on the walls and windows of the Zimmer, on 5 HaGdud HaIvri Street. Paintings, photographs, sculptures, installation and video, along with drag performances, sound, music, text, belly-dancing and fashion on the balconies and in the street. A performance of  "Zimmer View with a Car" by Ron Katzir, Alex Drool, Guy Dubious and Ron's car will round out the evening. Curators for this event are Roy Fabian and Michal Rivlin. The fun begins at 20:00.
Round about midnight I usually feel like singing, don't you? If you want to hear some wonderful singers head out to the Israeli Opera, for an informal 3 hour concert, featuring selections from favorite operas and popular musicals: La Traviata, Rigoletto, The Marriage of Figaro, The Magic Flute, Don Giovanni, Elixir D'Amor, West Side Story, Phantom of the Opera, My Fair Lady, and more…Among the opera soloists are: Efrat Elazar, Hila Fahima, Lila Graetsova, Mezzo Soprano Shira Raz, Ayala Zimbler, Tenor Guy Manheim and Nimrod Greenboim and Baritone Yair Goren. The concert will be accompanied by pianist Eytan Schmeisser and presented by Michael Eisendstadt. Tickets are 65 NIS, to order call: 03-6927777.
The Eretz Israel Museum will have a fashion, jewelry and champagne party from 20:00 to 02:00. Israeli designers Sasson Kedem, Mira Zwillinger and Ran Zuriel will exhibit their fashions along with jewelry created by leading contemporary craftspersons participating in the "Sequences: Identities" currently showing at the museum. The exhibit will take place outdoors, in Gan Yael – at the heart of the museum space, amid mosaics and green lawn. Opening the festivities will be musician Yogev Haruvi with Drum & Didge. Each visitor will receive a complimentary glass of champagne. All museums exhibits will be open, including the planetarium. Museum entrance: 30 NIS. The Eretz Israel Museum is located on 2 Haim Levanon Street in Ramat Aviv. Information: 03-6415244.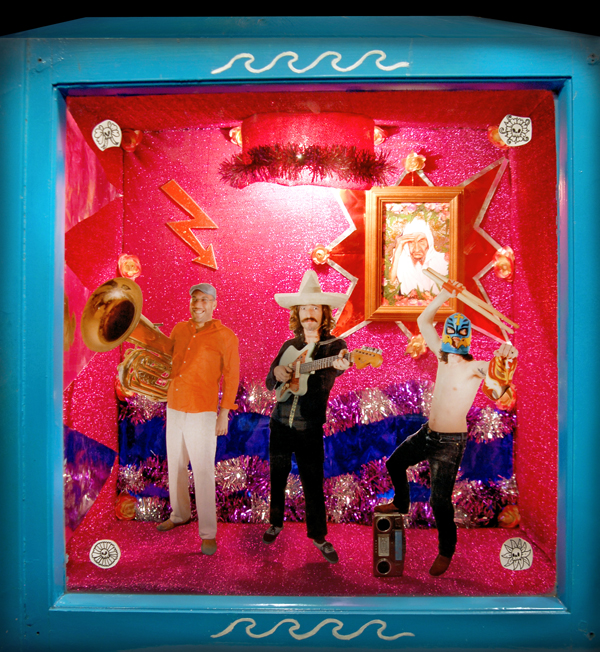 Alakazam! Boom-Pam's latest album is out and they will be playing at Tmuna Theatre's FREE Indie Concert along with Yehu Yaron, Carusella, IGOTTHEHOTTIES and RUTSIBUBA. Get down and dirty but be on time – 22:00 if you want to dance, because space is limited.
As we walk through the night streets of Tel Aviv let's all thank Cristophe Girard, the Deputy Mayor of Paris who started this beautiful madness! Girard will be here in Tel Aviv to celebrate the White Night with 100% Paris – an exhibit of contemporary video selected by curator Marie Shek. Videos will be screened on walls, storefront windows and art galleries in the Rothschild – Neve Tzedek area. Enjoy!
AYELET DEKEL