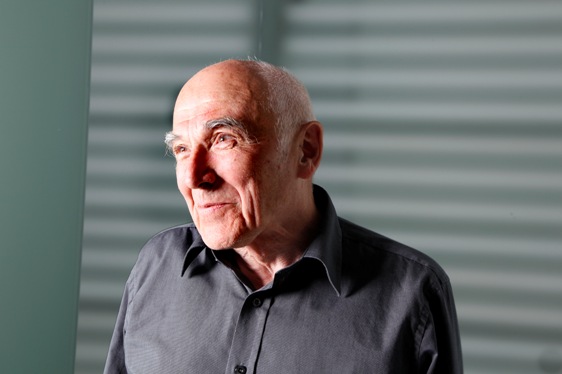 Once in a while, an art exhibition comes along that shouldn't be missed. This is the case with Light and Space in the Garden of Reason where some 50 recent sculptures and mixed-media installations by  Czech glass master Václav Cigler are on display. Some of the most striking pieces created especially for the impressive space of the Litvak Gallery, Tel Aviv, which is hosting this show.
Cigler (b. Slovakia 1929), founded the department of glass in architecture at the Fine Arts Academy, Bratislava and the Cigler School of Glass Art; and, since the 1960s, has been enormously influential in educating a new generation of glass artists and pioneering the use of optic glass as an artistic medium. His contribution to architecture has been significant, his designs incorporating light, water, and glass.  In conversation with Steven Henry Madoff, curator of this exhibition, Cigler spoke of his aim to open up the landscape to the viewer, bringing him to a place where he perceives "nature's colors, shapes, substances, smells, sounds, shimmering light."
Clearly, these aims are also expressed in the current exhibits which mostly have optic glass as their main element. The artist has spoken about his approach to this material: 'I make glass which does not want to become art but rather (becomes) a means of viewing and watching.'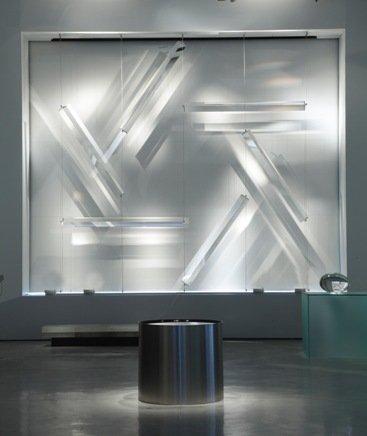 The poetic title of this show is derived from the text written by Madoff for its catalog. It refers to the fact that Cigler, like the American Minimalists at md-20th century, exclusively favors geometric shapes devoid of any ornament – 'A garden of reason." But there is no suggestion of influence, since Cigler, due to the political climate in his country had no contact at that time with the West.
Although the forms in Cigler's artworks are abstract, they can also be related to familiar images or narratives. Like Jacob's Ladder – the bridge between heaven and earth- expressed as a delicate arrangement of glass slats suspended by fine wires from the ceiling; or, the magnificent Star of David adorning the front window of the gallery.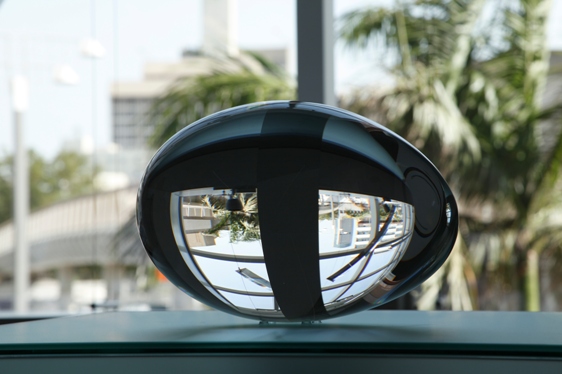 The superb reflective and refractive qualities of optic glass are illustrated by many elegant pieces in a variety of forms and brilliant colors. Clear glass is, however, the material used for Sphere # 1 which, located on the patio of the gallery, draws in moving and static fragments of landscape.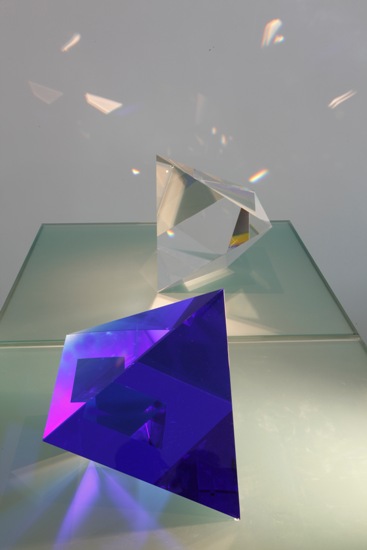 Cigler achieves striking effects using basic geometric shapes. For instance, remarkable light effects are achieved by the juxtaposition of two pyramids, one of clear glass, the other a brilliant blue.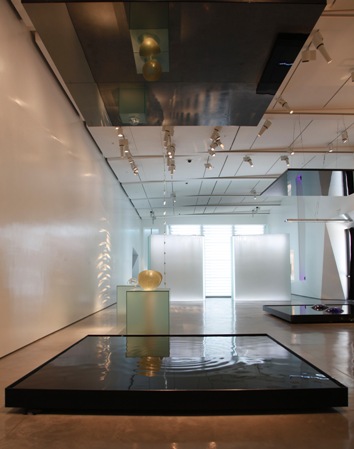 As in his designs for parks and gardens, water, representing nature in flux, is a frequent element in his gallery sized installations.  Notable pieces include Rippled Surface where water filling a rectangular trough is kept in motion by a sonic pulse. This water acts as a mirror for a sheet of dark glass suspended above it, and for the faces of people peering into the pool.
One of the highlights of this outstanding exhibition is Light Box a monumental glass installation commissioned by the gallery. Based on Light Field installed at the Kampa Museum, Prague in 2008, it consists of four plate glass walls within which fluorescent lighting is embedded. Connected to a computer, its degree of brightness is linked to the rhythm of human breathing. Inside this box is a space with a number of glass spheres resting on a central pedestal. Here, the illumination is also computer-controlled so that the spheres glow and reflect light briefly before vanishing at intervals into darkness.
Litvak Gallery,
Museum Tower, 4 Berkovitz St. Tel Aviv. Tel: 03. 6959496
Till October 2010
 ANGELA LEVINE