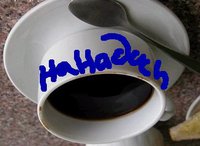 The Hafuch group think that life in Israel is about much more than politics and it's funny! After three sold out performances this past spring, they will be performing on Tuesday, August 3rd at the Center Stage Theater.
Hafuch promises a night of improv, music, and cheap alchohol, saying, "Come laugh with us, or at us, we don't mind either way! Really we don't!"
Location: Center Stage Theater, Dor Dor Vedorshav 7a, German Colony, Jerusalem.
Time: August 3rd at 8 pm.
Tickets: 30 shekel. call 02-672-2405 x 113 or email cst@themerkaz.org.il