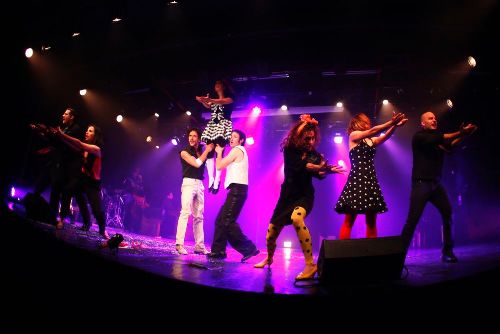 Children's literature has always enjoyed the freedom to be deliciously subversive, and if your characters are talking animals, you can make them say or do just about anything without fear of censure. You can even tell the truth.
Uzi Ben Canaan (1954 – 1991) wrote with intelligence, humor, unrelenting honesty and compassion. He is perhaps best known for his books for children, but in Derech Hagav (1988) he created a children's book for adults. The title plays on the similarity between the Hebrew word for grasshopper – hagav (with that guttural "het" sound), and back – gav, which is the source for the phrase "derech hagav" meaning literally – by way of the back, or – by the way. The book reveals the secret desires and torrid details of the lives of insects and other creeping crawling creatures in a series of short, funny vignettes, and by the way, offers some insights to human lives as well.
Tziporela, an irreverent, wildly funny and spectacularly kinetic theatre troupe, brings these creatures to life on the stage, with music composed by Asaf Korman to Uzi Ben Canaan's texts. This elegant entomological cabaret is a serious workout for the stomach muscles – come prepared to laugh uncontrollably.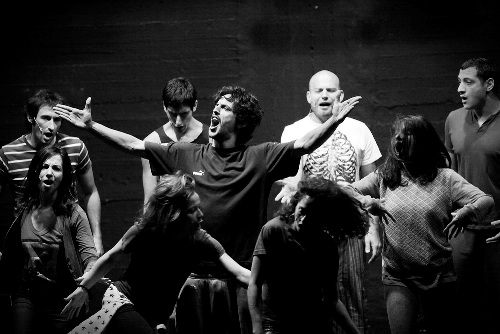 This uninhibited, talented group can do just about everything – and they do. Tziporela started out in 2005 when ten friends, fresh graduates of the Nissan Nativ Acting Studio decided to put together a show from comic sketches they had created over the past few years. The result was Akitza Tivit (Born to Bite) – a show that almost defies definition in its combination of physical comedy, musical numbers and verbal wit.
Picking up on the nuances of Israeli popular culture – politics, entertainment, family life – nothing is sacred; they all get the Tziporela treatment. Akitza Tivit has already acquired cult stature, with a bevy of loyal fans. The members of the Tziporela Troupe are: Efrat Aviv, Dana Ivgy, Lotus Etrog, Dudu Golan, Omri Doron, Tomer Nahir Petluk, Ben Perry, Gal Friedman, Rotem Keinan, Tamara Klayngon, and Naama Amit.