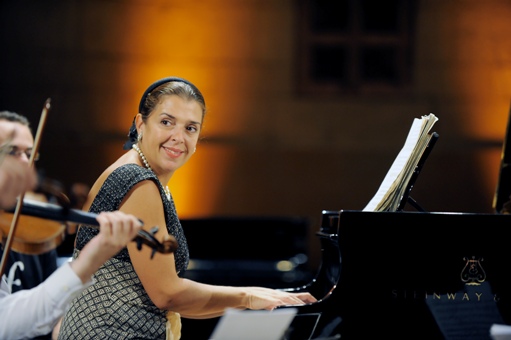 One of the last music festivals taking place before the Jewish high-holiday season, the Jerusalem International Chamber Music Festival is the perfect sendoff for a blazingly hot summer. The festival (August 31 to September 11) brings together many prominent classical musicians, both local and from abroad, for a series of intriguing concerts sure to generate interest.
Artistic director, pianist Elana Bashkirova, has put together a program this year celebrating the centennials and birthdays of Chopin, Schumann, Wolf, as well as modern composer and conductor Pierre Boulez (who is celebrating his 85th birthday). Brahms is also receiving attention, as his music can be considered to be the connecting line between romantics such as Schumann and the tumultuous twentieth century. The festival is in its thirteenth ear.
Elana Bashkirova will be joined by her husband, pianist and conductor Daniel Barenboim, and their son, violinist Michael Barenboim for the closing concert on Saturday, the 11th of September. The program is somewhat intense, and seems to pit Beethoven and Scumann against Schoenberg and Boulez. Regardless of who emerges victorious, the only real victors will be the audience in attendance of this passionate festival.  
Concerts will take place at the YMCA, 26 David HaMelech Street, Jerusalem. The complete program can be viewed on the festival website. Box office: 02-6250444