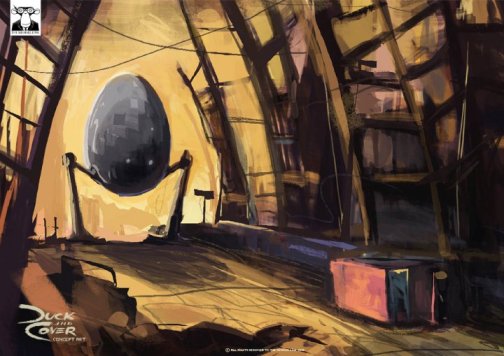 The planet is fine. The PEOPLE are !@%$#%@ The planet…the planet…the planet isn't going anywhere. WE ARE!!! George Carlin
Ever wondered what a post-human planet would look like? Duck and Cover, a comic series created by The Missing Link, describes a world ravaged by a nuclear war with no human survivors. But don't worry – the animals are all right, albeit somewhat mutated, and it's funny.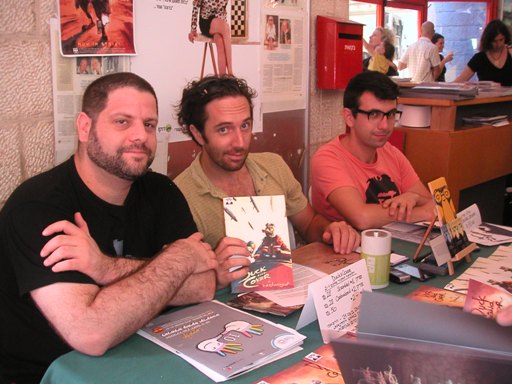 Oren Mashkovski, Mysh Rozanov, and Jean-Phillipe Vine are The Missing Link, an animation and content development studio based in Tel Aviv. Creating animation for fun and profit, one of their recent, very short (12 seconds!) animation projects was the opening clip for Animix 2010, the International Animation, Comics and Caricature Festival which took place at the Tel Aviv Cinematheque in August. You can see the Animix Opener from The Missing Link on Vimeo. Midnight East met the artistic trio at the cinematheque where they presented the second issue of Duck and Cover – Carbonized!
Joining forces to create a post-apocalyptic comic with a message, their process is collaborative, with some specialization: Oren on story and layout, Mysh on characters and JP on background.
Duck and Cover are the names of the two main characters: a warrior duck and a genius worm with a huge head. The comic series takes its name from the 1950s film used to educate American schoolchildren on safety strategies in the event of nuclear detonation. While one might readily agree with the film's statement "We all know the atomic bomb is very dangerous," kneeling on the floor next to your desk and covering your head with your hands, might well lead to the outcome envisioned by The Missing Link.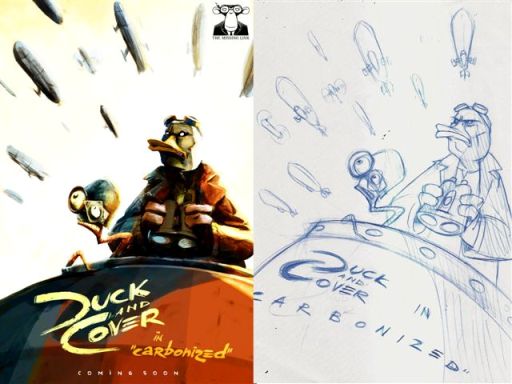 The mutated animals live off the remains of civilization, amidst constant war between barbaric tribes, fighting for their daily survival. Duck and Cover have found a huge egg, in which they make their home. Some elements of the series remain mysterious – what exactly is this egg, and where did it come from? Midnight East is also wondering: how the heck did the animals survive?
While they don't promise to reveal all their secrets, The Missing Link offers a look behind the scenes at the creation of Duck and Cover in an exhibit that opens September 21, 2010 at the Israeli Museum of Caricature and Comics. The exhibit presents the collaborative process of making the comic series, with a focus on the second issue. A meeting with the artists will take place at the museum on Wednesday, September 29 at 18:30.
The Missing Link Exhibition – September 21 – December 18, 2010
Israeli Museum of Caricature and Comics
61 Weizman Street, Holon, Admission: 10 NIS, contact: 03-6521849, www.cartoon.org.il
Opening Hours: Mon, Wed, Fri, Sat 10:00 – 13:00, Tues, Thurs 17:00 – 20:00
AYELET DEKEL