Not for children only, children's films claim a critical place at the intersection of art, culture, education and entertainment and the Tel Aviv International Children's Film Festival presents the best of the genre, with screenings of films from around the world in addition to workshops and other special events. The festival will take place at the Tel Aviv Cinematheque from October 27 – 30, 2010. Gila Almagor-Agmon is Festival Chairperson and Michal Matus is the Festival Director.
The opening film will be the Norwegian film Rafiki (2009), directed by Christian Lo. The film centers on the friendship of three girls which is threatened when one of the girls, Nashia, must leave the country because her mother's work permit has expired. The screening will be accompanied by a special opening event with the participation of children of foreign workers in Israel.
More than 60 films will be screened as part of the festival's many programs. The festival gives a voice to children in every dimension – not only featuring films created for young audiences, films about children and films created by young filmmakers, there is also young jury for the film competition, whose members took part in a special training workshop. Members of the Young Jury are: Avaka Bat El, Nouha Elfahal, Einav Gojansky, Shaked Hadad, Roi Tweig, Aviv Porat, Peleg Mizrahi, Yarden Sheffer, Yehonatan Ben Sason, Eran Shavit, Ovad Shahar, Yoni Mevorach, and Ohad Gilot, with Karin Tirosh in charge of the panel.
The festival jury members are: Arne Lindtner Naess, actor, director, screenwriter and creative producer of TV series and movies from Norway; Line Arlien-Soborg, development consultant for The Danish Film Institute; Laurence Herszberg, Director General of the Forum des Images in Paris; Jo-Anne Blouin, Head of the Montreal International Children's Film Festival; Nira Harel, one of Israel's prominent children's authors.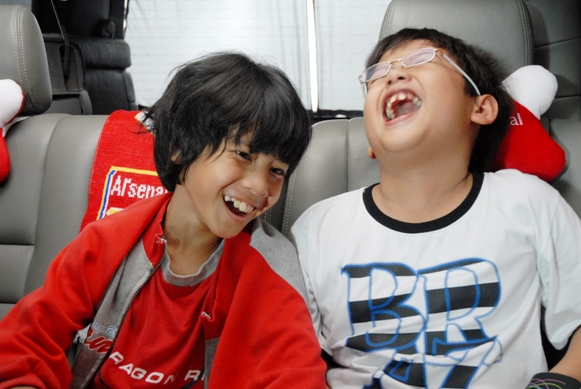 The Peres Center for Peace and the Tel Aviv Cinematheque will sponsor a special screening of the film Garuda in My Heart (Indonesia 2009), directed by Ifa Isfansyah for children from the twinned Peace Sport Schools in Israeli and Palestinian communities in Jerucham, Sderot, Kiryat Malachi, Be'er Tuviah, Jaffa, Ein Rafah, Jericho and Beit Sahor. The film tells the story of 12 year old Bayu, who dreams of becoming a great soccer player despite his grandfather's objections.
Nine films will participate in the International Competition:
Garuda In My Heart (Indonesia 2009), directed by Ifa Isfansyah
The Magic Tree (Poland 2009), directed by Andrzej Maleszka
Rafiki (Norway 2009), directed by Christian Lo
EEP! (Holland 2010), directed by Ellen Smit
Alamar (To The Sea, Mexico 2009), directed by Pedro Gonzalez Rubio
Echoes of the Rainbow (Hong Kong 2009), directed by Alex Law
No Network (Iceland 2009), directed by Ari Kristinsson
Karla & Katrine (Denmark 2009), directed by Charlotte Sachs Bostrop
The Crocodiles Strike Back (Germany 2010), directed by Christian Ditter
Israeli films screened at the festival will include Avi Nesher's The Matchmaker (Israel 2010), which tells of Eric, a teenager growing up in Haifa of the 60s. The son of a Holocaust survivor, Eric begins to work for a childhood friend of his father's – Yankale Bride, a matchmaker with a unique outlook on life. Bonjour Monsieur Shlomi (Israel 2003) directed by Shemi Zarhin is another memorable film that tells the story of a teenage boy – Shlomi, the quiet, overlooked and under-appreciated member of a chaotic family who discovers a new direction in life.
Classic films for children include Eric Koestner's Annaluise & Anton, the Flying Classroom and Emil and the Detectives, as well as Beatrix Potter's Tales of Peter Rabbit and the beloved film – The Red Balloon.
Growing Pains is a unique documentary film project for teens presented by The New Israeli Foundation for Cinema and Television, The Second Authority for Television and Radio and Israeli Educational Television. Israeli film directors were invited to create documentaries intended for, and focusing on teenagers. The project encourages the viewing of documentaries through creating films that relate to the lives and issues of teenagers in Israel today.
Five films will be screened as part of the Growing Pains program:
Home Sweet Home, directed by Efim Graboy, editing and screenplay Anat Tzuria. A family of immigrants from Russia in which the mother is the sole provider and the father has retreated from the world – the son tries to help himself and his family.
Full Gas, directed by Yoav Shamir, follows Omer, a go-karting champion with ADHD, over the course of a critical year.
Piece of Innocence, directed by Yuval Erez and Yoed Kadary, tells the story of Shir Lev-Ran who was 10 years old when he had to leave his home in "Gush Katif" the jewish settlement in Gaza.
Second Parting, directed by Yael Kipper and Ronen Zaretzky, is about a group of teens who were removed from their homes and raised in a boarding school. Now about to turn 18, they participate in a special workshop intended to give them the skills needed to cope with the world outside their school.
The Boy from Breslev, directed by Rafi Tzukran and Donna Naor Ha'Cohen, takes a look at the rarely seen world of Natan, a young boy from a Hasidic Jewish family living in Meron, in the northern part of Israel.
The full program, movie synopses and additional festival information can be found on the festival web site. Tickets can be ordered online, or call: 03-5157929, 03-0606800 x 0.