"Pilobolus is a very small, very pretty, very good-smelling and light-loving fungus. It grows, bends and twists toward the light and then loses its head entirely. But the meaning of the company really has less to do with the nature of the actual fungus, but more just the sound of the name, which has a lovely kind of lilt, I think. It's also unusual. There are no dance companies I know of named like this. It's a catchy name for a catchy company." Jonathan Wolken (1949 – 2010) in an interview in the Fairfield Mirror

There are no dance companies like Pilobolus, with their distinctive imagery and physical abilities. Constructing fantastic visions onstage with their bodies, their performances have the fascination of a conjuror's trick, yet even more amazing because it is all real. Pilobolus Dance Theater returns to Israel, with performances taking place from November 4 – 11, 2010 at the Israeli Opera/Tel Aviv Performing Arts Center, Jerusalem Theatre and Haifa Auditorium.
The collaborative aspect of their creative process is as unusual on the dance scene as their performances. Working as a collective, the dancer's exploration of movement and improvisation are an essential part of the process, creating a choreographic dialogue – with amazing results. It is not unusual for Pilobolus choreography credits to include a list of several people in addition to one or more main choreographers.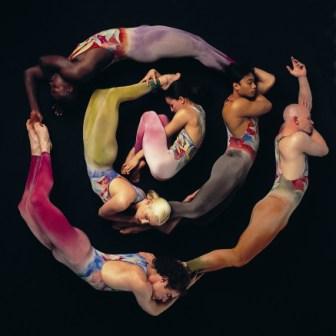 Molly Gawler, a dancers/collaborator on Shadowlands (Transformations, an excerpt from this full-length work will be performed in Israel) reflected on the process in an interview on the Pilobolus blog, saying: "It is the hardest and the most life-changing experience I have ever had.  I have undergone major shifts in the way I look at and think about art and the world.  I am thankful every day for this unexpected and beautiful life that I lead.  The beginning process was like being in the intense heat of a forge, in which we pounded and distilled, and cried and worked and worked until something magnificent emerged.  It certainly didn't happen overnight. I would say my "dog girl" character took about 3 years to emerge as she is now, and that is just one aspect of the intricate full-length show."
It is not surprising that when the company decided to look outward, it was with a view to collaboration, establishing the International Collaborators Project (ICP) in 2007, inviting visiting artists to create new works with the company. The first collaborators were the Israeli choreographers Inbal Pinto and Avshalom Pollak, and together they created Rushes. Commenting on the experience of working with the company, Inbal Pinto said, "It's a live organism, the dancers are an active part of the creation, and they are the life of the place. You can throw them a ball, paper, nothing – and they go with it. They come to life through being together."
The founding members of Pilobolus – Robby Barnett, Lee Harris, Moses Pendleton and Jonathan Wolken first came together in a dance class taught by Alison Chase at Dartmouth College in 1971. Although the group has seen some changes – Chase joined from 1973 – 2006, Pendleton left to form Momix, Michael Tracy replaced Harris in 1974 – the core group of artistic directors has remained together for a remarkably long time, with Wolken's death in June 2010 a sad loss to the company. It was Wolken who gave the Pilobolus its unusual name, from a fungus he encountered in his work in a biophysics laboratory. Ever popular with audiences, Pilobolus received the Samuel H. Scripps American Dance Festival Award in 2000, and has been the subject of a feature profile on CBS' 60 Minutes.
The program to be performed in Israel is a combination of new and older works:
Duet 1992
Choreography: Robby Barnett, Alison Chase, Michael Tracy with Rebecca Young and Jude Woodcock. Music: Based on Medieval Norwegian songs performed by Agnes Buen Gamas, arranged by Jan Garbarek from the album Rosenfole.
This duet for two female dancers is rarely performed. It has not been in the company repertoire for over ten years, and was re-introduced for the 40th anniversary celebrations of Pilobolus. The attraction between the two women slowly turns into a struggle for power and control. A loving, physical, sensitive and intense relationship is presented on the stage, exploring and revealing issues of intimacy, misunderstandings and hope for a successful union.
Redline 2009
Choreography: Jonathan Wolken in collaboration with Matt Del Rosario, Andrew Herro, Jeffrey Huang, Jun Kuribayashi, Jenny Mendez, Annika Sheaff and Christopher Whitney. Music: Battles, D J Champion. Sound editing: Kilgore and Jonathan Wolken. Costumes: Liz Prince. Lighting: Neal Peter Giampolis.
Redline examines the beauty and futility of physical battle. Accompanied by a driving and seductive score by Battles and Autechre, this full company work is full of tremendous energy balanced by a graceful discipline.
Redline is the fifth in a series of works commissioned by Dartmouth College.
Transformations 2009
Choreography: Steven Banks Robby Barnett Renee Jaworski, Matt Kent, Itamar Kubovy, and Michael Tracy in collaboration with Molly Gawler and Mark Fucik. Music: David Poe. Set design: Neal Patel. Costumes: Liz Prince. Lighting: Neal Peter Giampolis.
An excerpt from Shadowlands, a full length work created in 2009. Part dance, part shadow act, part circus, and part concert, SHADOWLAND is a surreal story of a young girl's sensational world as she comes of age, created in collaboration with the lead writer of SpongeBob SquarePants Steven Banks and the American musician, producer, and film composer David Poe.
Untitled 1975
Choreography: Robby Barnett, Alison Chase, Martha Clarke, Moses Pendleton, Michael Tracy, Jonathan Wolken. Music: Robert Dennis. Costumes: Katie Daley and Malcom McCormick. Lighting: Neal Peter Giampolis. Commissioned by the American Dance Festival.
A Victorian Alice-in –Wonderland like fantasy that follows the lives of two young women. While playing in a garden they are interrupted by a pair of male interlopers. After a brief encounter, the women give birth to a new pair of men. The unfolding interaction of all six characters explores the divergent symmetry of the women's lives, from innocent youth to nostalgic old age.
Performance dates and venues:
Israeli Opera/Tel Aviv Performing Arts Center. Tickets: 03-6927777
November 4 at 21:00, November 5 at 13:00, November 6 at 21:00
Sherover Theatre – Jerusalem. Tickets: 02-5605755, Bimot 02-6237000/*6226
November 8 at 21:00, November 9 at 21:00
Haifa Auditorium. Tickets: Garber 04-8418411, 04-8384777, on the night of the performance only – 04-8598012.
November 10 at 20:30, November 11 at 21:00