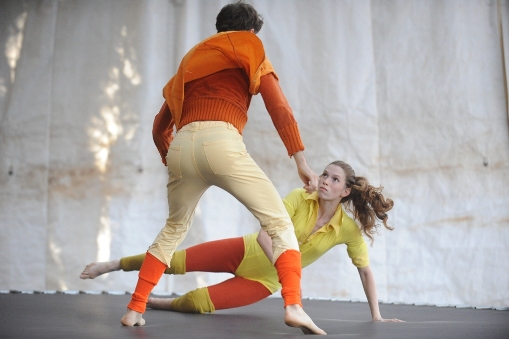 Net Work is exhilarating – the kind of exhilaration that leaves you breathless, heart-pounding, with an ache in your chest. Choreographed by Maya Levy and Anando Hanan Mars, and performed by dancers and creative partners in the work, Noa Faran and Uri Shafir on a trampoline, Net Work is an imaginative exploration of terrain that is at once treacherous and joyous, a space where flying and falling are forever linked.
The ground beneath your feet is usually the one thing you can count on, but the trampoline subverts that certainty. Anyone who has ever tried out a trampoline knows: it is springy, spongy, dipping down beneath you when you are still, absorbing and responding to your mass and movements. You have to put in twice the effort to stand still, but then you can jump twice as high. The use of the trampoline imposes certain demands, requiring a space with high ceilings; it leads the performance into non-traditional venues, such as Warehouse 2 in Jaffa Port and the Knight's Halls in Acco.
Venturing into an unusual dance environment transforms the experience, the venue becoming an element in the work. Viewing Net Work at Jaffa Port, the sea breeze blowing in from the Mediterranean, the raw feel of the concrete floor and bare walls lent a rough sensuality and texture to the moment. The trampoline was situated at one end of the room, with wide space all around separating it from the rows of wooden chairs. The two dancers were on the trampoline, surrounded by a high net – protected, imprisoned, exposed.
Playing with gravity, Levy and Mars have created a dance work that moves from simple to sinister, pleasure to pain and back again. Exploring this playground like children – all out, no holds barred, testing the space and each other, Faran and Shafir sustain a fascinating tension between physical exuberance and vulnerability. In one scene, Faran moves to kiss Shafir, he leans away into a backbend, falling back and springing up – to reach out to kiss Faran, who in turn, backs away from him. The repeated gesture becomes an infinite loop of unrequited desire, beautiful and poignant.
Comic, combative, critical and compassionate, Net Work examines relationships from every possible angle, including the relationship between performer and viewer. If they are the gladiators doing battle in the arena, then like it or not, we as the audience are the Romans enjoying the spectacle.
Net Work by Maya levy and Anando Hanan Mars
Dancers and creative partners: Uri Shafir, Noa Faran
Original Music: May Lev
Costume design: Barak Aviam and Shira Weiz
Production: Sivan Gavrielovitch
Performances:
Warehouse 2, Jaffa Port – Tickets: 074-7018580                
November 5 at 22:00
November 6 at 21:00
Hamama – Dance & Culture Lab, Knight's Hall, 1 Weizman Street, Festival Gardens, Old City of Acco. Tickets: 04-9913834              
November 17 & 18 at 21:00