The reopening of the Chelouche Gallery in the spacious and elegant surroundings of the Twin House, a historical building in the heart of Tel Aviv, is being celebrated with the opening of a splendid group exhibition in which 23 artists associated with this gallery are participating. The show has aptly been named Relocation, and surprisingly, with some leeway and a dash of imagination, this very diverse collection of paintings, photographs, sculpture and installation art links successfully to this theme. Highlights include contributions from well known artists abroad, among them Volker Maerz, Zigi Ben Haim and Michal Rovner, an Israeli working mainly out of New York.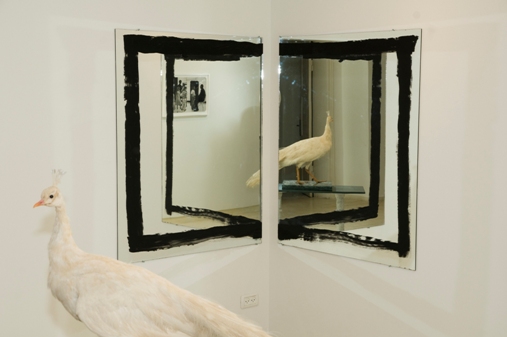 While almost all the works on exhibit were produced especially for this show, even those dating from an earlier period have been given a different look. For instance, a fundamental element in Corner Mirror, an installation by Italian artist Michelangelo Pistoletto from the late 1990s which comprises two mirrors set opposite each other at the corner of a wall is the movement or 'relocation' of the human figure, as viewed within a real and a fictitious space. The curator's decision to replace this human element with a dead static image, that of a stuffed peacock mounted on a marble table so that it reflects repeatedly in the mirrors was inspirational, given the fact that this bird was fashioned by (the late) Gideon Gechtman, an Israeli artist whose art focused on themes of death and human frailty. Since the peacock is actually a symbol of renewal and immortality, its presence here not only gives Pistoletto's installation a new twist, but proves to be an imaginative way of keeping the memory of Gechtman's art alive.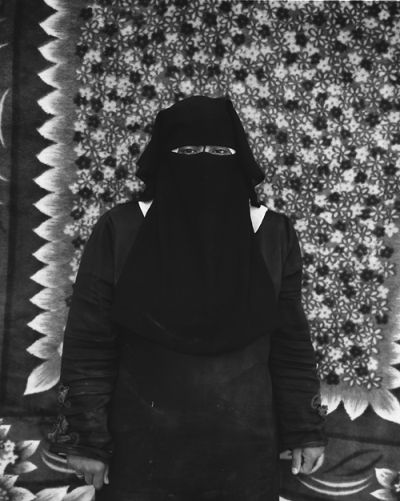 As might be expected, several works address the subject of relocation from a political standpoint. Nurit Yarden's digital prints titled Transference depict a  'typical' Israeli family, conceived as childish cut-outs, 'set down' in the middle of nowhere, while Miki Kratsman has photographed a Bedouin woman covered from head to toe in a Burqa. According to Gallery director Nira Itzhaki, this picture was snapped inside the woman's home in a Negev settlement, moments before it was demolished. In a similar vein, perhaps alluding to the ejection of illegal immigrants is a print (see above) by South African artist William Kentridge. It shows three shadowy figures, with sacks on their backs, moving through a wasteland curtained off by barbed wire.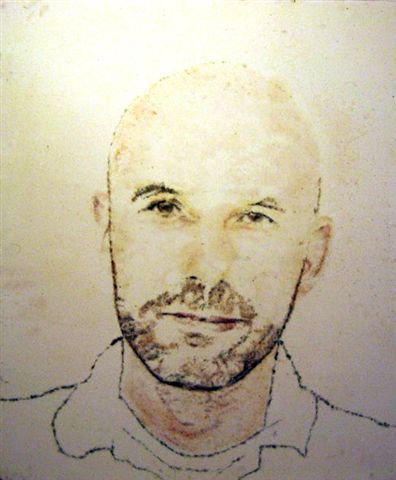 Among the most captivating images in this show are those created by artists for whom relocation means moving one's mind or one's art to new places. This quality is apparent in Yossi Mark's meticulous painting of a young woman lost in thought. Working in quite a different style is Gal Weinstein whose self-portraits illustrate that this genre of painting can go far beyond realistic depictions executed with traditional materials. In keeping with the spirit of his previous multi-media installations dealing with the unpredictable forces of Nature, Weinstein 'draws' two haunting images  (produced with unconventional materials –steel wool and bleached cotton wool ) that render his face on the point of vanishing so that it becomes a kind of memento mori alluding to the transience of life. 
The art of Jamaican born Nari Ward (living and working in New York) deals with the social ills of contemporary society.  In the two storylines featured here, conceived exclusively in black and white and employing stenciled ink images and psychological study cards, he illustrates the absurdity of racial stereotyping. In one of these, children line up to be weighed in a doctor's surgery; in the other, two little girls are shown in a painting class, the figure of their teacher left in silhouette.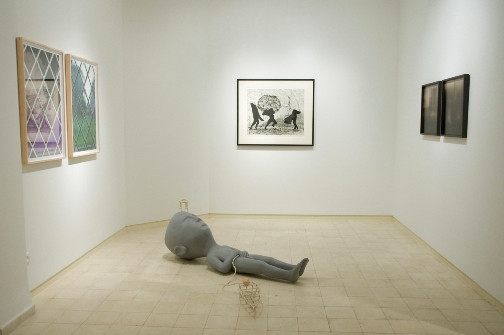 The desire to escape to a new place even in one's mind is the message given out by the inert figure of Nadav Weissman's Sleeping Boy whose body is linked by a cord to the skeleton of a tiny boat.  A flight of imagination (or is it some buried memory?) is also the subject of an intriguing video in which Berlin-based artist Christoph Keller gives a detailed description under hyposis of a visit to an art museum.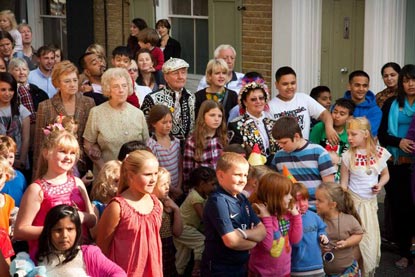 The exhibit drawing the largest crowd (at least at the time of this writer's visit) was Celebration, an 11 min. video piece by Melanie Manchot, a London-based artist who specializes in reconstructing public events as a way of exploring individual and collective identities. In this instance she has revived the British tradition of street parties, popular for many centuries as a way of marking national occasions like coronations and royal weddings.
The residents of a 'mean' street in the East End of London was chosen for her staged drama, and hereby lies the link to the exhibition's theme, since this street, these houses, was once populated only by Londoners, born and bred. But this is no longer so, the occupants of many of the homes in this street are people who have 'relocated' from different parts of the world. This mix is clearly seen as this video nears its close and 'the street' comes together for a group photograph. It is fascinating to note that among the assembled crowd are a Pearly King and Queen, representatives of an historical association of Cockney market people who have raised money since the 19th century for East London charities.
This is an enjoyable presentation showcasing works by some very good artists. However, a strong case might be made for having fewer artists exhibiting and a greater number of individual exhibits.  But on second thoughts, this is a festive occasion, so why shouldn't as many artists as possible join in the inauguration of a new era for one of Israel's most respected galleries?
Open Until Dec. 4
Chelouche Gallery for Contemporary Art,
7 Mazeh, Tel Aviv
03.5289713 
ANGELA LEVINE