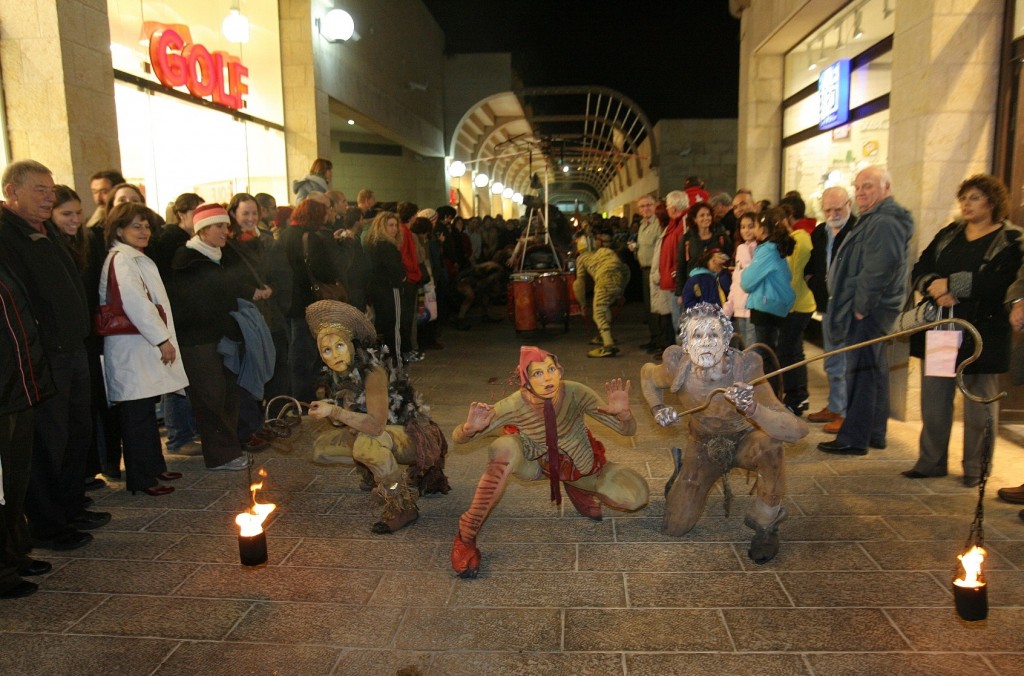 Hamshush – in case you didn't know, is yet another Zahal (IDF) acryonym – that wonderful Thursday-Friday-Saturday long weekend off, a change of scene with enough time off to really have some fun. That is the idea of Hamshushalaim, three event-filled weekends in Jerusalem: December 2 – 4, 9 – 11, and 16 – 18, 2010. If you live in Jerusalem, it's an opportunity to become reacquainted with all the city has to offer, with many free activities and venues open late, a bonus for out of towners – Jerusalem hotels are offering a 50% discount on the first night when booking for a 2 night Hamshushalaim weekend.
Celebrations will get off to a bright start as the Zik group marks 25 years of unusual and ever-amazing artistic activity on Thursday, December 2, 2010 in an outdoor performance at the old train station. Free and open to the public, the event begins at 20:00 and will feature a procession and live music, accompanied by a ceremonial burning of a giant statue. Angela Levine, writing for Jewish Renaissance Quarterly (Spring 2002), asked the group about their pyrotechnics and tendency to destroy their sculptural creations. Founding member Sharon Keren "explained that no dark meanings lay behind the group's predilection for destruction. Their use of fire is motivated by the drama and beauty of the spectacle, and by the freedom and release this act engenders."
Hamshushalaim events will take place throughout the city – the museum quarter, the city centre, the ancient city, and Ein Karem. Museums will be open free of charge from 21:00 till the early hours of the morning, participants include: The Israel Museum, The Bible Lands Museum with oil-lamp lit night tours (10 NIS fee), Hamachtarot Museum, The Davidson Centre, The Science Museum, The Jerusalem Design Week  exhibitions, The National Biennial of Drawing at The Artist House, Agripas 12 gallery, the Barbur Gallery and more.
Mystery Theatre will present a free outdoor performance Tzar Tzura – a modern fantasy of creation, love and angels, at 19:00 and 20:30 on Alrov Boulevard in Mamilla. The Train Theatre presents Where is Mrs. Gabbai? a street theatre performance for children ages 4 and above. Many more musical and theatrical performances will be presented either free of charge or for a symbolic entrance fee. The Hamshushalim site in English has detailed information on all the activities and venues throughout the 3 weekends of festivities. 
"Hamshushalaim" is a citywide initiative with the participation from the Jerusalem Development Authority, The Ministry and Jerusalem Municipality, The Tourism Board, The Hotel Coalition, and Ariel Company who are producing the events.