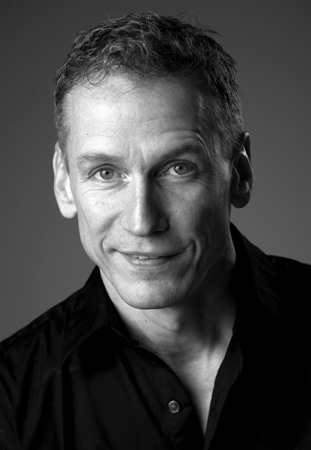 Glenn Edgerton is engaged in an ongoing conversation with the world through dance. As Artistic Director of Hubbard Street Dance Chicago (HSDC), a company renowned for its exciting, diverse repertoire and versatile dancers who imbue their performances of internationally acclaimed choreographers such as Nacho Duato, Jiri Kylian, and Ohad Naharin with their own personality and style, Edgerton is currently in Israel for International Exposure 2010, seeing new dance works by Israeli choreographers.
The HSDC current repertoire includes Ohad Naharin's Tabula Rasa, and in March 2011 the company will expand their repertoire to include two new works, one by Ohad Naharin and one by Sharon Eyal, which the choreographers will set on the company.
Edgerton was in Israel last October with his dancers when HSDC performed as part of Tel Aviv Dance 2009. At the time he had recently been appointed Artistic Director, and says, "I had the opportunity to rearrange things as I wanted, I was Associate Director the year prior so I knew the rep very well and in my mind's eye I knew what I wanted to change…so there was a lot of 'what if'…I rearranged everything and included Tabula Rasa in the mix." Ohad Naharin's Tabula Rasa was originally created for the Netherlands Dance Theatre (NDT) in 1988.  Edgerton recalled, "Reworking the piece, realizing that our Associate Artistic Director Lucas Crandall has done a lot of Ohad's work over the years" he suggested to Naharin that Crandall set the work on the dancers in Chicago before their tour and Naharin work with the HSDC dancers during their stay in Israel. "When we arrived home we had Tabula Rasa ready," says Edgerton, "he [Naharin] was very pleased and we had a great time with the work. I feel like Hubbard Street has done Ohad Naharin's work significantly where we really get the essence of the work. I don't feel like we're trying to copy, we're understanding it."
The seeds for the new project with Naharin were sown during Edgerton's previous visit to Israel, "I made a comment that since I left NDT I didn't really know his later works." Naharin will create a collage of his recent work for HSDC, but as for the specifics, Edgerton says, "I really don't know where he's taking it at this moment." Naharin will come to work with the HSDC dancers in mid-February, following Sharon Eyal, who is scheduled to set her choreography on the company in January. It was Naharin who first generated Edgerton's interest in Sharon Eyal's work several years ago when Edgerton was Artistic Director at NDT.
Edgerton observed rehearsals of Eyal's latest work Bill, yesterday and says, "that's the direction she wants to go, she wants to dig deeper into that world – but at the same time, go further. In terms of Hubbard Street, Eyal is a new voice. I live for that – to bring in a new choreographer to the company and to our audiences, to shake up the culture that we've come to know and expect." When asked what drew him to Eyal's work, he replied that "the sense of creating character with her dance works, movement coming out of characterization, I find that interesting. The personality of the individual creating a character, and the staging of it is unique, creating an atmosphere that you don't typically see."
HSDC's repertoire reflects a mix of world-renowned choreographers of the contemporary dance world, along with emerging choreographers. "Making room for new voices – yes, absolutely. It's completely my goal," says Edgerton, "a good balance of both [well known and upcoming choreographers]. I want dancers and the public to experience it all – to come away saying 'Oh, I know them, I saw Hubbard Street doing that …oh of course I know Sharon's work I saw HSDC doing that. It's about education, awareness, the ability to have a big library of dance in front of them."
Currently planning the 2011/2012 season for the company, Edgerton comments that it is "good to get away, be on a plane for 20 hours, sit back and reflect." HSDC's conversations with the world extend beyond dance, to include the visual arts and musical collaborations. One "great collaboration" begun in the fall of 2009 is with the Art Institute of Chicago as part of the museum's program "500 Ways of Looking at Modern," working in coordination with Mary Sue Glosser, Associate Director of Performance Programs at the Art Institute. Describing the project, Edgerton says, "We were having regular lectures and demos. Each event was a different topic, often certain works of art were being recognized by an art historian from the Institute and I would then talk about how dance relates to those pieces."
The year long program gave the dance company "the ability to have dancers come into a specific gallery and create something specific for that space. There was a project where our dancers choreograph a gallery type walk through, where at this hour this group is going to be dancing in this gallery, the next group in that gallery – culminating in the Griffin Court (the new modern wing). It's an open space, we put a floor down and that's what we called our main stage. It was quite a wonderful event we're going to do it again in the summer," said Edgerton adding that following the success of the initial connection, HSDC has become a "pillar partner" of the Art Institute.
"All the dancers have passes to the Art Institute so they can go there and be inspired," Edgerton explained, "they get to know the various galleries and some have come and said:  I have an idea and I'd like to do this…we set it up with Mary Sue and there's yet another installation – they write it up and Mary Sue presents it. There are so many legalities – liability, insurance… can you do that in the vicinity of that piece of work, can it be photographed or not, but Mary Sue is brilliant she handles all that and comes to us and says yea or nay."
"It gives the dancers opportunities to create, to choreograph," says Edgerton, adding, "We've always had a choreographic workshop called Inside/Out. Last year this was our version of Inside/Out, but we're going to separate it this year. We're going to have the actual Inside/Out project inside a black box theatre, but then from that there will be some works that will translate into the Art Institute or material from the workshops will be used."
One of the new choreographic voices emerging from Hubbard Street is that of Alejandro Cerruda, who began as a dancer in the company and is currently the company's first resident choreographer. Originally from Madrid, Spain, Cerruda danced with the Stuttgart Ballet and NDT before joining Hubbard Street as a dancer in August 2005.  Cerruda's Off Screen (2009)was part of the company's program in Israel last fall, since then he has created several new works for HSDC, including First Light (2010), Deep Down Dos (2010), Blanco (2010) and Malditos (2010).
In the process of seeking out new works for the HSDC repertoire, Edgerton observes dance in every form: onstage, in the studio, and on video. He gets a sense of a choreographer's work "especially from the studio and interaction with dancers. To me that's most important. That the process be engaging, interesting, and challenging for the dancers – that's first and foremost for me. That's the point, and the result is the cherry on top of the cake, the benefit of it all rather than the goal."
"The goal is a challenging process and developing dancers, creating an environment in the studio that brings them into a world and a place that's all consuming," says Edgerton, whose guiding questions are: "How can I bring this choreographer along, how can I help this choreographer…studying what it is, the creativity of this individual."
As for the audience, Edgerton says, "I want to bring the audience along with me. If you bring what's tried and true they're going to say 'Well, I've seen that…" and I want to be poking them and saying: Look here! Look here! And, try this! And bring the audience on an adventure as well. It is considering the public, but not in the sense of 'what do they want,' but the sense of what they should want, what do they need, what's going to challenge them, provoke them, and make them think differently about dance."
AYELET DEKEL