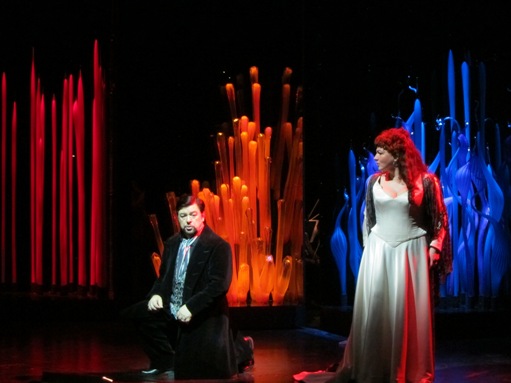 The Israeli Opera presents Hungarian composer Béla Bartók's Duke Bluebeard's Castle with a unique set design by world renowned glass artist Dale Chihuly. Performances will take place from December 15 – 23, 2010. Chihuly is currently in Israel for the opera and an exhibit of his work at the neighboring Litvak Gallery which will open on December 16, 2010.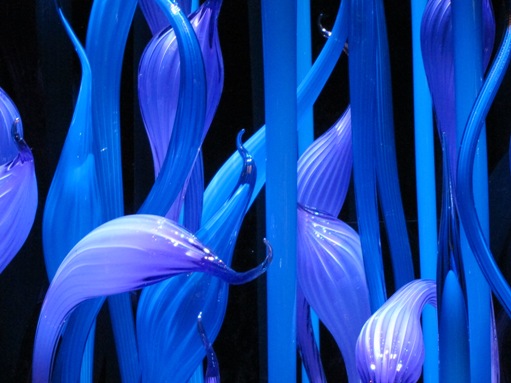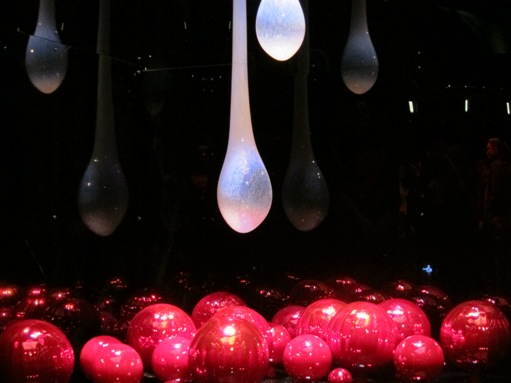 The one act opera was composed by Bartók in 1911 (his only opera) to a libretto written by film critic Béla Balázs. Based on the French fairy tale of Bluebeard by Charles Perrault, this unusual opera, with only two main characters onstage – Bluebeard and his new bride Judith, takes the narrative to a more psychological exploration, as Judith compels Bluebeard to open the closed doors of his castle, one after another. Hannah Munitz, General Director of the Israeli Opera, describes it as, "A metaphoric, psychological opera. The seventh door is sealed in complete darkness, the light cannot save it. Opera in the 21st century is looking for ways to be relevant to our time; one of those ways is through working with artists in different disciplines. There have been productions with costumes by fashion designers such as Versace and Armani, collaborations with video artists. And if we are going to collaborate with artists in different fields – then we should work with the best in every field."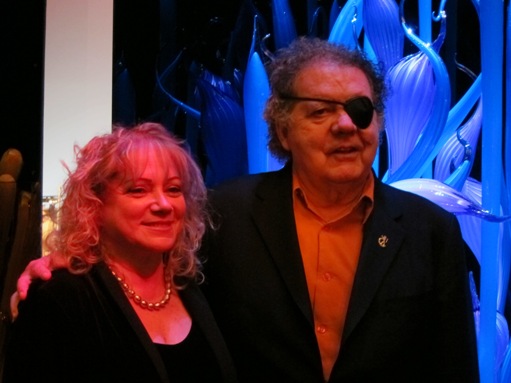 With regard to Chihuly's work, Munitz said, "We all remember the breathtaking exhibit at the Tower of David in 2000…imagine this overwhelming work combined with the magic of opera."
Chihuly, who is here for the third time, first came to Israel in 1963, when he visited Kibbutz Lahav. The second visit took place when he created the landmark exhibition "Chihuly in the Light of Jerusalem" at the Tower of David Museum in 1999 – 2000. This will be Chihuly's first work at the Israeli Opera.
Conducted by Ilan Volkov, Duke Bluebeard's Castle will be performed by the Opera Orchestra – The Israel Symphony Orchestra Rishon LeZion, who will be onstage. Vladimir Braun is Bluebeard, Svetlana Sandler is Judith, and actor Alex Ansky performs the role of narrator. The one hour opera will be sung in Hungarian, with Hebrew and English surtitles.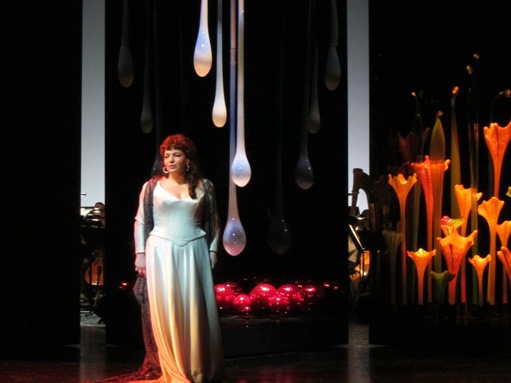 The evening will open with Gustav Mahler's Kindertotenlieder, sung in German, conducted by Ilan Volkov, with soloist Edna Prochnik, followed by the performance of Duke Bluebeard's Castle. Chihuly's breathtaking set evokes a mood of ominous mystery, a chilling juxtaposition of beauty and danger.
Performance dates: Wed 15.12.10 (20:00), Thurs 16.12.10 (20:00), Fri 17.12.10 (13:00), Sat 18.12.10 (20:00), Mon 20.12.10 (20:00), Tues 21.12.10 (20:00), Wed 22.12.10 (20:00), Thurs 23.12.10 (20:00)
The Israeli Opera, 19 Shaul HaMelech Boulevard. Tickets: 03-6927777. For further information consult the Israeli Opera site.