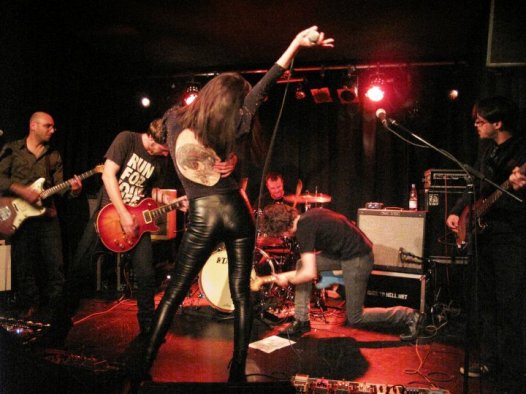 "English is the mother tongue of Rock n' Roll, and that's what we do: Rock n' Roll," said Guy Ben Shetrit, guitarist and bandleader of Eatliz – an alternative rock band with an intoxicating sound that has been defying easy definitions while making their mark live and in the studio – in English. Their third album Teasing Nature is now available online and in stores, and will be launched with concerts in Tel Aviv, Jerusalem and Haifa – with the first major concert on January 5, 2011 at the Barby in Tel Aviv.
After two albums (Violently Delicate 2008, Delicately Violent 2009), several awards (including the Babelgum animation prize for the animation video to "Hey" awarded by Spike Lee at the 2009 Tribeca Festival), and some changes in band members over the past few years, Eatliz is: Guy Ben Shetrit – Guitars; Lee Triffon – Lead Vocals; Amit Erez – Guitars; Hadar Green – Bass; Omry Hanegby – Drums; Or Bahir – Guitars. Talking to Guy and Or over hot tea on the eve of Teasing Nature's official launch, I ask if at this point the lineup of Eatliz is stable. "There is no such thing as a stable band," says Guy, "a stable band is a boring band."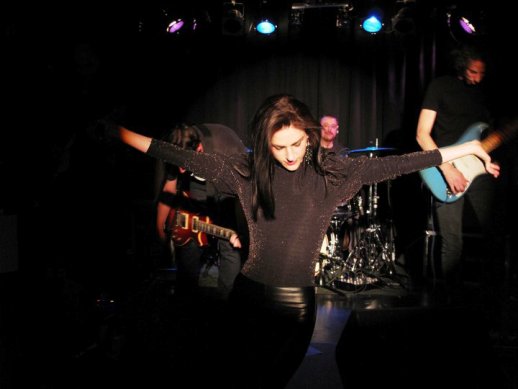 Why are their songs in English? "It comes from the music," says Guy, "what the song does to us, how the language expresses the music. If the lyrics were in Hebrew it wouldn't have the right pigment, because the language has its own intonation, rhythm, sounds and music."
Eatliz is known for the internal diversity of its sound – racing from metal to melodic, with layers of different genres. "We're many people," says Or, "and our musical direction is not a single line, it's many lines radiating outward in different directions. It's lots of different places merging together… I can't say that Eatliz is rock n' roll or progressive metal…when we create a new piece we're not limited – 'oh that's not us'. We're like a musical chameleon. We can change but still remain with the imprint of Eatliz."
Guy adds, "We were sending out rays in different directions for a long time, six years. We were breaking through, trying to touch everything we love musically…and we were influenced by modern progressive groups like Mr. Bungle (California 1985 – around 2000, released three albums) you hear it, you hear the metal that steals into all sorts of songs. And we're still like a hyperactive colt that can't calm down… kicking even in songs where that kick wasn't necessary. Songs that are good, that you could play on a classical guitar around the campfire and would still sound good. But something urged us on to do more and I emphasize that only because on the last album the lines are starting to converge, to focus on what is Eatliz."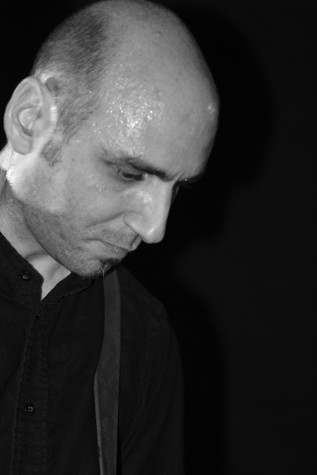 What is Eatliz? Eatliz is a verb rather than a noun; it's what happens between this group of people, their instruments and the music. Asked to talk about the process of creating the music, Guy says, "I compose at home then bring the song to the band. Each one takes himself to that place and tries to express the atmosphere of the song, the atmosphere the song dictates. Eatliz has touches of metal, funk, punk, bossa nova. How do we make that song Eatliz – that's not the question, that's not how we work. It's what we find in the song."
That search is very much a group process, according to Guy. "First I see if they like the song," he says, "if not, OK." In other words, and he says this has happened on occasion, if the rest of the band doesn't connect to the new material – it's dropped, and they move on to something else. "After they like it," says Guy, "then we move with it. It begins and evolves and changes and goes back to the original – just like in a painting, or a drawing – drawing and erasing, drawing and erasing."
They have described their new album as a kind of departure, moving out of their comfort zone. "Our comfort zone of Eatliz is that dispersion," says Guy, "The explosive outburst is what feels comfortable. The easiest thing for us to do would have been to make another album that does the same thing. Keep the customers satisfied….the kids who would comment on the new album on facebook: this is not Eatliz. And there are responses like that, people who are saying: this is not Eatliz, what happened?"
Guy says that these comments come "because it's soft, it's much more soft. Our response is to say – listen to the entire album. The quiet, beautiful, melodic and calm songs are no less amazing."
"On the other hand," says Or, "it's not a statement that from now on Eatliz is not metal or Kasach (Hebrew slang: to hit violently) we're not doing it any more or we've stopped loving it…maybe our next album will be wild hard core. It's a different phase we're in that is happening to everyone at once…what we love at the moment."
"If World War III breaks out, we'll be in a completely different atmosphere from this calm," Guy smiles, and then continues in a more serious tone, "An artist feels things on his flesh and lets it out with his art. We can't fake tension we can't fake toughness in the music. We're feeling sensitive now, exposed, vulnerable…we're feeling sensitive with the release of our third album, with the critics looking us over, are we good or not….we're vulnerable because rents are so high in Tel Aviv, and we're vulnerable because we're 30+ and still don't have real jobs…we're feeling vulnerable and sensitive and we're making sensitive music."
Somewhere along the way between album two and three, Eatliz experimented with classical arrangements of their songs. "We had one classical performance, and we'll have another on February 9, 2011 at Tmuna Theatre," says Or, "we had an opportunity to perform at the Tel Aviv Music Festival (October 2010). Our record company Anova asked, 'What would you like to do?' And Guy, with his crazy ideas said, I'd like to perform with a full orchestra of 80 musicians. We ended up with a budget for an arranger who is also a pianist – Uri Sherter, and three cellists. And the band Eatliz gave touches… not in our usual format – acoustic instruments, everything is very minimalist…a touch that help gave the classical arrangement more color. It's mostly fun because the feeling is as if someone produced these songs anew and it's how he sees them. It's a complete reversal, a renewal… and we came from the side."
Eatliz gave Uri almost complete freedom to work with the songs. Guy recalls telling him, "Think of the songs the way you think them, we've already finished making our statement on how we think they should sound. Give us your associations to the words and music what would you do and you'll be using completely different instruments – strings, piano, cello. The question came up – can't I use electric guitars? And I said, I prefer that you don't. It's like letting go of the ground under your feet, you fall into the unknown. Someone will do something with your song and you have no idea how it will turn out. It's frightening. On one hand you don't know if you'll like what they do, and on the other hand there's the curiosity and the curiosity is so much stronger than the fear."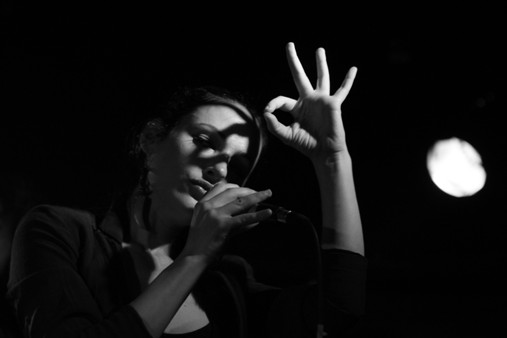 Were they influenced by hearing their songs differently?
"Of course," says Or, "every time you hear something in a way you didn't think of it surprises and moves you. The natural response of any artist when their work is produced -speaking from the perspective of a producer – taking a work that was protected and whole unto itself, suddenly you come to this thing and give it a new flavor and the artist doesn't understand where it came from… he opens up and can receive new elements…and I think now we'll have new windows to open. There were many ideas in the classical performance that in terms of playing caused Eatliz to play differently than we are used to playing as musicians."
Asked to comment on the dialogue between metal and classical music, Guy says, "Rock artists have an unsolved romance with classical musicians. Rock musicians love to reach a certain magnitude and pathos. There's that place in a song when everything rises and you feel like you're climbing a mountain – we call it a "peaks solo." And in classical music when the orchestra reaches its peak… it sounds like the peak. In movies when they want to express the grandeur of the landscape, like in Lord of the Rings, they turn to classical music and not distortion. Distortion is the support for the magnitude that the rocker tries to achieve, but real magnitude is obtained with classical music and an orchestra of many musicians, and not with distortion and drums."
In terms of the relationship between the studio recordings and live performance of Eatliz songs Guy says that the live performance is always "not only faithful, very faithful but also much better than the studio recording. Live we always reach feeling we want, to reach that feeling of something strong and real we have to spend several more hours or weeks in the studio. The song stands live first." As for improvisation, "There is little freedom for creativity. In the last couple of years we are opening this place up… it's ok, it's all right to be free after you play a song for a few years you can play with it, take it in different directions when you know the material. Every spark of creativity and improv in Eatliz songs can be heard to a great distance. It's like performing a dangerous trick within something that's already a dangerous trick…"
Coming from a completely different direction, Or says, "I see performances like a football game. To play your best, to know how to play that is…and to arrive at the stage where you play and you don't need to look at the guitar and you can jump that's what you do in rehearsal. Onstage you can't know what the outcome will be in the end. I come to have fun. It turns out that when I have fun I play well – it fits the energy and what happens, to have fun on the stage."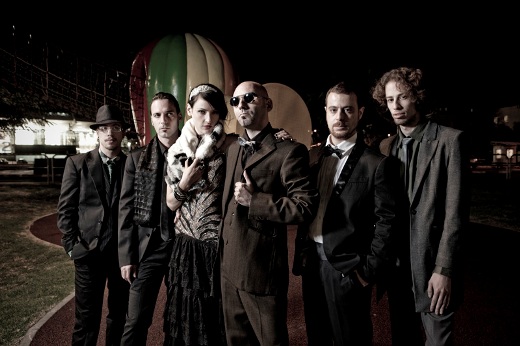 Is their music influenced by being an Israeli band? "In every gnu born on the savannah the instinct is the same," says Guy, "to get up on his legs and stand. It doesn't matter where he is born, in the south of Africa or the north. I compare that to the sources of music, it is born within you; it doesn't have a country."
"I am in a kind of ecstasy, my mind is very misty, floating somewhere and listening to the sounds that the universe is sending me, and at that moment I am not thinking about the fact that I am in Israel and what do people like to hear or want to hear."
Yet he continues, "When I go to shuk HaCarmel (the Carmel outdoor market) and I hear and I smell, the spices and flavors and the stew comes from that. I won't use peppers from Thailand, I'll use the peppers that I find in the Carmel market. Right, I am influenced, and I taste and smell and create a new dream. The place and the experience always touch the music but the mind that creates doesn't have a state."
Teasing Nature is available in stores and online from Anova Music. For a taste of the new album, Eatliz is offering a free download of the single Berlin.
The main launch show will be on January 5, 2011 at 22:00 at the Barby in Tel Aviv, with guests and special video art. 52 Kibbutz Galuyot Street, Tel Aviv, 03-5188123.
January 13, 2011 at 22:00 at the Yellow Submarine in Jerusalem with guests. 13 Erkevim Street, industrial area, Talpiyot, Jerusalem, 02- 6794040.
January 22, 2011 at 22:00 at the Beat club in Haifa with guests. 124 Sderot HaNassi, Haifa, 04-8107107.
AYELET DEKEL