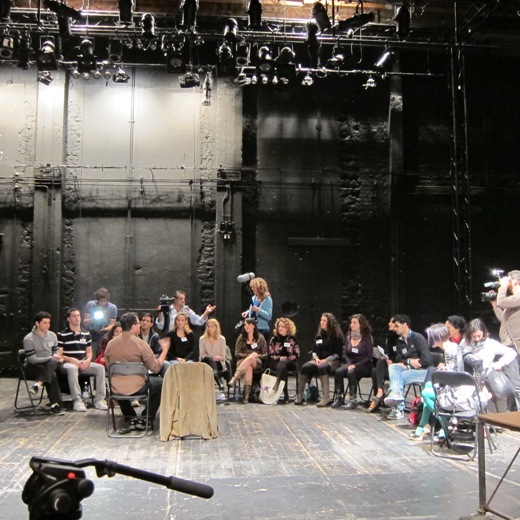 Questions ranging from the innocent (where was your father's father born) to the illicit (details deleted to protect the not-quite-so-innocent) were part of the warming up exercises as Michael Mayer, Broadway musical superdirector, was here last week to share the secrets of the trade in master classes at the Stage-Center Theatre Workshop in Tel Aviv. From observing Mayer in action the secret seems to be – hard work, talent, more hard work, excellent listening skills, more hard work, empathy, and…did I mention hard work?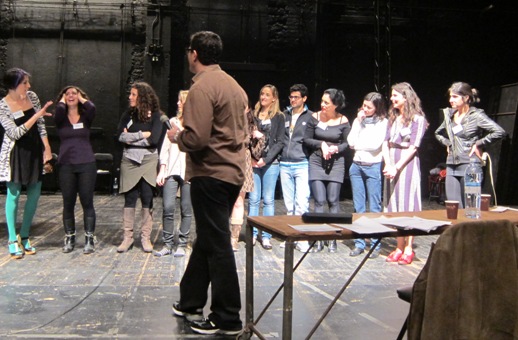 The 15 participants had been instructed to prepare two songs: one of their own choosing and one from the Eagle's album Hotel California. Mayer explained that the two day class would be like a condensed version of preparing for a musical. The first song would be their audition, then in a magical immediate call-back, Mayer worked one on one with each person, giving notes and suggestions – that was expected to take up the first day. The second day involved more magic – everyone would receive a second call-back and perform the song they chose from Hotel California, then everyone would be cast and they would begin a rough draft of working on a musical.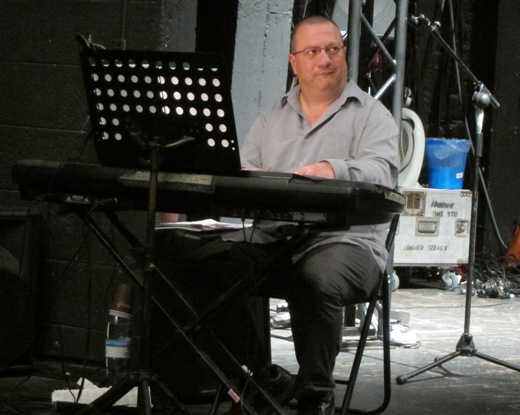 Midnight East was with the group on the first day, Wednesday, December 22, 2010, taking pictures as long as the camera battery allowed. The group began with some cultural mapping on the stage of the black box that is historic Nahmani Hall, getting to know one another as they moved from simple questions to some that were a little trickier to answer. When Mayer had them present answers in the form of a continuum, lining them up from stage left to stage right, master accompanist Assor Elkayam didn't miss a beat and began the first measures of A Chorus Line. Throughout the day, Assor not only accompanied all the performers, but was there to consult, support and even squeeze in a little run-through during breaks.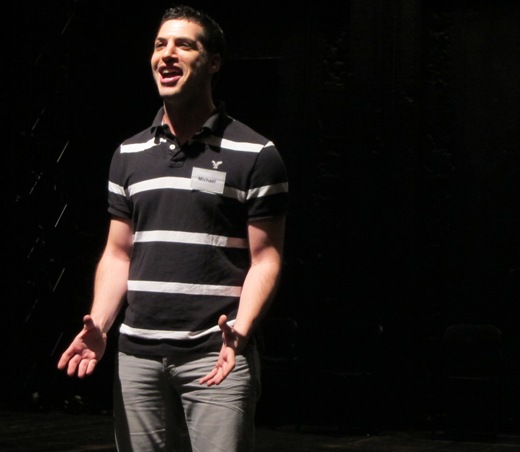 Mayer demonstrated amazing powers of stamina, concentration, and empathy – focusing on each of the 11 singers and songs heard that day and was still funny, clever, insightful and charming at the end of 8 hours! First up was Michael Einav, who sang Shiksa Goddess from Jason Robert Brown's The Last Five Years. Although the song has many inherently funny moments, Mayer suggested shifting the focus to the source of conflict, "turning it into a story that we care about, and then the laughs come in unexpected places."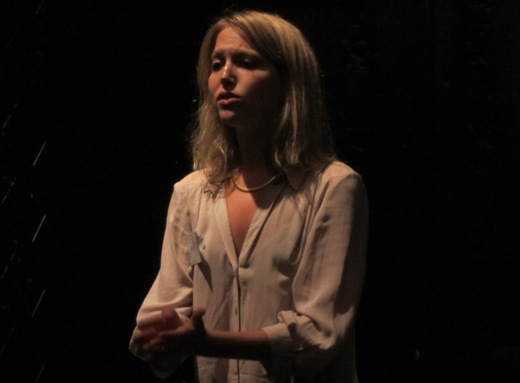 Next up was Merav Feldman singing another Jason Robert Brown: Mr. Hop a Long Heartbreak from Urban Cowboy. Despite declaring himself unfamiliar with the song, Mayer jumped right into it, yet did not hide his enthusiasm when the next song was Don't Rain on My Parade, by Bob Merrill and Jule Styne from Funny Girl, saying, "This is fun, I'm enjoying this, I know this song."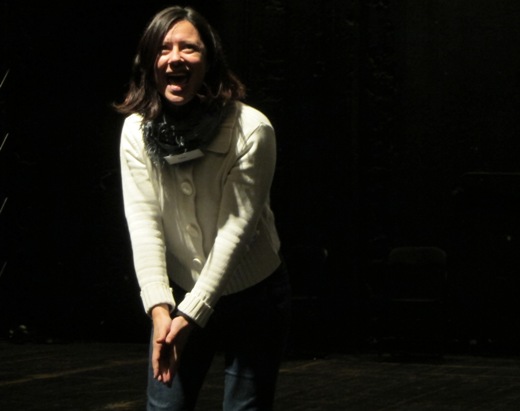 Mayer gave notes like a good friend would do – managing to be direct, honest and 100% supportive all at once. He told Ola Schur-Selektor that the song she chose comes with "two huge obstacles: it's a mother fucker to sing and everyone knows exactly how it's supposed to go." It was interesting that Schur-Selektor who plays the part of Yentl in the Cameri Theatre production chose a song so closely identified with Barbra Striesand.
Clearly nothing was going to rain on Schur-Selektor's parade: when her boots fell apart, she just took them off, put them aside and went on with the show.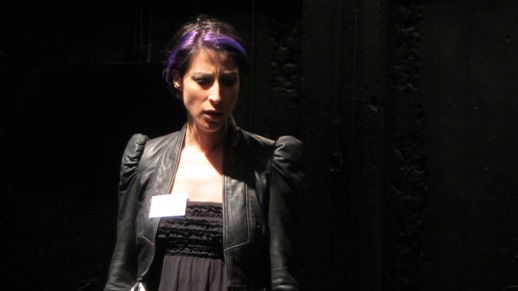 Michelle Shapira announced that she would sing Defying Gravity from Wicked by Stephen Schwartz. "We're in for another big belty moment," said Mayer. But the day took a turn for the dramatic when Michelle blanked out on the lyrics and despite a lot of encouragement, just couldn't get into the song. Unfazed, she said, "I really want to defy gravity now and just fly the fuck out of here." Mayer took advantage of the opportunity to have a spontaneous educational moment, explaining the importance of having a repertoire of songs at the ready. "What else do you have in your book?" he asked Michelle, "What song do you love to sing? Honestly, I hate Defying Gravity, I fucking hate that song. I don't think it means anything."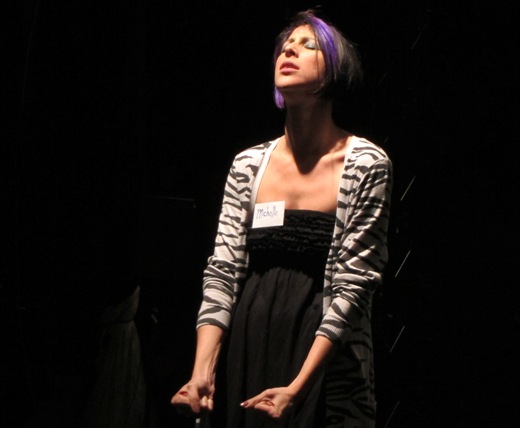 Michelle moved on to New York New York (music by John Kander, lyrics Fred Ebb) – as the song says: "If I can make it there/I'll make it anywhere…"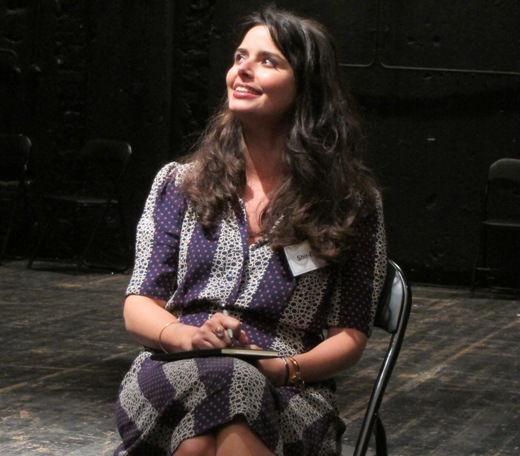 We heard the other side of the story in Jason Robert Brown's The Last 5 Years from Shir-El Bitton and Mayer insisted on figuring out the underlying themes within what appeared to be a relatively simple song, saying, "He's too good of a writer to let it just be one thing."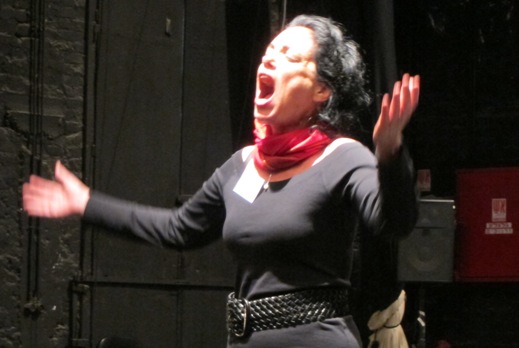 Tami Alon sang Easy To Be Hard from Hair (music by Galt McDermot and lyrics by James Rado and Gerome Ragni). As Mayer noted that this was one of the few musicals that generated popular hits from a Broadway show.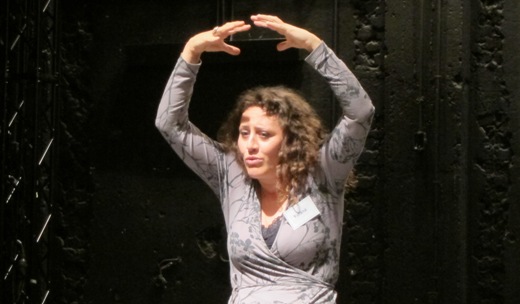 A Chorus Line returned with Yolana Zimmerman, who sang (music by Marvin Hamlisch and lyrics by Edward Kleban) Nothing. Mayer not only said "be an ice cream baby" – he actually made her do it. He even demonstrated himself, but I wasn't fast enough with the camera to catch him in the act.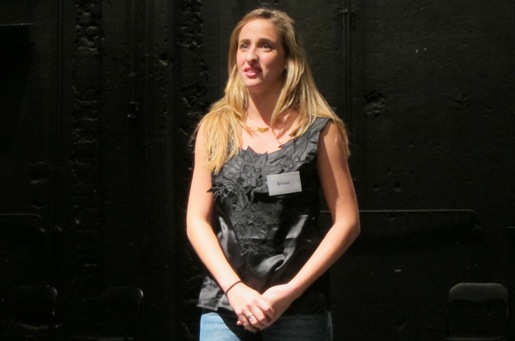 Sivan Kaynar sang Patterns (music by David Shire, lyrics by Richard Maltby, Jr.) from Baby, of which Mayer said "this is kind of an OCD song" and suggested she try out a little finger counting behavior on the chorus.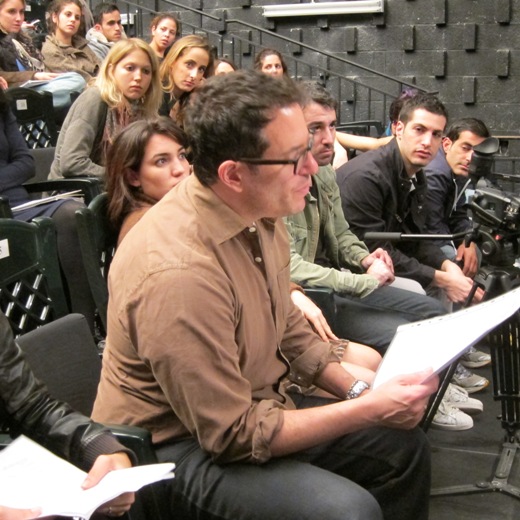 Sadly, at this point, my camera battery gave out so unfortunately there are no images of Oshri Sahar singing Maybe This Time (music by John Kander and lyrics by Fred Ebb) from Cabaret, Libi Tennenboim singing Sherman and Madeline (music by Michael Kooman and lyrics by Chris Diamond) from Homemade Fusion and Ruth Resiuk singing Roxie (Kander and Ebb) from Chicago. Mayer had interesting suggestions for all – Roxie as sung to a prison therapist, a long dramatic stage walk for Oshri, but the one song that stopped him in his tracks, at least momentarily, was Sherman and Madeline, a song no one knew, which was, well…full of surprises, and even the sophisticated director from New York required some edification with regard to certain terms which modesty prevents me from sharing with the gentle reader.
AYELET DEKEL