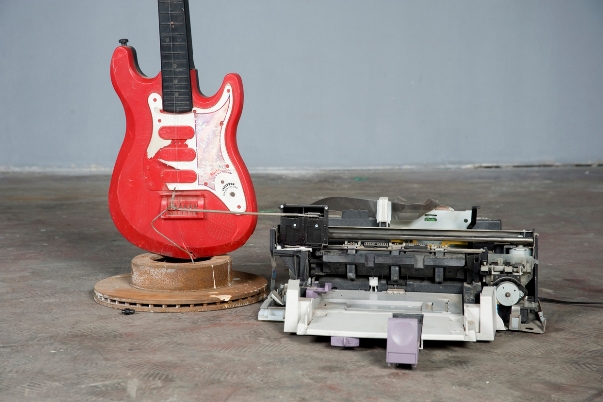 Two new exhibits will open on Thursday, February 3, 2011 at the Center for Contemporary Art (CCA): Oz Malul – You Shall Not Put an Obstacle Before A Blind Man, curated by Maayan Sheleff and Ceal Floyer – Works on Paper, curated by  Sergio Edelsztein.
From the CCA description of the exhibit: Oz Malul's works feature clumsy, halting, intentionally inefficient machines. He usually invents and builds their mechanisms and then intentionally introduces flaws into them. The result is a seemingly human action, whose character is both absurd and phlegmatic. By creating moments of failure, the artist undermines the capitalist mantra, which underscores the importance of efficient time management and perfect functioning. The Sisyphean, cyclical movement that characterizes many of his works bespeak the experience of a subject trapped within a system of production and consumption. For this project, the artist used readymade printers, whose mechanisms he hacked and disrupted. The printer's default action, which is performed as soon as it is turned on, is aimed at locating the ink cartridge; in Malul's eyes, this action resembles a blind, purposeless quest, which has a vulnerable quality. He sought to transform this action into a kind of virus in the system, thus binding the printer to this process of aimless searching. To this end, the printer's protective cover has been removed, and its entrails are both physically and metaphorically exposed. Read more…

Oz Malul was born in Holon, Israel and lives in New York, USA. He received his MFA from Columbia University in 2008, and graduated from Bezalel Academy for Art and Design, Jerusalem in 2005. Malul has had a solo exhibit at Dvir Gallery in Tel Aviv, and has participated in several group shows, including the Meat Market gallery in Washington D.C, the Bat Yam Museum for Contemporary Art and the Israeli Center for Digital Art in Holon.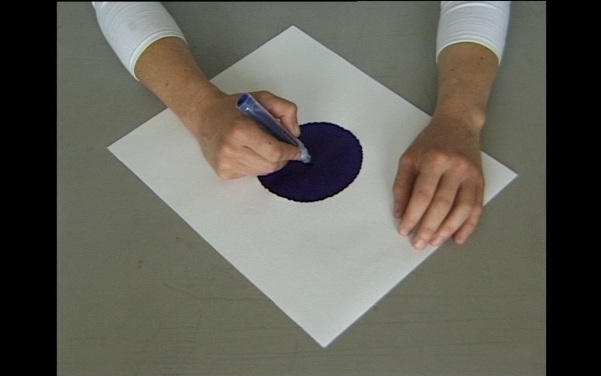 CCA on Ceal Floyer's exhibit: Comprised of a selection of Ceal Floyer's works, the show Works on Paper reveals her ongoing interest in this medium as well as in its artistic and prosaic connotations, i.e., the formal qualities and gestures involved in doing something with or on paper. Like most of the other common materials she uses in her works, paper is a cultural "ready made." As a constituent element of stationery, books and magazines it is regulatory of modern culture, but as a blank page it is a metaphorical and virtual arena of self-expression and social projection. Paper is used indistinctively for both artistic and prosaic purposes – for drawing a masterpiece or wrapping fish. Either way, it involves and requires a gesture that would define, or redefine, its function. And it is precisely this gesture that epitomizes Floyer's relationship to paper.
The show includes videos and sculptures as well as works done in a previous visit to Tel Aviv dealing with her interest is the palindrome and the reversal of Hebrew reading writing.

Ceal Floyer is one of the prominent artists associated with the YBA (Young British Artists) generation of Damien Hirst, Tracy Emin, the Chapman brothers and many more. Her works have been exhibited internationally in major museums and biennales, and she has participated in group exhibitions in Israel at the Herzliya Museum of Contemporary Art, Israel Museum, and CCA.
February 3 – March 31, 2011–02–01
The Center for Contemporary Art
The Center for Contemporary Art
at the Rachel & Israel Pollak Gallery
5 Kalisher St. Tel Aviv
P.O.Box 29818 Tel Aviv 61298
Tel: 972-(0)3-51061111 / Fax: 972-(0)3-5106112
E-mail: info@cca.org.il