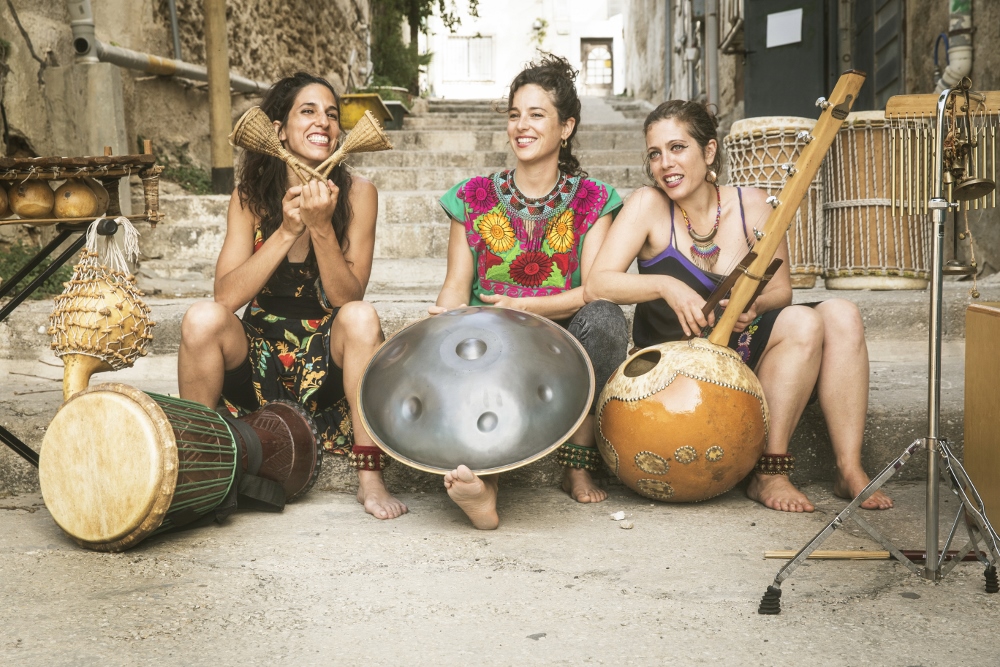 The Malaika Trio are Liron Meyuhas, Roni Parnass, and Yael Sharoni, three percussionists who make the stage come alive with sound, color and movement, performing original music with West African influences and instruments. Percussion is intensely physical, it's a dance, music created in movement. The Malaika Trio are mesmerizing in performance: surrounded by an array of drums in different shapes and sizes, moving among them, melodies and rhythms rising in the air, their movements growing larger as the sounds become louder and the rhythms faster, the music reaches out in ever-widening circles, riding on the vibrations, until the entire space and all the people in it are caught up in a wild dance, a temporary tribe, led by a trio of women, emanating a positive power, a radiant, primal joy. Malaika Trio will be releasing their debut EP in a celebratory concert at the Abraham Hostel on Friday, June 30, 2017. In anticipation of the concert, I had the pleasure of speaking to Roni Parnass about drumming, West Africa, and Malaika.
"We represent something that is still not seen very often on the musical landscape – women percussionists," said Parnass, "Drumming is still considered something masculine. An ensemble of three women percussionists is not that common. We generate a strong women's spirit. Girls and women come up to us after performances to tell us how inspiring, and how much fun it is to see this women's energy onstage."
How did Parnass become interested in drumming?
"From home," she responded, "My father was a drummer in his youth and at home we always drummed together – on tables, furniture, everything. I learned to love drumming from him. After finishing the army I decided to study drumming formally for the first time. The best things happen by chance, and I walked into a music store and asked if they know anyone who teaches Conga. I found a teacher, and began to learn to play the Djembe. I fell in love with African drumming, I was drawn into this culture, a culture that is entirely based on music. West Africa – Mali, Burkina Faso, Senegal, Gambia – these cultures are rich in music that is an integral part of all life passages and rituals."
The Malaika Trio has been together for four years, coming together after each had studied and experienced African culture and music. Liron Meyuhas studied music in Italy, and Guinea, while Yael Sharoni, who is also a dancer, traveled and studied in Gambia and Mali. Parnass had spent two months in Ethiopia working with orphans with AIDS, teaching drumming. Returning to Israel she studied music at Rimon, then after graduation went back to Africa, this time to Mali, which she refers to as "the capital of music."
Parnass and Sharoni have been friends and colleagues for years, founding Perfusion,  a large ensemble of 9 musicians and 7 dancers.
"The African scene in Israel is like a family," said Parnass,"it's part of our lives. Yael and I heard of a percussionist who just came back from Italy [Liron], and we wanted to meet her. The three of us soon realized how much fun we're having making music together, and we wanted to take off with that and fly."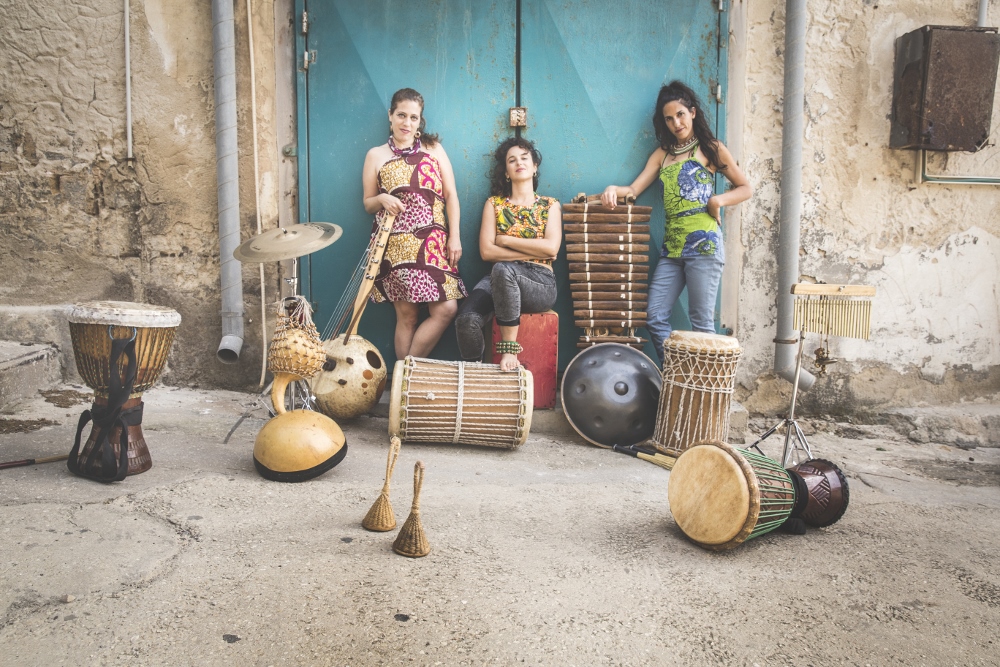 "We have so many drums onstage! Yael and I play the Balafon (African wooden xylophone) and I play the N'goni (African lute). Liron plays the Pantam [also known as Hang], a Swiss-made steel drum that looks like a flying saucer."
"We create a sort of fusion, creating original music on traditional instruments. Our music has West African influences with touches of Middle Eastern and even Latin music. We bring together instruments that traditionally would never come together onstage."

"Our concerts are like a journey. In the beginning the music is very melodic and pleasant, and slowly the trance rises, it's tribal, everyone gets up to dance – it's the African fire! In the villages, the dancers are barefoot, kicking up dust as they dance. The connection between the drummer and the dancer is intense, the dancer dances to the drummer and it's not clear who is leading whom. It's a wild connection."
The trio perform their originals as well as some traditional African pieces. Composing is a collaborative effort, to different degrees, depending on the piece.
"Each of us comes with ideas and her own materials," said Parnass, "and there are also pieces that we've built together, and we flow with it. At the show we'll do two new pieces that were really co-written, growing out of our work together…working together, it's really more like a playground. Yael, Liron, Roni – there's even a harmony to the sound of our names. Liron has a studio and we rehearse there sometimes, sometimes we just go outside, somewhere out in nature and make music."
The Malaika Trio has performed at the Mekudeshet Festival in Jerusalem, as well as The Most Beautiful Woman in Town (where I first heard them in April)  http://www.midnighteast.com/mag/?p=36621 , Jazz on the Boulevard in Tel Aviv, the Bodyways Festival and more. With so many drums and instruments, getting from place to place involves some serious muscle. "There's a lot of carrying involved," Parnass concurred, "most of the time we're carrying equipment."
But at the heart of it all is the music.
"It's about putting your guts out there on the table – joy, sorrow," said Parnass, "it comes from the desire to express what is going on inside you, through sound. Making music that will awaken something in others and move them."
Malaika Trio will be performing at the Abraham Hostel, 21 Levontin Street, on Friday, June 30, 2017. Opening will be MasaLev – Tomer Yehieli – kora; Yoav Fekete – sitar, Gili Sharabi – vocals, Matan Dorembus – bass, Roni Eder – drums. Special guests: multi-instrumentalist Pepe Danza, singer Liat Zion, Hellen Danzumah & Milo (Ghana), dancer Adi Zalinger, and Yael Sharoni's African dance ensemble. The three "Kolot meAfrica" DJs will get the party mood started before the show, and will be back to DJ the after-party. Doors open at 13:00, show starts at 14:00. Tickets are 75 NIS in advance/85 NIS at the door, and may be ordered online via this link. Check the facebook event for updates.