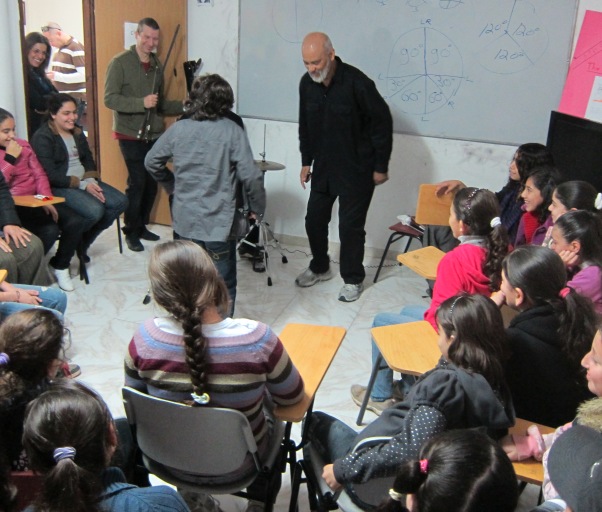 Musicians are wanderers, travelling from town to town, show to show. In the not-quite-so distance human past, musicians were also story-tellers and teachers, travelling from one town to another to share their art, bringing the wonders of a wider world to their audiences as they entertained. The Digital Primitives take this tradition into the 21st century – the alternative jazz trio of Cooper Moore, Chad Taylor and Assif Tsahar is based in the US (Moore & Taylor) and Israel (Tsahar), and create together a vibrant inter-disciplinary cultural dialogue that finds its expression in their music and beyond.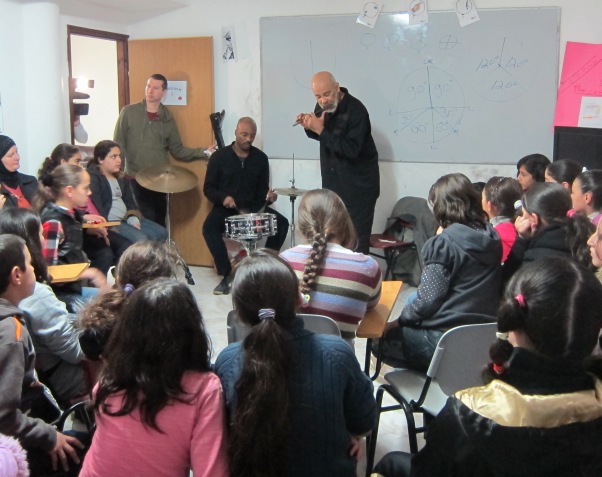 February found the Digital Primitives in Israel once more; performing at Levontin 7 and in Ra'anana – their artistry, energy, spontaneity; inventiveness and warm rapport with the audience are well known and appreciated by their many fans. But there is another aspect to their work that goes on behind the scenes, in intimate workshops with students of all ages. When they come to perform in Israel, the Digital Primitives have a busy schedule – performers by night, and teachers by day, as they conduct workshops with students throughout the country, coordinated and sponsored by the U.S. Embassy in Israel. The cultural exchange is mutual, as they worked with several different groups of students, giving the musicians an opportunity to become acquainted with the diversity of Israeli society: 12th graders at the Ort School in Ramla, Ultra-Orthodox boys ranging in age from 7 – 14 at the Or Simcha School in Kfar Chabad, 7th grade students at the Q School in Tira and a teen group from ELEM in Kiryat Malakhi.
I could not accompany the trio on all their travels, but was fortunate enough to join for the trip to the Q School in Tira for an unforgettable experience. Around 40 7th graders crowded eagerly into a small classroom and greeted the musicians with warmth and attention. I had a great time sitting at the back of the classroom, sharing smiles and learning the names of some of the students sitting near me. It was inspiring to learn from Dr. Dalia Fadila that the students come to the Q School from 16:00 – 21:00 after their regular school day, to learn English through a unique approach that draws on the arts. Not the typical classroom situation. Then again, the Digital Primitives are not exactly your typical teachers.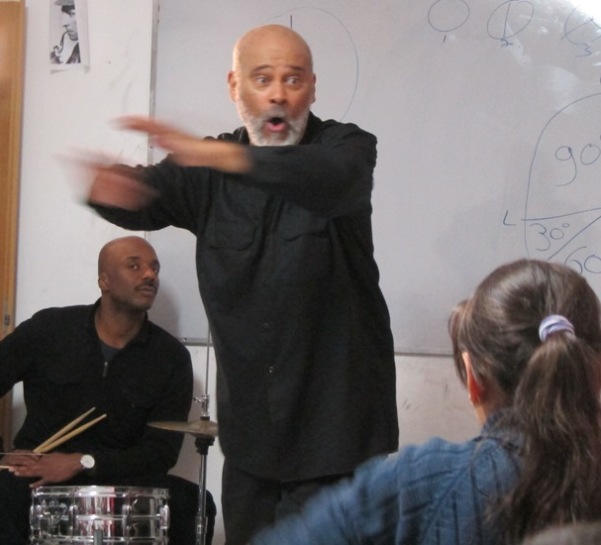 Teaching and learning are activities that we engage in with our entire being – mind, body, senses and spirit. When the desire to teach meets with the desire to learn it is one of the most beautiful and exciting experiences in the world. When a teacher comes into a classroom, the first and most essential thing that she or he brings is herself or himself, if she or he is curious, lively and loving then the lesson learned will be about being a curious, lively and loving person with the addition of the subject at hand, be it math, literature or geography. In the workshop I attended, Cooper Moore took the lead, and he is a teacher in every ultra-charged electron in his body and every creative thought in his mind. And like every good teacher that I have encountered in my life, his discussion of music and proportions sent my thoughts in several directions at once, inspiring reflection and almost endless associations.
Listening is the essence of music, and Moore did not hesitate to demand attentive listening from the students, matched by his interest in listening to them and encouraging them to participate actively – with voice, thoughts and movement – in the course of the workshop. While the connection between the Diddely-Bo (a monochord instrument, Moore's was handmade, as are many of his instruments) and Pythagoras may not be intuitive for most people, when listening to Moore – it all comes together.
Moore has been coming to Israel once or twice a year for the past six years and says it has become "almost a second home…the place I like to be other than New York City." Of his workshops in Israel he says, "I find these children no different from children I've met all over – in France, Ethiopia, Texas. Their desire to know and learn is the same… For me there are no bad children. Give them a say, don't dictate. We have to teach our teachers how to be good teachers – being able to look a child in the eye and the child knows you like them." Midnight East says: Amen.