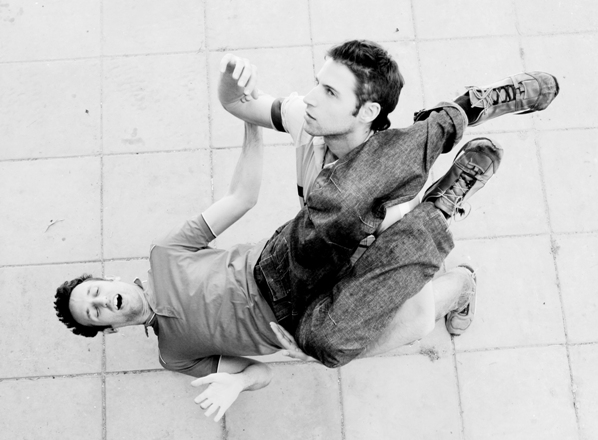 Choreographers Yossi Berg and Oded Graf will premiere a new work, tonight, Saturday, February 26, 2011 – at the Chutzpah Festival in Vancouver, Canada! The Israeli-Candadian co-production, with Vancouver dancers Noam Gagnon and Justine Chambers, came about when Mary-Louise Alpert, Artistic Managing Director of the Chutzpah Festival, saw the choreographer/dancers perform in the International Exposure Festival at the Suzanne Dellal Centre in Israel, and invited the two Israelis to Vancouver as artists in residence, to create a new dance work for the Chutzpah Festival.
The Chutzpah Festival, which takes place this year from February 10 – 27, is a multi-disciplinary performing arts festival, now in its 11th year. Showcasing the talents of Canadian and international artists, the festival encourages interaction and dialogue between artists and disciplines, such as the co-production premiering tonight. This year, the festival invited several Israeli artists in different fields: Ravid Kahalani's Yemen Blues, The Kibbutz Contemporary Dance Company, Yossi Berg & Oded Graf, and the Balkan Beat Box who will perform the closing concert on Sunday, February 27, 2011 at 20:00. The project is sponsored by the Schusterman Foundation, and Esther Chetner is the presenting sponsor for the performance Double Bill – Full Bloom, followed by the premiere of Yossi Berg & Oded Graf's new work.
The collaboration of Yossi Berg & Oded Graf has brought outrageously creative, conceptually exciting works to the stage since 2005. Their works have been commissioned and performed widely, internationally and in Israel. Following their residency in Vancouver, the choreographers will return one of their most intense and moving works to the Israeli stage: 4 Men, Alice, Bach and the Deer. The incisive, witty exploration of masculinity in the 21st century will be performed at the Suzanne Dellal Centre in Tel Aviv on March 18 & 19, 2011.
Yossi Berg & Oded Graf with Vancouver dancers Noam Gagnon and Justine Chambers will perform in the evening Double Bill, following Full Bloom. Performances will take place Saturday, February 26, 2011 at 20:00, and Sunday, February 27, 2011 at 14:00. There will be a Post-Show Talk Back with the artists following the February 26 performance.  Tickets can be purchased online: http://chutzpahfestival.com/