Haifa is known as a city in which its mixed faith citizens co-exist in an atmosphere of tolerance and harmony. So, it seems fitting that the concept of community – of groups of people having interests or aims in common – is the focus of the trio of exhibitions recently opened at the city's Museum of Modern Art.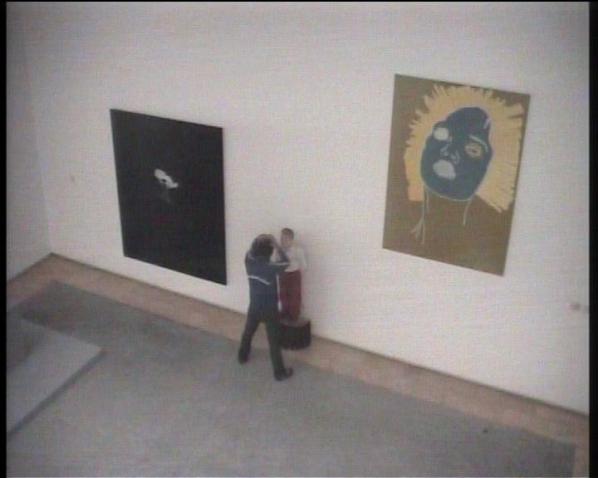 Because this is an Art museum, not an arena for political or social discussion, it was not surprising to find that one of the these three shows Gatekeepers turns its attention to the art community. With the video camera in a subversive role, eight artists from Israel and abroad take the visitor to meet the king-makers of the art world: the curators, museum directors, gallerists, the arbiters of taste. Even the guides in the museums come in for criticism.  An iconic work from 1989, filmed in the Philadelphia Art Museum, shows performance artist Andrea Fraser in the fictional role of docent. Leading a group of unsuspecting visitors on a tour of the galleries, she talks about the rest-rooms and water-fountains in the same mode of superior art-speak that she uses to describe the exhibits.  
The Museum itself, the Temple of Art – is breached in Watchmen, a work by Tel Aviv artist Jack Faber and his partner known only as X. Filmed in 2005 through the closed circuit security cameras of the Tel Aviv Museum, it shows the blurred images of a man, face concealed by a stocking-cap, roaming the deserted halls of the Museum at night stopping and sitting where he pleases, or hugging a sculpture that takes his fancy. This video caused an outcry when the Museum's Director learned of its existence. A court case ensued, with Faber being finally exonerated. According to the judge the Museum did not have a case, since the film even though illegally taken did represent reality and that there was thus no reason to censure it.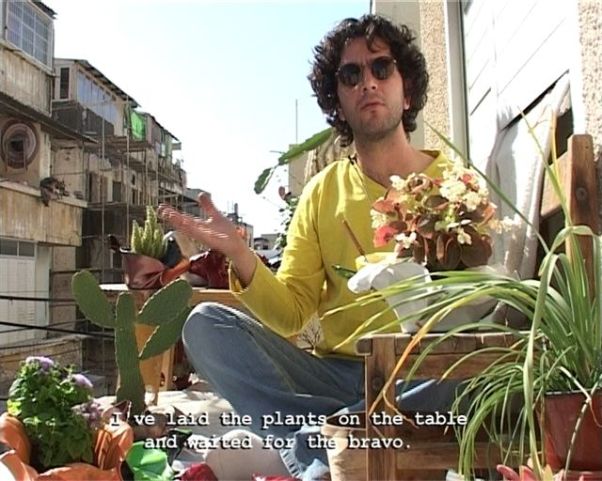 The power of a curator to shatter an artist's dream  is well illustrated in Shay Lee Uziel's  video Planters where a would-be participant in the outdoor street fair held bi-weekly in Tel Aviv's  Nahalat Binyamin street, has been rejected by the Street Committee, being  told that the plant holders he crafts possess no artistic merit.  Indeed, on listening to this man's monologue and seeing his work, the viewer may agree with their verdict, and just find his rantings amusing. But the truth is that this craftsman, never mind his level of skill, is representative of scores of artists whose careers have faltered as a direct result of decisions made by the powerbrokers of the art world.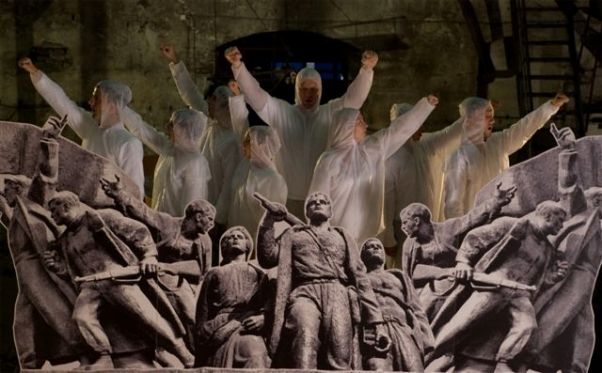 The two other exhibitions explore the identity of communities in many different spheres.  In Self Extreme – Between Political Self and Social Body, its curator has chosen four video works, two by Israeli artists, and two by guest artists. They are Köken Ergun from Turkey, and the Chto Delat group founded in St. Petersburg in 2003. All of four video pieces critically examine the concept of statehood, whether from the aspect of public or military life, or as connected to history or rituals.
Chto Delat (What is to be Done?) is a group of political activists who express themselves through art, theater, song and dance. They are represented by two video films; one of them being Partisan Songspiel, a performance piece based on an event that took place in Belgrade in 2009. It concerned a group of Romany people who had been relocated to a certain neighborhood in the city, then, without warning, were forcibly evicted from their homes to make room for an international sporting event.  Chto Delat uses their story as a basis for a universal message of class struggle, with working people and deprived sections of the community confronting City Hall, the rich guys and the profiteers.
In one scene from this film a chorus of dead partisans, wearing protective clothing,  sing a song of protest. They are standing  in front of a military monument that seems to represent not only the history of their country, but the bravery of its ordinary citizens, now demanding social justice.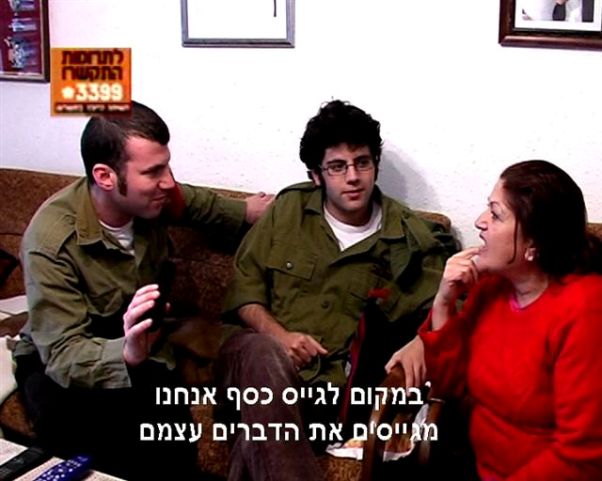 Nationhood is a subject that was clearly sidestepped in the curator's selection of video works by Israeli artists. Instead, one of her choices was Sherutrom, a work by Yosi Atia and Itamar Rose that effectively criticizes a well established local tradition: the annual Sherutrom TV broadcast on 'Soldiers Appreciation Day' in which Israeli citizens are asked to 'show their love" and give money to the Soldiers Welfare Fund.
In this film, actors dressed as soldiers visit homes in Or Yehuda asking for provisions instead of cash: vegetables, a sink plunger, a picture off the wall. In this way, Atia and Rose reveal the absurdity of holding a national fundraising event for one of the best funded organizations in the country. An aspect of community life also brought out in this video, perhaps unwittingly, is the goodness and generosity of the people they visited who opened their homes and their hearts to these young men. 
Coming Community, the largest of these thematically linked shows, presents works by 15 artists from Israel and abroad. It takes its title taken from that of a book by Italian philosopher Giorgio Agamben in which he writes about a future Western society no longer based on shared languages or common goals, but on the essence of human existence. Yet, in spite of this definition, the majority of works in this exhibition do focus on distinctive communities, real or imaginary. 
Perhaps the most exotic fictitious community is the cyberspace city dreamed up by Beijing artist Cao Fei. In this film, Tracy China, her avatar, undertakes various journeys within the context of a game known as Second Life. In the version shown here Tracy Chin introduces her new born child China Sun to this virtual universe. A  super-precocious infant, he obsessively questions his mother as to what is true, what is real, and what is fake. And then, in a pathetic aside to us, his audience, the child remarks: "I'm lonely when my mother is online!"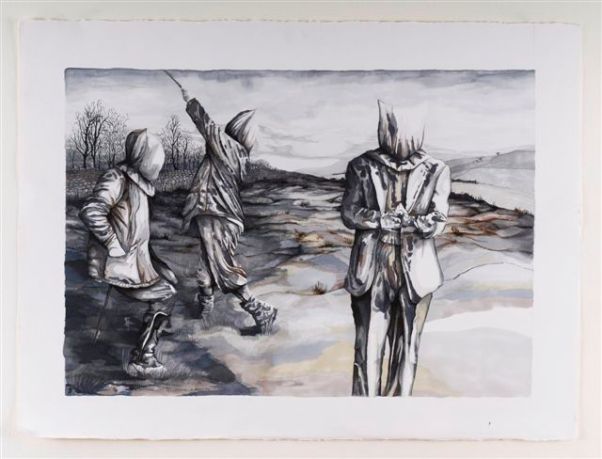 With video works seemingly dominating all the spaces of the Museum, it was with feelings of relief, tinged with nostalgia, that one eventually came across some traditional forms of art – paintings, drawings and sculptural installations – all by Israeli artists. Here one finds the strangest of communities. Assi Meshullam's Lexicon of Principles, for example.  This a mixed-media installation in the form of a chapel. Inside are rows of benches, prayer books, illuminated manuscripts, scrolls and miniature sculptures of beaked headed figures. All are dedicated, so it seems, to  Meshullam's imaginary sect: The Order of Impurity – a religion without a God.
And then there is Vik Jacobsen Frid's drawing series Untitled – Myopia, a fine set of drawings featuring a gathering of  people whose heads are completed covered by sacks. The activities of this group are strange in the extreme; they either indulge in play bordering on violence, or else sit on a boulder holding newspapers in front of their hooded faces.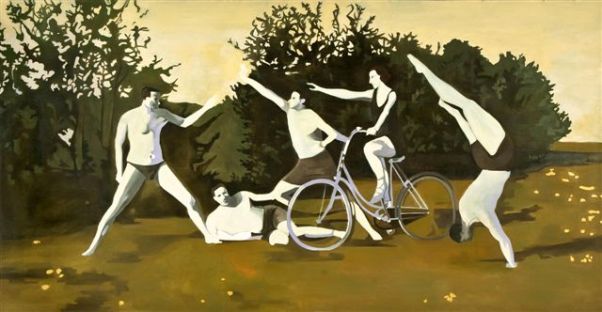 Taking a different tack, are Netta Lieber Sheffer's paintings that imaginatively illustrate an individual's loss of identity when he or she become part of a collective society. This is well illustrated, for example, in two works, possibly based on photographs: Draft of 1918 where nude army recruits line up for medical inspection; and in the scene titled Me and the Others where young athletes are depicted in poses recalling Classical Fascist sculpture and propaganda photos of Hitler Youth.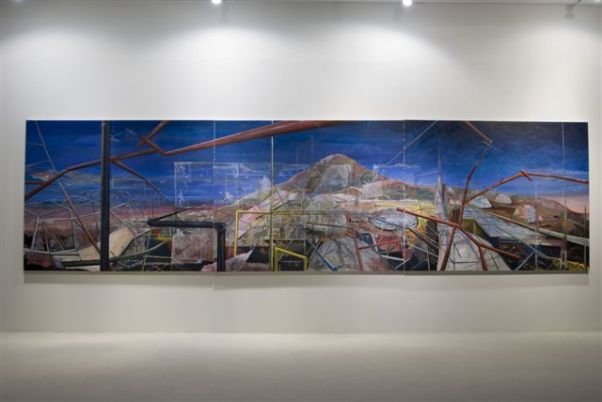 Inevitably in a contemporary exhibition on this theme, there will be artists who will opt for an apocalyptic scenario. Such is the case with Elad Kopler who shows a  large and well composed painting on this theme. Viewed from afar its details are indistinct. In fact, its brilliant blue and pastel palette recalls the pastoral landscapes produced at mid 20th century by Eretz Israel painter Ludwig Blum. But coming closer, one's perception alters. This is a scene of chaos. One now notes that the title of Kopler's painting is Nevo, the mountain from which Moses looked down on the Promised Land. In Kopler's version this Land of Milk and Honey, as once described by Moses' spies, has become a jungle of metal bars and twisted paths, with vestiges of human habitation in the form of transparent eco-domes.
This is a lively and ambitious show. It marks a new era at the Haifa Museum where Ruth Direktor has recently taken over from Tami Katz- Frieman to become its chief 'gate-keeper'. 
The curators of the exhibitions were as follows: Gatekeepers: Ruth Direktor, Yeala Hazut, Natalie Smith and Ilana Tenenbaum; Self-Extreme: Ilana Tenenbaum; The Coming Community: Yeala Hazut, Lee Weinberg. 
Haifa Museum of Art., 26 Shabbetai Levi Street, Haifa, The exhibitions are on until the end of May   
ANGELA LEVINE