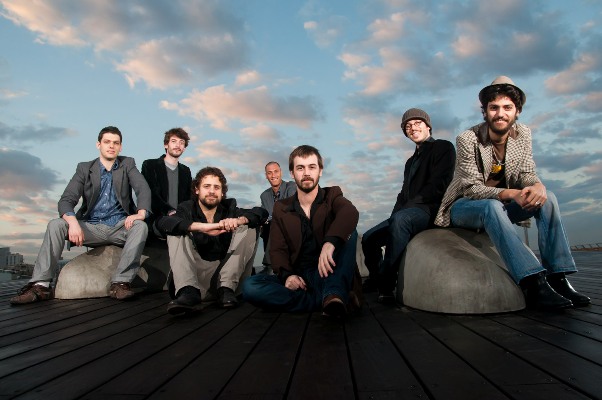 "You don't wake up in the morning and say I'm going to start a band. It's something that happens with time, you start playing with someone – sometimes just for fun, at home…and it develops," says Idan Rabinovici, one of Acollective, a group of friends that have been playing music together for years, a journey that became a band. The 7 member band is fronted by Roy Rieck and Idan Rabinovici, who wrote the songs, and includes: Daniel Shoham, Joseph E-Shine, Roy Rabinovici, Emanuel Slonim, Nadav Luzia. Acollective will launch their debut album Onwards on March 10, 2011 at the Barby in Tel Aviv, but the band is already living up to the name, always moving onwards, performing everywhere and inviting everyone to join a collective – any collective.
Just before the big launch, Roy Rieck, Idan Rabinovici and Daniel Shoham met with Midnight East to talk about becoming Acollective and recording Onwards with producer Chris Shaw.
On the way to becoming Acollective, they had played together in different groups, with some individual recording projects along the way, "That was our journey," says Roy, "we learned a great deal from it – we were a band and didn't realize it."
The movement and searching is an integral part of the band that they have become, in Acollective each of the seven musicians may take on a completely different part or instrument, depending on the song. Their array of instruments and the ease with which they move from one to another is impressive. Acollective's live shows generate energy enough to power a movement, a movement that is constantly changing; a wild and joyous freedom.
"At any given moment there are enough stupid toys of all kinds onstage to find the cadre of things that we are working with," says Idan.
"But it doesn't come from a place of …let's try to put together as many instruments and styles as we can – that's not at all what we're about," says Roy, "although it might look that way. We try to listen to a song and understand what will serve it best, and we sometimes have different opinions, but in the end…"
Daniel continues, "What comes about in the end… my main instrument is the guitar and when I listen to the album I hear a song where I play and then suddenly a song where Idan plays guitar or Nadav plays guitar and it's fun to listen because its not the same sound, each time someone else gives something different to the instrument."
"We are a band that talks a lot," comments Idan, "but the good thing is that our talking comes from caring about what we do and it gives us energy. We have our aesthetic differences…is this part too full, is it too empty …and how we solve these differences  – that is our secret, it's part of the fun."
"No one says that because you are a musician in a band you have to come and play in a certain way," says Idan, "sometimes you are more to the front and sometimes you're more in the back, what's more important is that the journey this search takes place within the context of a narrative that ties the group together – our relationships, and our passion for what we do."
"There are no fixed rules," says Roy, "ok, this is Idan's project so Idan will sing and Roy will play harmonica and someone else on guitar or drums. Suddenly we understood that these borders had been breached. At first it was scary, but we soon saw the advantages in every way – musical, and personal."
"It's what makes us who we are as a band," added Idan, "the ability to find balance, a place of searching, movement, the raw energy you bring, the chaos and that almost childish behavior where you just pick up an instrument and play and in a way it all makes sense. It doesn't sound like 18 different bands, it sounds like one band and it creates a certain character. When someone plays an instrument that they usually don't play, they bring something very special to it, because it comes from a different place."
"Until we recorded this album, I had never picked up an electric guitar," says Roy, "and suddenly found myself with the instrument."
"We're describing this thing," reflects Idan, "and I think someone an outsider might say – Come on, this sounds like total chaos – what do their rehearsals look like…it is chaos but what connects us is that we are good friends and we are on this journey together – we're having a blast."
"That is our philosophy," smiles Roy, "when things get rough, we tend to celebrate with a very Saturnalian feel to it…"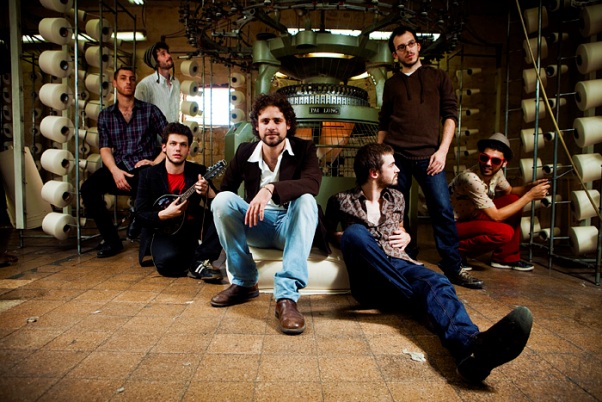 Musically diverse, the band members come from different backgrounds – jazz, classical, blues, funk, and punk, to name a few. "We are a band with many perspectives," says Idan, "we're the least homogenous group I know," and Roy continues the thought, "different musical education, outlooks on life, we don't see things the same way but ultimately there is a balance within the group, if you take just one out of the set…"
These many perspectives can be heard in the complex texture of their music, and, as they describe, are also part of their creative process. Although Idan and Roy write the songs, Idan says, "We have the freedom of creation within the band; often I can say that the song, the way it ends up, is sometimes very far from the song that first came into the room." Two examples from the album that immediately come up are Seven Year Stitch and Lewknor Arch, and the conversation around the table reflects the collective process.
Discussing Lewknor Arch, Roy starts out saying, "It was an acoustic song…"
Idan continues, "It wasn't really a song, it was 35 seconds of nothing."
 
Without missing a beat, Roy continues the story, "and one day when we lived together in London I heard sounds from the basement (where we rehearsed). I see Idan and two other friends playing on all sorts of gizmos…something strange…but it was also amazing."
The seven musicians lived together in London for several months, a time that Idan calls "a kind of call to arms for the band. We were in all sorts of projects together but we didn't really have one steady framework where we knew – ok we're in this together through fire and water. There were a few months when we didn't work together as a band, some of us were abroad and we were on a sort of break. We decided:  let's embark on this journey, not as a band but… let's experience something new. We were commited to it, we worked super-hard, we were willing to be there a long time and we lived together – it was a domestic collective. We initially went to London for three weeks – that turned into half a year. Like many things that musicians do without thinking about it, but we came out of it with a band but we didn't know that before we started. It was boot camp."
Working with legendary producer Chris Shaw on the album was a memorable experience for the band. "We trusted him with our work," says Idan, "it's hard to bring someone from the outside especially since we are friends who know each other so well. Chris understood how we feel towards one another." They had initially written to Shaw and corresponded for several months before the recording sessions began in Israel. During that time the band worked on the songs, and Idan says, "We had joke among ourselves that we'd toss out whenever we disagreed, and when you rehearse for an album for 6 months… we're talking about microscopic decisions, who plays guitar in this section, etc. We'd say:  we'll let Chris decide when he comes. And when he came, he said 'Fuck you, you decide for yourselves. I'm not here to decide what you think.' He always guided us to make our own decisions as a band."
"He has an approach I really connected to," says Daniel, "In our minds we were thinking of the day Chris would arrive, Yossi and I play guitar, and we prepared an entire fleet of guitars to show him. Then Chris comes, it's a moment you imagine for months in the studio and you ask him which guitar sounds best…and in the end he said – play your own guitar. What was comfortable and right for us – not all the things we imagined, and I think that was his perspective on the album too, that it come, as much as possible, from us. He wanted it to be recorded live as much as possible, and that's not easy when you have seven people."
Recording at Pluto Studios, they were the first band to use every possible nook and cranny in the building in order to create the separations needed to allow live recording, with separate tracks. "There was someone in the basement and someone on the floor above," recalls Daniel, "we heard each other through earphones."
"That is the greatness of Chris's method, it was a colossal headache, and I think he'll never forgives us…the set up for each song was very intensive and it took a long time, but he wanted to set it up so that the moment we start playing we'll be at ease and play naturally. So we're just playing the song and not worried about hitting the part right and are we in time or not in time and is my guitar making noise – and we're listening to the song in the way that we want it to be heard."
"The difference between live and not live," says Daniel, "if I'm recording guitar in a session that not live I'll make sure that it's perfect and the end result is something very pure – maybe too pure. What the live recording gives you, even on takes that are not precise and perfect – it gives you the soul and the feeling of the band all together."
"It's more than the sum of it's parts," says Idan, "it has to be recorded together with the right energy and Chris managed to capture many of those moments on the album. With most of the things I hear on the album the magic isn't from things that we decided ahead of time but rather from the uncertainty that recording process introduced. What I ended up playing on Turn to Cry –was different from what I played a year ago. It came out at that moment because I was nervous and excited and because the take came out the way it did."
"It's part of the group interaction that was created over time," says Roy, "with Turn to Cry, we were sitting in the living room of the apartment in London while everyone cooked lunch I played Daniel the song and he began to play a riff on the guitar and the song suddenly took a turn to the left."
 
The song's evolution continued in the recording process, as Daniel describes, "It was a Friday and we were very hot. We did the balance and it took a long time, it was already  noon and we were ready to do takes. Each take is better than the one before but we see that Chris is worried. He plays it and to us the song sounds better than we've ever heard it before, but for Chris there was something about the drums, what sounds best sonic wise. The way the sounds are arranged in the space didn't work for him and you don't hear it, you only hear that the song sounds excellent, but Chris, something is bothering him and we feel powerless. We are dying to do the take and feel happy and released, but until he worked it out – something with the drums and the mic…and until suddenly you come out and see that he is satisfied and you relax. That's what I remember from our work with him: there is someone with genius, who hears things that you don't hear."
"There were moments when Chris was pressured," recalls Idan, "you walk into the control and he looks so stressed, any minute now he's going to start tearing his hair out and you think: WOW I must be playing really badly, he probably hates me. We'd come over and say Sababa (roughly translates as 'OK') Chris, aside from the fact that you think it sounds like shit, did we play all right? And he'd say: Yeah everything's fine."
"After we recorded the album there was suddenly one perspective instead of seven," says Roy, "there is something that became fixed, eternalized, a reference point for everyone."
 
From this point, Acollective plans to move onwards, launching their album at the Barby in Tel Aviv on Thursday, March 10, 2011 and then performing throughout the country.
"The collective is a movement for everyone," says Idan, "Newletter, album notes – it comes from us, we really enjoy all of it. It's all part of the same process and the result is the music but the way we go about it is part of that. Being part of a collective… it's not just a band and listeners, it's greater than that. Everything we do has the same artistic weight as the music."
Acollective will launch Onwards on March 10 at the Barby, 52 Kibbutz Galuyot Street, Tel Aviv, 03-5188123. Doors open at 21:30 and they expect to start at 22:30. Tickets are 60 NIS, 90 NIS with the CD – advance orders only for the CD. You can listen to their music on the bandcamp page, and join Acollective on facebook.