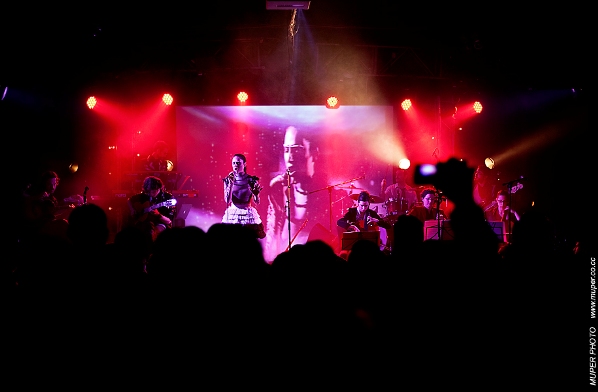 Tonight's the night – Eatliz will be performing at the Canadian Music Week Showcase @ The Hideout at 22:00! I can't say enough about this band – they're intoxicating, every time I hear them play – I want to hear more. Their live shows are mesmerizing – merging unlimited energy, a visceral connection to the audience and tantalizing visuals with terrific music.
Eatliz performances at Canada Music Week and Anova Music Showcase at SXSW in Austin on March 16, 2011 are just the beginning: Israeli alternative art rock meets Sci-Fi Middle Eastern fusion as Eatliz and Consider the Source tour the US with gigs in Texas, Georgia, South Carolina, North Carolina and New York. This will be a tour to remember!
Meet Eatliz in their video, then find a gig near you and experience Eatliz live!

Eatliz tour dates & venues – updates and other cool stuff will be posted on the Anova site:
March 9 – Toronto, Canada Canadian Music Week Showcase @ The Hideout (10PM)
484 Queen Street West, Tel. +55 11 7018 7886
March 13 –  Toronto, Canada @ On The Rox Israeli art event with Eatliz animation master class and live set, Aotomatic toys (Canada) and dj's. 1600 Steeles Ave, West #5 Vaughan, Tel.  905.597.9491 
March 16 – Austin, TX SXSW: Anova Music Showcase @ Easy Tiger (11PM)
709 E 6th St, Tel. (512) 443-4252
March 18 – Austin, TX SXSW "Invasion of the GoGirls" @ Trophy's 11:50AM
2008 S. Congress Ave. Tel. (512) 447-0969
US tour w/Consider The Source (NY)
March 19 – Denton, TX @ Hailey's 122 West Mulberry Street, Tel.(940) 323-1159  
March 21 – Austin, TX @ HeadHunters 720 Red River St, (512) 236-9820
March 23 – Atlanta, GA @ The 5 Spot 1123 Euclid Ave, Tel. 404.223.1100
March 24 – Columbia, SC @ The House 2020 Devine St, Tel. 803-253-7888
March 25 – Athens, GA @ Caledonia Lounge 256 West Clayton St  
March 26 – Savannah, GA @ The Wormhole 2307 Bull St, Tel.(912) 555-5555
March 27 – Fayetteville, NC @ The Rock Shop Music Hall 128 South King St, Tel.(910) 321-7625
March 29 – Raleigh, NC @ Pur House 224 South Blount St, Tel.(919) 821-1120
March 31- Buffalo, NY @ Nietzche's 248 Allen St, Tel.716.886.8539
April 1- New York, NY @ City Winery 155 Varick St, Tel.212.608.0555
April 2 – Albany, NY @ Red Square 388 Broadway 334
April 6 – Toronto, Canada The Rivoli (w/Everyone's talking) Queen St, Tel. 416-596-1908