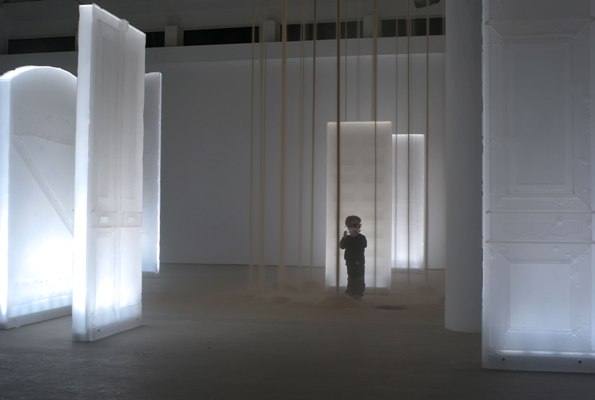 Accelerator, a new exhibit by Uri Nir, will open on April 15, 2011, at the Helena Rubinstein Pavilion for Contemporary Art of the Tel Aviv Museum of Art. Curated by Nili Goren, the exhibit will be accompanied by a catalogue and is on display courtesy of the Braverman Gallery.
Uri Nir studied art at Bezalel Academy of Art and Design, Jerusalem (BFA) and UCLA (MFA). He has held a solo exhibition at the Herzliya Museum of Contemporary Art and participated in group exhibitions at the Tel Aviv Museum of Art, The Israel Museum, Martin-Gropius Bau, and others.
The museum's description of the exhibit:
The exhibition is a machine, a kinetic composition of bodies in space and timed movements. The viewer is invited to stroll within a map of powers that distribute materials in space and time, inhabit the museum building and pierce it. Like a musical piece, the exhibition seeks to be perceived in its abstract reality and offers an option to move from the familiar, overused reciprocal relations between viewer and artwork, onto introspective relations of space and time with themselves. The exhibition includes doors that produce flickering storms; a video film taken between the doors, with only traces of its occurrences left in the space; public phone booths emitting sounds from another video film: a collaboration between junkies and huge spinning eggs.
Accelerator: Uri Nir
Opening date: April 15, 2011. There is no closing date for the exhibit.
Helena Rubinstein Pavilion for Contemporary Art, 6 Tarsat Blvd, Tel Aviv, 03-5287196