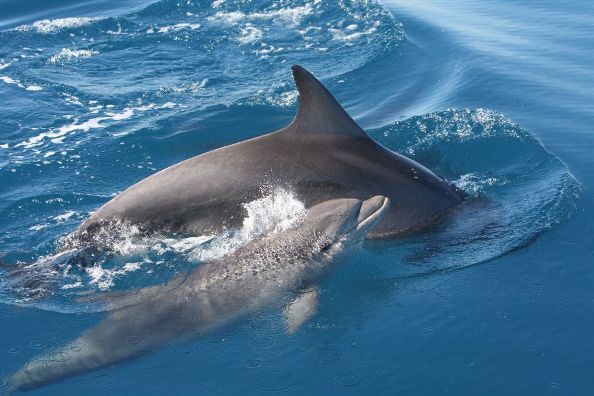 Jaffa Port is celebrating Passover with the environment! Exhibits, music, workshops & more on April 22 & 23 from 10:00 – 17:00, FREE and open to the public.
Dolphins in Jaffa Port – is an exhibit created in collaboration with IMMRAC (Israel Marine Mammal Research & Assistance Center). Hundred photos taken by researchers and volunteers at IMMRAC in the course of their research and rescue projects will be on display in Warehouse 2. A sand dune with the skeleton of a whale over 12 meters long, dolphin skeleton, and a stand where you can hear whale sounds, are some of the attractions of the exhibit, which aims to raise awareness of these beautiful creatures and the importance of preserving their environment – the sea that surrounds us. Activities will include lectures, story hour and workshops where kids can make origami whales and other craft projects; while artist Dror Frid will create a mural of the undersea world throughout the days of the exhibit. The opening event for Dolphins in Jaffa Port will take place at 18:00, April 21, 2011.
Gil Bohadana will present "Sounds from the Junkyard" – a musical performance based on instruments he makes from recycled materials. Landscape architect and musician Bohadana makes a variety of instruments from recycled materials, including: a flute from a sprinkler, an organ constructed from sewage pipes, and a drum set made out of a closet door with knitting needle drum sticks. Check out Gil's YouTube channel to see what this guy can do! Just as an example:

The eco-music groove goes on with Echo 3: Rami Yosifov on guitar, Gilad Efrat on contrabass, and Nimrod Nul on violin. This trio will take you on a musical journey, with music originally composed for National Geographic films, and created from the lively adventures of these musicians.
The circus is coming to Jaffa Port! Pangea Circus – Natalie and Hilal, graduates of Carampa Circus school in Madrid, perform a circus show with acrobalance, object manipulation, juggling and balancing techniques such as high unicycle, rola-bola and other intriguing acts, all in interaction with the audience.
Shibboleth – a site specific exhibition with designs by 14 students from the Visual Communications Department at Bezalel Academy of Art and Design, Jerusalem, curated by Anat Katsir. The outdoor spaces of the port will be transformed in relation to the term "Shibboleth" – creating a meeting place between the two languages existing in this space: Arabic and Hebrew. The exhibit will open on April 15, 2011 at noon, with a performance by System Ali, the multi-lingual, multi-cultural Hip Hop Group. You really want to be there!
Jaffa Port has been developed over the past three years by the Tel Aviv-Yafo Economic Development Authority, a municipal corporation owned by the Tel Aviv-Yafo Municipality. Bringing new life into the port in harmony with the surroundings, to create a space for art, entertainment, food and fishing.