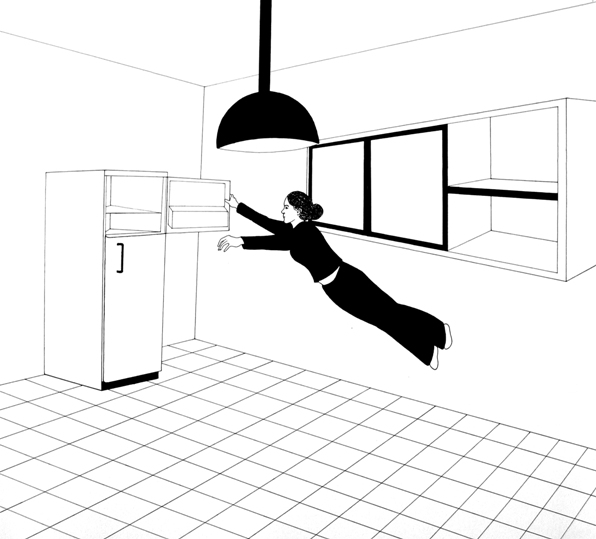 Colorful, fun and provocative, the exhibit Life: A User's Manual, opened on April 12, 2011 in the Weinstein Gallery of the Ruth Youth Wing for Art and Education at The Israel Museum, and will remain open through February 18, 2012. The exhibit's title is not so much an over-arching ambitious statement of purpose as it is a playful tease, an invitation to explore and question our relationship to systems of rules and instructions of different kinds, through an encounter with diverse works encompassing a range of eras and styles.
Not for children only, the exhibit, curated by Aya Miron, includes in its mix of media, genres, artists and authors: the facsimile of a scroll from the Qumran cave circa late 1st century BCE, works of Fluxus artists Joe Jones and George Brecht, an engraving by Albrecht Dürer, 17th century drawings from India, and an array of contemporary Israeli artists – Boaz Arad, Maya Attoun, Ido Bar-El, Guy Ben-Ner, Aya Ben Ron, Michael Druks, Yair Garbuz, Irit Hemmo, Paul Jackson, Jerzy Michalowicz, Yoav Miller, Tal Mor, Philip Rantzer, Yair Reshef and Roee Kremer, Gil Marco Shani, Gal Weinstein, and Yuval Yairi.
Like the Tshirts that insist defy authority, Midnight East would like to instruct everyone to begin by breaking (or rather, ignoring) a rule: don't think that just because you are not a child or not accompanying a child you have no reason to visit this exhibit. The best youth exhibits offer an alternative way of experiencing the museum, a shift in perspective that may challenge and change the way one approaches any exhibit. Taking us behind the scenes, into the artistic process, asking questions and getting us involved, youth exhibits diminish the distance we may feel from art. This barrier is often ironically created not only by distance in time from ancient or classical art, but by a work's reputation and the general aura of awe surrounding anything displayed in a museum. The more famous a work may be, the less we feel connected to the work itself, as we walk through museums on our best behavior, hushed and subdued, with a sense of respect, formality, and ultimately – boredom.
So let yourself become a child again, and come to the museum as if you are encountering this entity for the first time, open to discovering this amazing playground.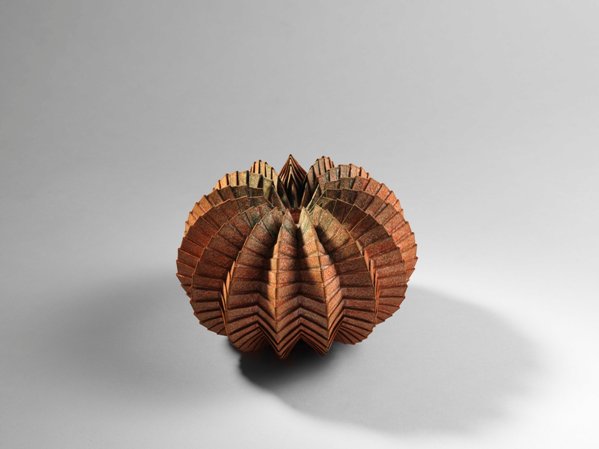 Being a child, however, is not as sweet and simple as we would like to think. "Children live in a world where they are expected to obey the rules," said exhibit curator Aya Miron, "We wanted to stir up their thoughts, raise the options of rebellion, doubt, and critique. To understand the world we live in, and the relationships between those who give commands and those who obey." Miron further explained that the exhibit reflects two ways of looking at instructions: Instructions that tell us what is permitted and what is not and instructions that teach us how to do something that we otherwise would not know how to do. Paul Jackson's Organic Abstract: Step by Step shows the 19 stages of paper folding from a flat, blank sheet of paper to an intricately shaped, colorful paper sculpture. Yet display begins with the finished product and wraps around the room, creating a sense of anticipation and providing the viewer with the delight of seeing and thinking in reverse.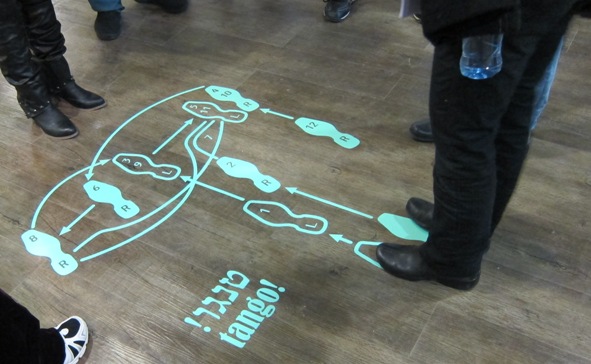 In addition to the traditional labels identifying the art works, exhibit designer Ido Bruno, a faculty member in the Industrial Design Department at Bezalel Academy of Arts and Design, Jerusalem, has created a path of green stickers throughout the exhibit, a kind of running visual commentary with the occasional suggestion for journeys off the beaten path. There are an abundance of instructions throughout the exhibit, which one may choose to follow – or ignore. A music kit, with materials and instructions for building a xylophone created by Fluxus artist and musician Joe Jones (1934 – 1993, listen to his composition for xylophone on Ubuweb), is positioned next to a floor chart with a diagram of green stickers teaching the tango, the recycling room will offer an option for their activities (check the museum site for hours): along one wall, there will be materials and instructions for creating an object, the opposite wall will offer the same materials for following your fancy – without instructions.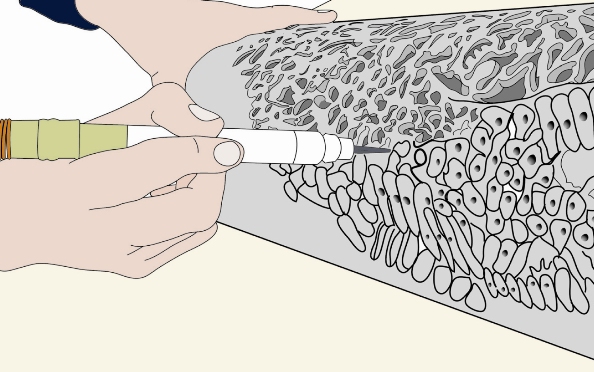 Gal Weinstein takes instruction to the meta-level, with the artist's book Omanut La'am, published by Omanut La'am, the Israeli non-profit organization that aims to bring art and culture to a wider public. The book illustrates Weinstein's process as he creates his own art work, with the tongue-in-cheek implication that just like any DIY book – if you follow the instructions, you can make one of these at home.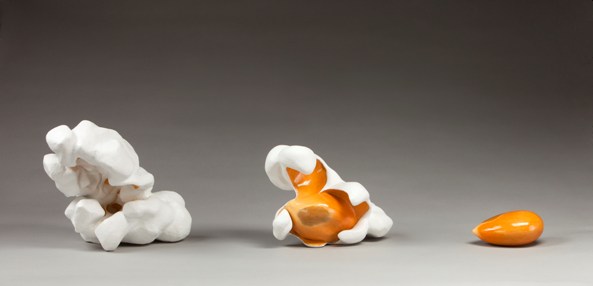 Yoav Miller takes a closer look at something almost anyone can make at home these days with Flake's Progress, showing the stages of a corn kernel as it pops, and emphasizing the distinction between life and art in an amusing, albeit extremely labor intensive way. Bookish visitors will get a kick out of the reference to William Hogarth's series of engravings A Rake's Progress (1733 – 1735).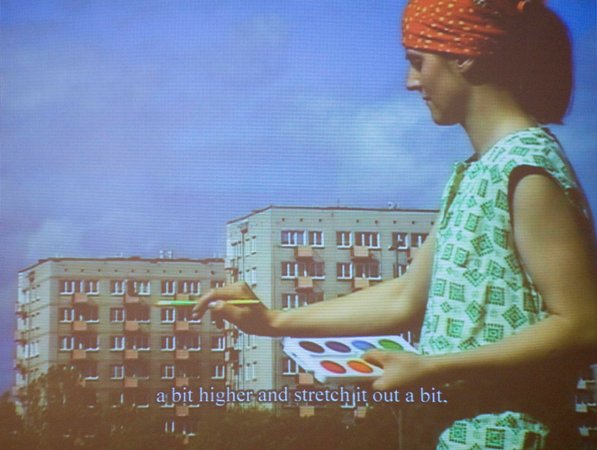 Some of the works on display are from the Israel Museum's vast collection, such as the two sketches created for carpet weavers from the first years of the Bezalel School for Arts and Crafts, Jerusalem. These beautiful pencil, watercolor and ink designs are currently on display for the first time in the museum. A very different work from the collection is Polish artist Julita Wójcik's video View Maker/Wedutystka, in which the artist, red kerchief adorning her head, "paints" an urban Polish landscape according to verbal instructions from an off-camera voice.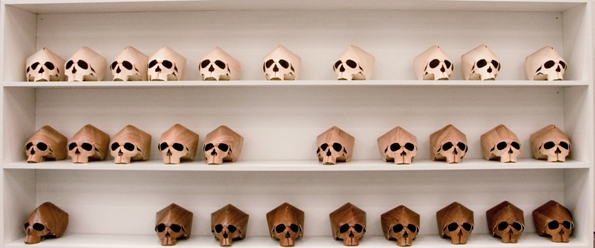 There is a dizzying play of assembling, resembling and dissemblance in Maya Attoun's Cartridge in which 30 skulls made of PVC with a look of wood, lined up on a shelf like archaeological artifacts, while on the floor below (itself made of imitation wood PVC) is a green sticker in the form of the template used to create the skulls, and on the adjacent wall is Rock and Roll, a print created at The Gottesman Etching Center in Kibbutz Cabri, which shows a series of images of hands forming the skulls.
What happens when you don't follow instructions, and don't obey the rules? I'm predicting traffic jams on the stair case as visitors of all ages stop to empathize with artist Michael Druks, whose photograph Punishment: To Stand in the Corner is positioned on the landing between the two floors of the exhibit. Another fun take on our DIY culture is Guy Ben Ner's Treehouse Kit. A wooden tree, made of "ready to assemble" furniture that has been dismantled, is accompanied by a video, showing Ben Ner equipped with a beard worthy of Robinson Crusoe and Theodore Herzl, dismantling the tree to create furniture.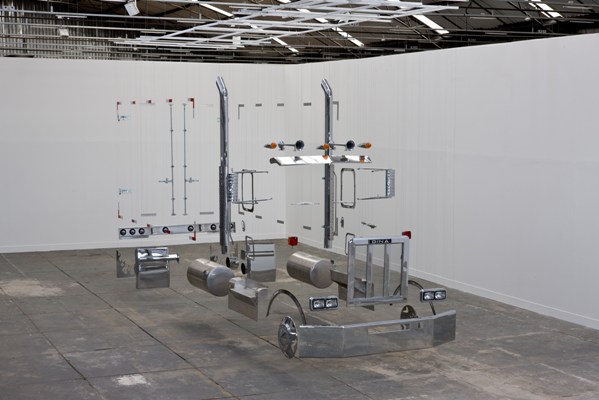 Some things do need to be done "just so," following instructions to the letter. Damian Ortega's Materialista, consists of 62 separate parts of an 8 meter semi-trailer truck suspended from the ceiling at precisely calculated intervals, sketching out the image of the truck in mid-air.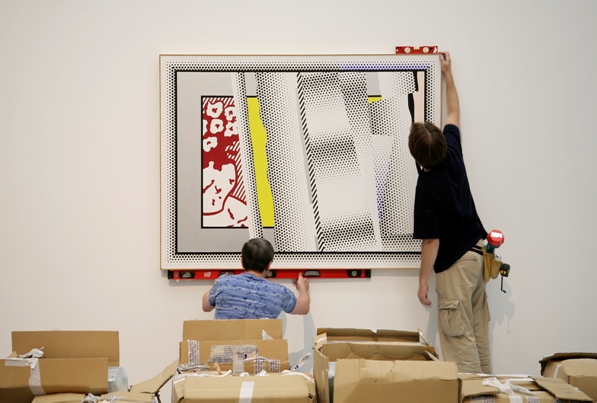 Yuval Yairi's Hanging Roy (Lichtenstein), takes the viewer behind the scenes of the museum itself to show how the painting is hung in the gallery. Techonology gets physical with Yair Reshef and Roee Kremer's interactive Teeter-Totter projection game. Visitors position themselves in relation to the projected image, and balance the seesaw by tilting their bodies. The potential for long lines of avid players here is great, but the good news is that the exhibit will be up for several months, so you can come back and play, again and again and again…
Life: A User's Manual
Curator: Aya Miron, Associate Curator, Israeli Art Department
Weinstein Gallery, Ruth Youth Wing for Art and Education, The Israel Museum
The exhibit will remain open until February 18, 2012.
For directions and additional information, visit The Israel Museum site, or call: 02-6708811.