Tal R., an Israeli- born artist living and working in Copenhagen, once told an interviewer that he paints "a bit like people making up a lunch box." This description referred to the boisterous paintings that have garnered him an international reputation produced in an assortment of styles and images drawn from a myriad of sources, among them the theater, comics and illustrated journals, Pop Art, Hip-Hop. Sci-Fi and much, much more.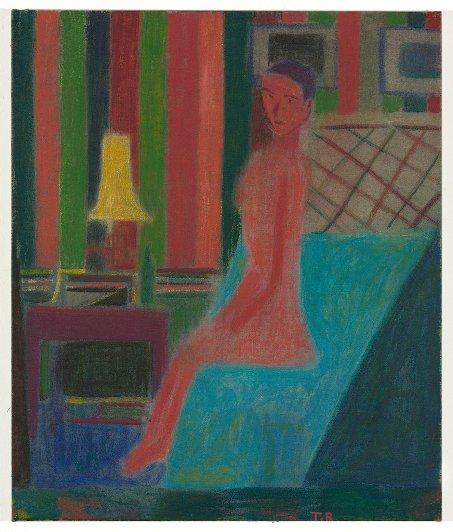 So, it shouldn't have been a surprise – but it was – to find here, in Tel Aviv, that Tal R. is shaking things up once again. Firstly, he is now painting onto an unprimed canvas with a tricky material: rabbit-glue (first used by Renaissance painters to prime their canvases) instead of using paints squeezed fresh from a tube. This glue has to be mixed warm with pigments, with the occasional addition of wax crayons. It dries quickly and changes cannot be made so the artist must know exactly what he wants to do.
Secondly, the 13 canvases now on exhibit at the Sommer Gallery find him working for the first time in small format, with the paint thinly and flatly applied, without any brush marks in evidence. This change has required a considerable reordering of the subject he paints. In place of multiple imagery, the 13 brightly colored canvases on exhibit, almost without exception, focus on a single figure or object, all of them having some offbeat feature.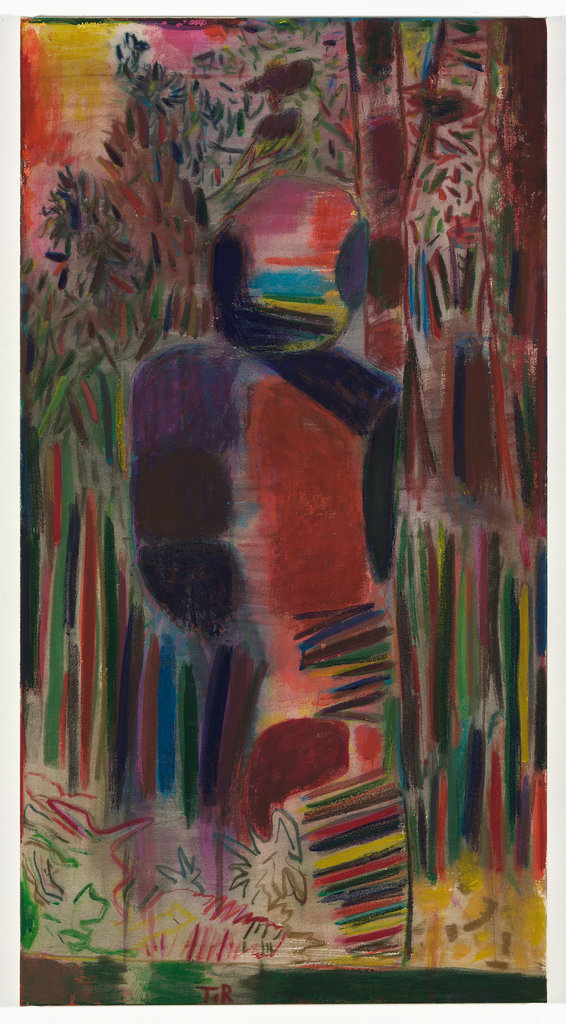 Each one tells an unfinished story. The Girl from Walnut, for example, why is she seated bolt upright on a hotel bed, and who is she looking at? Why does Tenenbaum give his depiction of a man in a top hat the title The Beginner? Why is there a mask over the face of the boy wearing striped pajamas? And so on. Yes, there are puzzles here, but the artist does not seem particularly interested in our pursuing them. Narratives, he once said, are 'just candy with which to tempt people onto the dance floor.' The dance floor he refers to must be the act of painting itself. He wants us to look – and one does – at how he creates a mood, how color shapes becomes form, and how light seeps from the unprimed canvas to glisten between the edges of his blocks and strips of color. In some instances, his images – whether of a door at the corner of some street or a human figure stand out strongly from their background. In other pictures, like Man One Giant, they become intertwined into an ornamental pattern. These are disarmingly simple works, but a lot of effort, thought and skill has undoubtedly gone into their making.
This show at the Sommer Gallery, 6 Rothschild Boulevard (tel. 03.516-6400) is open till May 20th. Concurrently, Tal R. is also exhibiting larger format canvases at the Kunsverien, Hamburg
I Socket, the name that Ran Tenenbaum has given his new exhibition of paintings seems strange at first. But referring to its Hebrew title, one ventures a guess that the artist is relating to the way that he sees and paints the world; a vision that has undergone change during the past four or five years. Trained as a realist painter at Israel Hershberg's Jerusalem Studio School, Tenenbaum originally exhibited hyper realistic paintings at this venue. These were followed in 2009 by a new group of canvases that combining realistic details of flowers or a bowl of fruit set alongside freely brushed passages evidenced a marked progression in his painting towards abstraction.
In this new exhibition, this process of abstraction continues. This is illustrated best in Woman-Kitchen, a set of very small paintings on wood that accompanies the five large canvases in a fully abstracted style that are Tenenbaum's main offering.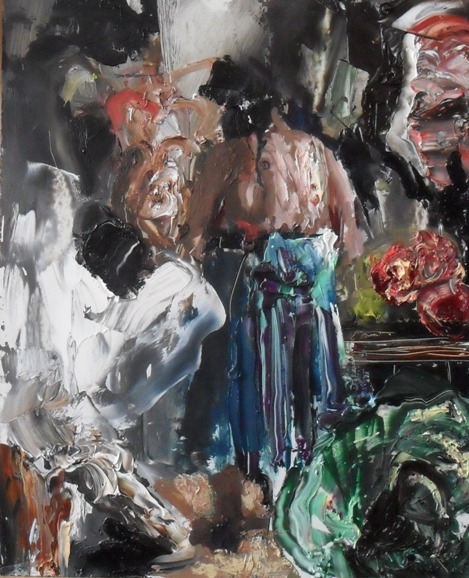 In the recent past, Tenenbaum regularly painted the figure of his mother. Not in the realist style that he painted himself or other family members, but as a shadowy image, her facial features absent or blurred. A figure – maybe still his mother – is at the centre of these new paintings too, working at a sink or table. In the most 'realistic' example – illustrated above – her back is turned towards us. A solid form, she wears a deep  blue skirt, and is surrounded by small objects – perhaps vegetables or cooking utensils – that Tenenbaum has translated into brilliant flashes of color. But by the end of the series, this figure, now portrayed in monochrome hues, is at vanishing point.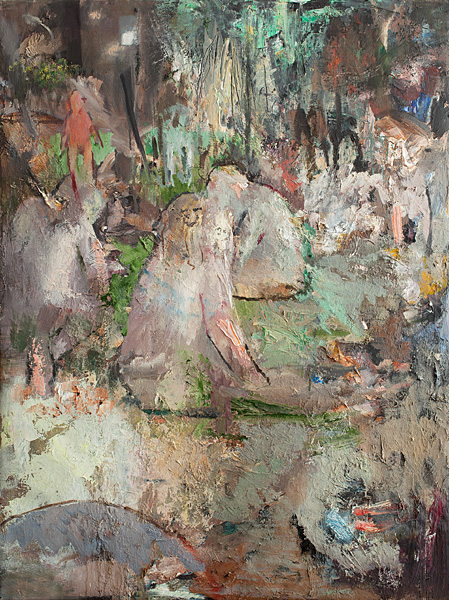 Tenenbaum's new, large canvases are skillfully handled, vital, even exciting. His  five-part rectangular piece, for example. Here, just a few identifiable images – a seated figure, a table, an upturned plate –alongisde impasto color patches and thick , abstract swathes of paint – are sufficient to suggest a Bacchanalian feast.
All Tenenbaum's big paintings hint at the great artworks of the past that have been his creative spark.  In Locker Room, for example, the curve of a body, the flurry of white material, recall Degas's ballerinas, dancing or bending over to tie their shoes. Similarly,  in his Untitled painting (see above) painted in pastel shades and white, where seated nude figures are just visible within a forest scene, Tenenbaum looks back to Manet's Lunch on the Grass, and Cezanne's Bathers, meanwhile creating his own, delicately rendered, composition.
Till May 6 at the Alon Segev Gallery, 6 Rothschild Boulevard, Tel Aviv. (Tel: 03. 6090769)
ANGELA LEVINE