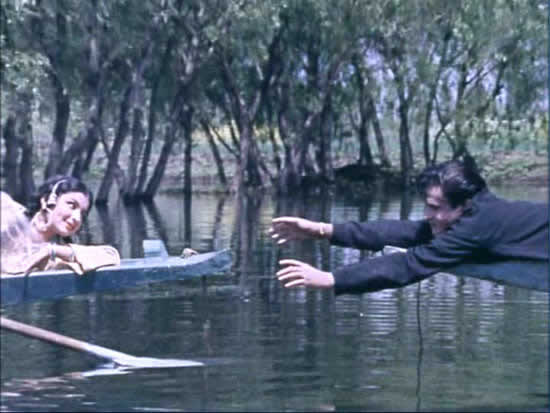 The film Kashmir Ki Kali launched Sharmila Tagore to fame in 1964, this coming May, the star will present the film and converse with the audience at the Tel Aviv and Jerusalem Cinematheques. The actress will come to Israel as part of Celebrating India in Israel, a festival of visual and performing arts, which will also include a film festival at the Tel Aviv, Jerusalem and Haifa Cinematheques.
Sharmila Tagore began her screen career at age 13 as the result of a chance encounter with Satyajit Ray, appearing in over 100 films, the star has been decorated by the French Government as an Officer of the Order of Arts and Letters and is actively involved in social work. Tagore is UNICEF's Goodwill Ambassador in the cause of HIV/AIDS. She supports socio-cultural and community projects like KATHA, an organization for under-privileged women and children that translates regional literature into English.
Tagore will introduce the film Kashmir Ki Kali on May 4, 2011 at 20:00 at the Tel Aviv Cinematheque, and on May 5, 2011 at 20:30 at the Jerusalem Cinematheque.
The film festival will include the following films:
An Evening in Paris
Director: Shakti Samanta
Duration: 168 mins
Year of Release: 1967
Stars: Shammi Kapoor, Sharmila Tagore & Sarita
In romantic Paris, two Parisians of Indian origin are in love namely Shyam or Sam and Deepa. Mystery and intrigue surround this romance, as Deepa is abducted and held by criminal mastermind Jack and his minions, who will trade her for a hefty ransom. Deepa has a look-alike in the shape and form of Roopa/Suzy, who is sent in place of Deepa to ensure that the money is received, while the real Deepa is still being held captive. Sam must use all the resources available in order to set Deepa free, but he will have a difficult time differentiating between Roopa & Deepa!
Kashmir Ki Kali
Director: Shakti Samanta
Duration: 168 mins
Year of Release: 1964
Stars: Shammi Kapoor, Sharmila Tagore & Pran
To avoid the pressure to marry, Rajiv (Shammi Kapoor) leaves his family mansion and goes to Kashmir. There he meets Champa (Sharmila Tagore), the beautiful Kashmiri girl who sells flowers for a living. They fall in love but Mohan, a local suitor tries to persuade Champa's blind father to give his daughter's hand to Mohan. Rajiv and Champa find themselves in the midst of events that seem to crush their dream world. The story ends with the most unexpected twist and moves on to the breath taking climax brilliantly presented in the valleys of Kashmir. The movie is also very well known for its great music.
Tanu weds Manu
Director: Anand L. Rai
Duration: 119 mins
Year of Release: 2011
Stars: R Madhavan, Kangana Ranaut & Jimmy Shergill
Manu (R Madhavan) is a sad and serious NRI doctor in London who comes looking for a bride in India. He falls head over heels in love for a sozzled small town girl, Tanu (Kangna Ranaut) who lives with her extended family in Kanpur. But there's a hitch. Tanu loves a goon from Lucknow and threatens Manu with dire consequences if he doesn't say 'No' to the wedding. Poor Manu! He not only says 'No' but tries his best to get his dream girl marry her boyfriend.
Maqbool
Director: Vishal Bhardwaj
Duration: 132 minutes
Year of Release: 2003
Stars: Irrfan Khan, Tabu, Om Puri, Naseeruddin Shah & Pankaj Kapur
The Film is based on William Shakespeare's Macbeth and in this movie the backdrop is Mumbai underworld. Maqbool is a right hand man of Jahangir Khan (alias Abba Ji), a powerful underworld don. Maqbool is grateful and feels a close connection and personal indebtedness to Abba Ji. The movie gains pace with two corrupt police-men predicting that Maqbool would soon take over the reins of Mumbai Underworld from Abba Ji. These two thus play a role akin to the three witches in the original play. Nimmi is Abba Ji's mistress, but she secretly loves Maqbool. Maqbool loves Nimmi, too. Nimmi also encourages Maqbool's ambitions and persuades him to kill Abba Ji. Maqbool is torn between his love for Nimmi and his loyalty to Abba Ji. Finally, in a dramatic scene, he murders Abba Ji in cold blood and gets away with it and takes over as don, just as planned. But both he and Nimmi are haunted by guilt and meet with tragic ends.
Baghban
Director: Ravi Chopra
Duration: 183 minutes
Year of Production: 2003
Stars: Amitabh Bachchan, Hema Malini, Paresh Rawal, Salman Khan
Raj Malhotra and his wife Pooja have raised a family of four sons who are now well settled with their own professions and families. Their life is filled with love and prosperity, and all this has been possible because Raj invested all his income including his provident funds in the belief that it would secure him and Pooja in the future. When he retires his life is suddenly overturned; none of his four sons are ready to look after their parents. By this point in time Raj and Pooja are depening on absolute strangers for support. The question is, will Raj and Pooja's sons learn from the mistakes of their ways and try to compensate for their previous actions?
Munna Bhai M.B.B.S
Director: Rajkumar Hirani
Duration: 1 hour 50 minutes
Year of Production: 2003
Stars: Sunil Dutt, Sanjay Dutt, Arshad Warsi
In India gangsters are called Bhai (brothers). One such Bhai is Munna Bhai, who is feared by everyone in Mumbai. He cons his parents into believing that he is a doctor, he gets a shock when he finds out that they are coming to verify for themselves. So he transforms a rooming shanty house into a makeshift hospital, populated by "patients"people who he has beat up. His parents arrive, and are pleased, and happy that their son is well settled. They would like him to get married to a doctor's daughter. The marriage is arranged, but before the engagement, the bride's father finds out the truth about Munna, and cancels the marriage. Munna's humiliated parents see the truth for themselves, and hurt, they return home, leaving Munna with a strong desire to hurt the doctor – and force him to let his daughter get married to him – even if it means getting admitted in to a medical college – with forged documents.
Sarfarosh
Director: John Matthew Matthan
Duration: 162 minutes
Year of Production: 1999
Stars: Aamir Khan, Sonali Bendre, Mukesh Rishi, Naseeruddin Shah, Shri Vallabh Vyas
Ajay Singh and his family own and operate "Rajri" a clothing emporium in Southern Bombay. Ajay is a huge fan of ghazal singer, Gulfam Hussain, and is thrilled to meet with him at one of his concerts. During this performance, he also meets with Seema, and they fall in love. Seema is introduced to Ajay's family, and they unanimously approve of her. What Seema does not know is that Ajay is acutally the Assistant Commissioner of Police, Ajay Singh Rathore, who has been assigned the task of apprehending a group of terrorists, who are being sheltered and protected by corrupt parliamentary representatives, with arms being supplied by Pakistan. Ajay does not know that the trail which he is following will lead him to Rajasthan; right into the house of the person who runs this operation – a person who he knows very well…
Shri 420
Director: Raj Kapoor
Duration: 168 minutes
Year of Production: 1955
Stars: Raj Kapoor, Nargis, Nadira
Wearing torn Japanese shoes, English trousers, a red Russian cap, and a Hindustani heart, orphaned Ranbir Raj goes to Bombay to make his fortune. He pawns his gold medal, gambles with the money, loses everything, & the balance is pick-pocketed. He ends up on the beach, and meets Vidya Shastri, a teacher who runs a private school, and they both fall in love. Ranbir gets a job in a laundry shop. When he goes to deliver some clothes to Maya, she notices that he has a way with cards, gets him to accompany her to a casino of sorts, where he wins Rs.20,000/-, which unfortunately is pocketed by Maya. Later, a rich industrialist, Sonanand Dharmachand, approaches Ranbir, hires him to work for him, and soon Ranbir is on his way to a healthy and wealthy life. Vidya gets a first hand look at this wealthy life, and decides to break up with him. Sonachand teaches Ranbir that in order to make money one must never discriminate between the rich and poor. So they set out to offer homes to the homeless for Rs.100/-; but what happens when Ranbir learns that Sonachand has been setting him up to be the "fall guy"?
The dates and times of films are available (with some searching) on the cinematheque websites.
Tel Aviv Cinematheque, 2 Sprintzak Street, Tel Aviv. 03-6060800
Jerusalem Cinematheque, 11 Hebron Road, Jerusalem, 02- 5654356
Haifa Cinematheque, 142 Sderot HaNasi, 04-8104299/302