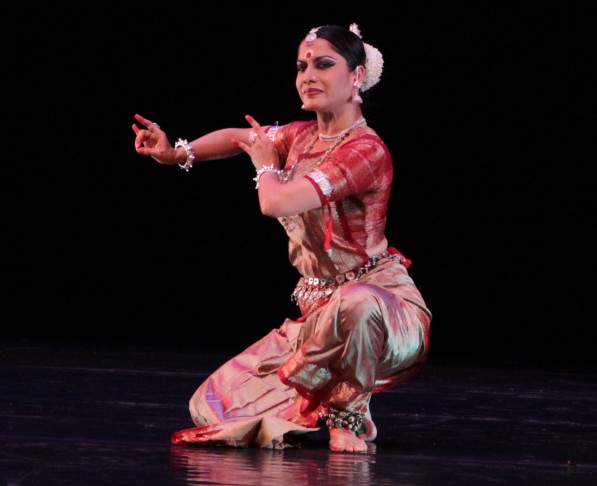 The performance of the Nrityagram Dance Ensemble at the Suzanne Dellal Centre in Tel Aviv was a night to remember – a rare opportunity to experience Odissi dance tradition of India as performed by one of the leading dance companies in India. The company presented Śriyah, a program of excerpts from a decade of dance, as part of the Celebrating India in Israel month-long festival of events.
Performing the dances were Pavithra Reddy, Bijayini Satpathy and Surupa Sen – Artistic Director and Choreographer. Each dance sequence was preceded by narration that not only set the mood for the piece, but offered a context through which to view Odissi dance. Unlike classical ballet and other Western forms of dance, Odissi dance began as a form of worship, "born out of the temple walls and brings to life the sculpture that ornaments those walls."
As the dancers performed, one could immediately recognize the formal structure and ritual aspect of the dance, in which the aesthetic and the spiritual are as one. To anyone familiar with traditional Indian art, there was a feeling of affinity between the visual and dance traditions. It is a dance as rich in symbolism, as it is in sensual lyricism. The dancers move with exquisite beauty, the hands as eloquent as the face, the eyes as much a part of the dance as the body's movement.
Music is an integral element of the dance, although in this case it was not performed live onstage, one is always conscious of its presence as part of the dance, rather than an accompaniment. The role of music is reflected in the credits, which not only indicate the music composer – Pandit Raghunath Panigrahi, assisted by Srinibas Satapathy, but also the rhythm composer – Dhaneswar Swain and Surupa Sen.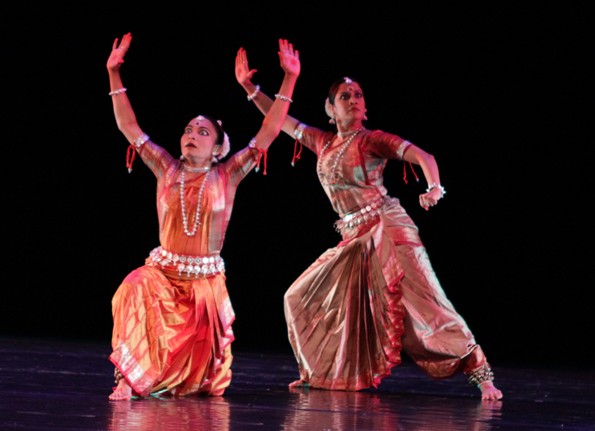 Some dances recount a narrative, through a language of movement. Even those who do not know the narrative or meaning of the specific gestures can experience the emotional narrative of the dance as well as its aesthetic aspect. Other dances are more abstract, reveling in the pleasure of form.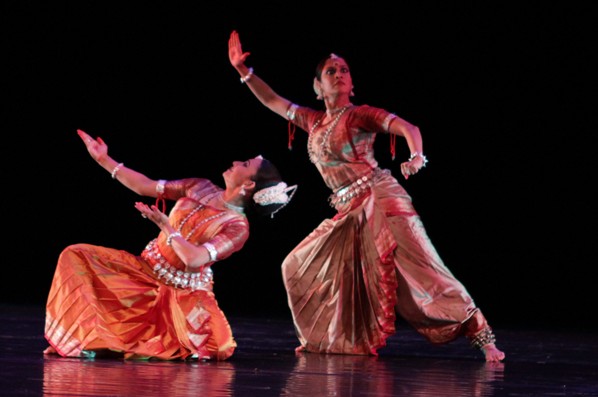 Watching the dancers in all the transformations of the dance – solemn, sensuous, precise, playful, and moving with tantalizing slowness or joyful agility – was a mesmerizing experience.  It was a delicious taste that awakened my interest in Indian dance.
Nrityagram Dance Ensemble: Pavithra Reddy, Bijayini Satpathy, Surupa Sen
Music Composer: Pandit Raghunath Panigrahi, assisted by Srinibas Satapathy
Rhythm Composer: Dhaneswar Swain and Surupa Sen
Costumes: Ghulam Rasool Tailor
Lighting Director: Lynne Fernandez
Artistic Director/Choreographer: Surupa Sen
Executive Director: Lynne Fernandez