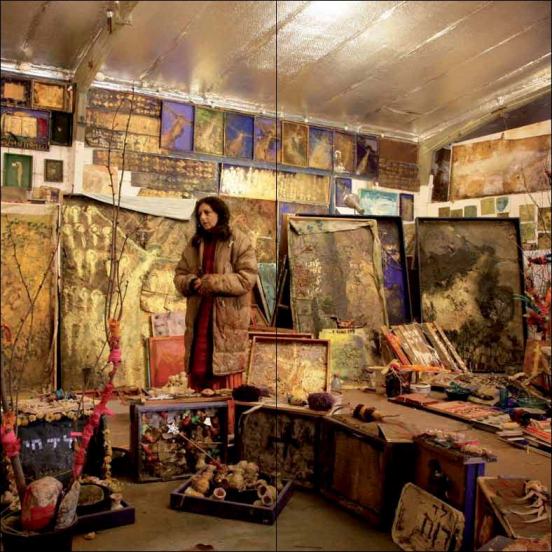 Ruth Dorrit Yacoby, the most mystical of contemporary Israeli artists, has shown her paintings and installations in locations in Israel, Canada, Europe and the Far East. On each occasion she revealed a different facet of her artistic personality, while often suiting the contents of her shows to the special character of the venue. Her newest and most comprehensive exhibition, presented under the title The Woman of a Thousand Voices brings together for the first time all the different strands that make up her past and current body of work.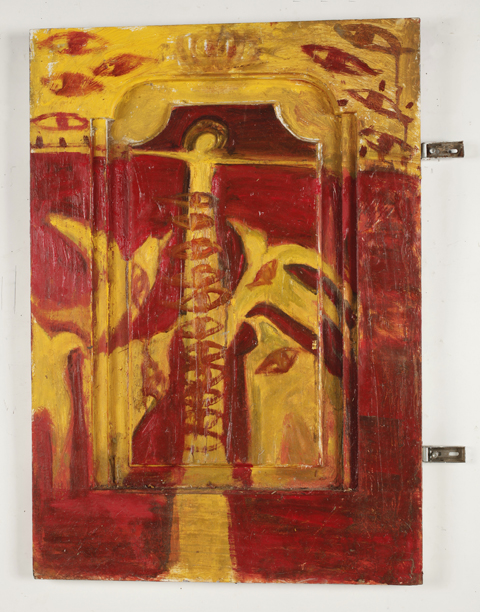 Glowing red and gold oil paintings on wood or cardboard make a magnificent impact as one enters this exhibition and moves into the emotional and spiritual world of this artist who lives in Arad, on the edge of the Judean desert. This series, like many others she has painted, now and in the past, has as its central image the elongated, spidery figure of a woman flying or floating in space, or else, appearing to conduct some kind of purification rite involving sun, light and fire.
Yacoby's use of brilliant colors is a comparatively new departure. For several decades she painted her signature figure as a dark and shadowy form; and, it was only after a visit to Istanbul in 1992, where entranced by the ornament in mosques and the regal harmonies of Byzantine mosaics, her palette began to lighten.  A little later, exhibiting in Beijing, she would also discover a new meaning for the color red which she uses so vividly here; a color associated in Israeli art with blood and mourning; but in Chinese symbolism signifying joy and good luck.
These paintings, and others that follow, like I Cut my Life to Red Birds of Joy draw motifs from early Christian art: the suggestion of a  halo around the woman's head, the body and arms in crucifix form; birds, fishes, a tree of life, or a paradisiacal setting. This impression is enforced when one moves into an adjoining space where a wall closely packed with small paintings recalls the iconostases found in Eastern churches that separate the nave from the sanctuary.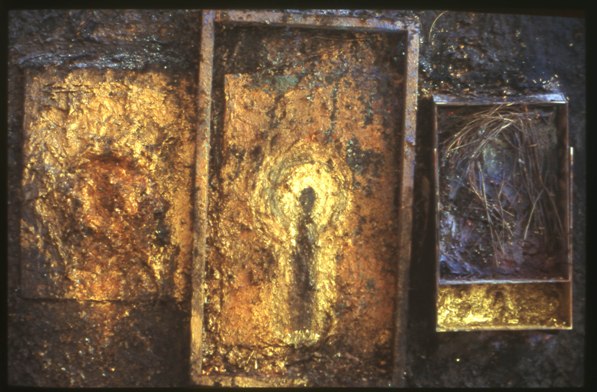 Interspersed between these little pictures are open wooden containers displaying varnished or gilded objects of many kinds, ranging from a bundle of twigs and dried flowers to a stuffed bird nestling in straw. 'Relics' like these were featured in several of Yacoby's previous installations. The Secret Rose Garden of the Angels (1998,) for example, in the Museo del Chopo in Mexico City, where school children visiting this  Museum on the National Day of the Dead, placed offerings on her wooden receptacles filled with rose petals, salt and miniature figures, mistaking it for an ancestral shrine. And also Gate of Tears, Rain of Roses (2001) displayed in the Vatican where her 'magic boxes' were sited amidst lighted candles and rose-filled vases of Hebron glass. .

Some ten years ago, Dorrit Yacoby took her first name as Ruth, the biblical heroine esteemed by both Jews and Christians; a sign, perhaps, that she views her work and the images she paints as transcending cultural and racial boundaries. Her name is included in the titles of some of the most poetic compositions on view here, among them On the Night of All the Moons Ruth was born where the streaming figure of the woman is set against a purple-red background, flanked by golden plants and leaves. In her arms she cradles a bird not a child. Yacoby's choice of this avian image accords to an ancient belief that birds were believed to be a supernatural link between the heavens and earth.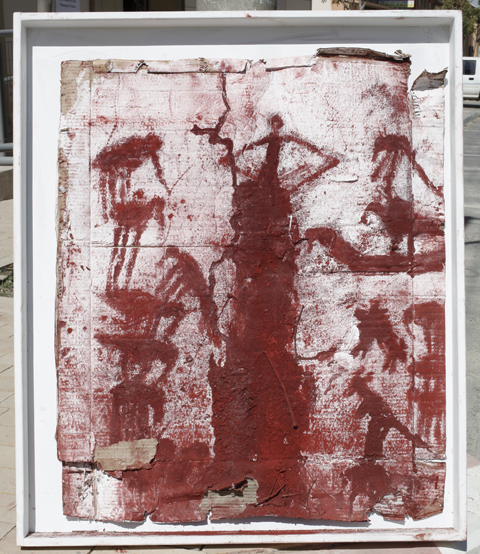 Red sand and pigments were used for In my Death Gown There is Life, another distinctive set of paintings where all the forms are in silhouette. Here, the body of the woman is shown atop a tower-like structure, maybe the trunk of a tree, together with the shadows of animals and birds in a half-formed state. One work in this series depicting a shadowy figure holding the long handles of a child's cot leads thematically into a dramatic installation set up in the final space in the gallery: it is a requiem for dead or lost children. (And, if one asks, 'No, the artist has not undergone any comparable trauma.) As Yacoby once stated, she sees her alter ego as "the Universal Mother of compassion, mercy and grace."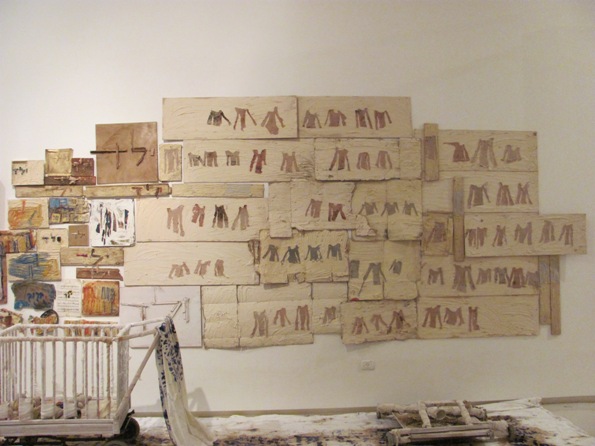 This installation, introduced by verses written by Yacoby from which the title of this exhibition is taken, comprises both found and crafted objects. Childrens' cots are a main feature. Shrouded in white, they are empty save for a few soft toys tucked into one corner. Pasted on an adjacent wall are cut-out patterns of baby clothes, smeared with light paint to give a ghostly impression. And all around, on other walls and the floor, are long strips of cotton, like giant bandages, on which the artist has scrawled prayers and poems, or placed small talismanic objects. High up, are large paintings in which the words of her verses have turned into whirling circles, a transformation that might well be connected to the artist's interest in Kabbala, and the magical imagery connected to the ten spheres of the Sefer Zohar (the Book of Splendor.)
While Yacoby's 'Lost Children" installation, her poems, and the film on display in the gallery –  "Woman of a Thousand Voices" by Amram Yacoby that documents a performance carried out in the Hanger by the artist without an audience – will certainly hold the attention of many visitors, it is the unique qualities of her paintings that impress above everything. Analyzed by the many curators who have hosted her exhibitions throughout the years, her work has been succinctly described by German curator Gabriella Uelsberg as an "existential confrontation with herself, her environment and the laws of life and Nature". Ruth Dorrit Yacoby paints instinctively from a terrible need. But she also possesses the rare skills to draw us into her conflicts and dreams.
This exhibition curated by Irit Tal was Yacobi's prize as the 2010 recipient of the Michel Kikoine award. It is donated by Mrs Claire Maratier-Kikoine, widow of this major artist of the Jewish School of Paris,  represented in Israel by Dr. Catherine Supé-Kikoine.
Genia Schreiber Art Gallery of Tel Aviv University, Ramat Aviv. Sundays – Thursdays 11.00 a.m. – 7. 00 p.m. Open till July.