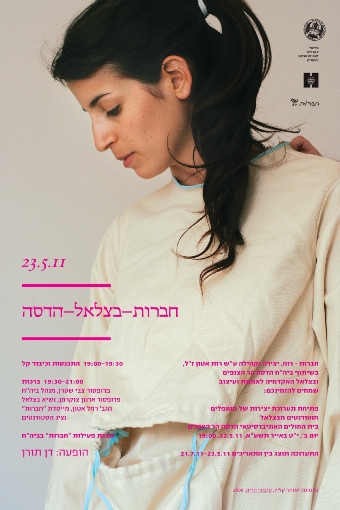 A Patient and Student Exhibition will open at Hadassah University Hospital, Mt. Scopus on Monday, May 23, 2011 at 19:00. The works exhibited reflect the culmination of a year long project, a collaborative effort of Haverut, Bezalel Academy of Arts and Design, Jerusalem and Hadassah Mt. Scopus Hospital.
As part of the project, students met with patients on a weekly basis throughout the year, the students' works reflect their experiences in this encounter. The exhibit includes works by patients from various wards in the hospital: Rehabilitation, Pediatrics, Day Care Pediatrics, Out-patient Pediatrics Surgery, Out-patient Hematology, Pediatric Neurological Clinic, Pediatric Emergency Room, Pediatric Cardiologic Outpatient Clinic and High Risk Pregnancy.
Opening night events will begin with a reception at 19:00, followed by greetings from Prof. Zvi Stern, Hospital Director; Prof. Arnon Zuckerman, Bezalel President; Rachel Ettun, founder of Haverut and a representative of the Bezalel students and a musical performance by Dan Toren.
Participating in the project were Bezalel students: Ayana Shany, Riham Sowwan- Dept. of Fine Arts  Gali Gurevich- Dept .of Photography; Rinat Laor- Dept. of Screen Based Arts; Tamar Hendler and Yeela Wilschanski- Dept. of Ceramics and Glass; Shlomi Mir, Itamar Foguel, Neria Haim, Adi Paz-Faingold, and Tammie Gourevitch- Dept. of Industrial Design; Ester Klein- Dept. of Jewelry and Fashion; Bat El Sebbag and Sonia Sheinman- Dept. of Visual Communication.
The exhibit will remain up through July 27, 2011.
Rachel Ettun established Haverut in memory of her daughter, Ruth Ettun z"l. Haverut empowers the medical world – the caregiver, patient and the healing environment – by strengthening a genuine connection between them and the world of spirituality, creativity and community.