The year was 1952. The State of Israel was erecting memorials to soldiers who fell in the War of Independence. In Petah Tikva, Yad Lebanim (to the memory of our sons) was the first commemorative enterprise to be built in the country that made  a connection between an Art Museum, a center for 'living' art and culture, and a memorial site.  Since then, this concept, for which the city received the Israel Prize that year, has been copied by municipalities around the country, from Herzliya to Tivon.
This link between death and life has been brought to the fore through Continuum, a series of exhibitions recently initiated by the Art Museum's associate curator Irit Carmon Popper; the idea being that artists will be invited to create installations that set up a dialogue with Yad Lebanim itself, or with an artwork selected from the   Museum's substantial collection that dates back to early in the 20th century.
Alona Rodeh and Avital Cnaani – third generation descendants of agricultural pioneers – were invited to inaugurate this project. Both their works, presented under the title Heroica, are characterized by a spirit of irony and nostalgia, but are nevertheless strikingly different.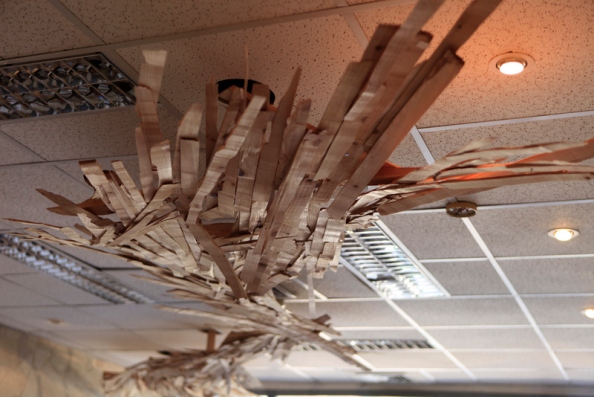 The walls in the entrance hall of Yad Lebanim were ornamented in the 1950s with mosaics by Mordechai Gumpel that drew for inspiration on Byzantine mosaics and on local archeological finds like the synagogue pavement at Bet Alfa. His most imposing scene, from which Cnaani's 'modern' work derives, is based on the biblical description of Saul and Jonathan's love for each for other: "In death they were not parted….They were swifter than eagles, stronger than lions." Working in the same hall, Cnaani has created a ceiling installation showing a great bird with rushing wings set alongside the orb of the sun. In contrast to the tranquil character of Gumpel's mosaic this is actually a threatening image; and yet, because it is made out of non-heroic materials – rough planks of wood – – it also appears to express temporality and the imperfection of human endeavors.
For her installation Rodeh selected bronze heads of pioneers from the Museum's collection, one of them by the sculptor Ze'ev Ben Zvi (1904-1952) that combines  realism with cubist features. Mounted on stark pedestals in a darkened room directly opposite the memorial area, their forms are illuminated by a single spotlight, with details further obscured by waves of smoke drifting down from the ceiling. Music is heard: Jim Morrison singing the lyrics of his composition: Bird of Prey, Bird of Prey, Am I going to die? This strong presentation not only links up thematically to Gumpel's mosaic and Cnaani's installation, but can also be viewed as a metaphor for the now questionable status accorded to the pioneer generation bearers of the Zionist dream. But, for this writer, Rodeh's presentation recalls, far more chillingly, a verse from a poem by Percy Bysshe Shelley:
Ozymandias, king of kings:
Look on my works, ye Mighty, and despair!"
Nothing beside remains. Round the decay
Of that colossal wreck, boundless and bare
The lone and level sands stretch far away.
Featured in the adjacent Art Museum and imparting new energy to this venue is Shesh-Besh (Backgammon,) a quality exhibition of paintings, photographs, video and sculptural installations by 15 young artists.  Questioned as to the significance of this title, its curator Hadas Maor pointed out that the numbers 5 and 6 are a winning combination in Shesh-Besh, especially at the start of a game. So she sees this title as appropriate for a show where all the participants have only been five or six years in the 'game' of art-making where, like Backgammon, luck, as well as strategy, is necessary for success.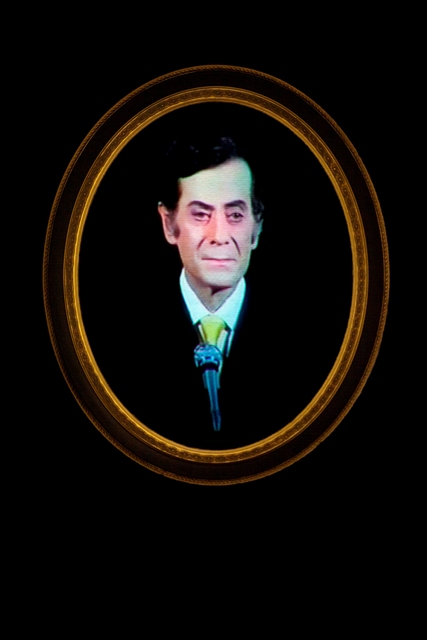 Stand-out works include three eye-catching video loops: Tom Pnini's Star Demo that introducing a fantasy object –a helium star balloon -into Manhattan's skyline at night;  Daniel Mann's Future Diaries in which real events recorded on camera of a family on the move, are tailored to generate an atmosphere of approaching disaster; and  Nevet Yitshak's image of the heavily made-up face of Farid-el-Attrash, the iconic Egyptian singer, that floats  in and out of darkness as he warbles a love-song – Alashan Maleish Gherak. This is indeed a novel type of portraiture, never static, one moment intensifying the personality of the 'sitter' to the point of caricature, the next, abruptly wiping it out.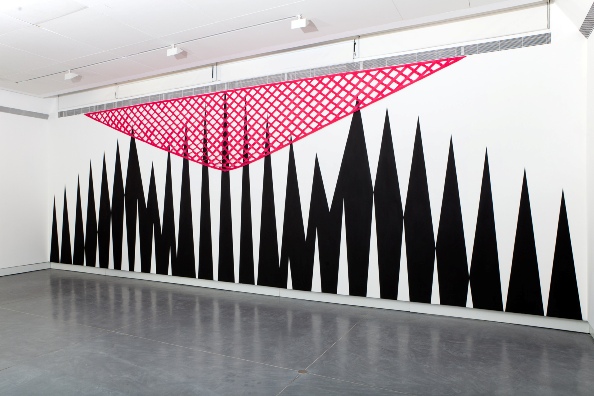 There are many challenging works in this show that refer to political or social realities. The best of these operate, first and foremost, as good works of art.  Among them are Jumana Manna's installation of huge twisted flagpoles that comes across as an original metaphor for a nation under threat; and Tzachi Buchbut's mural painting based on the design of a backgammon board. This is an effective minimalistic painting in its own right, but given its color scheme of red, white and black corresponding to that of a keffiyeh, his work is also imbued with a certain tension.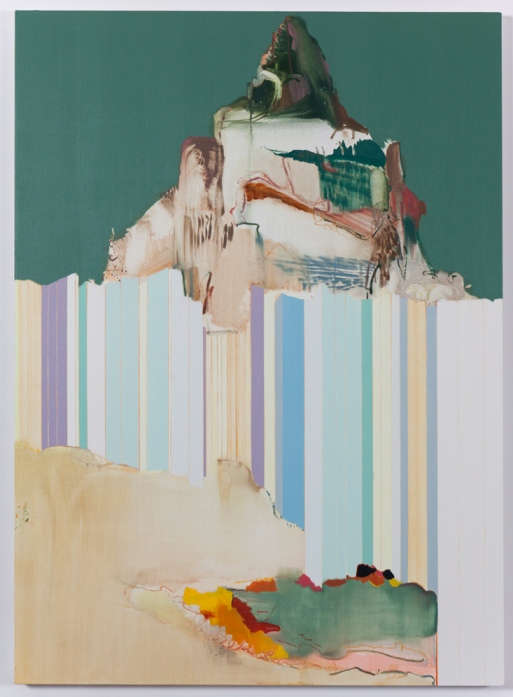 Matan Ben-Tolila's diptych of a mountain landscape, softly colored and thinly layered, appears to tremble and dissolve before ones eyes. But the subject of his work is not that innocent; the fences he depicts with peaks and buildings glimmering behind make clear reference to the Security Wall set up along and within the West Bank.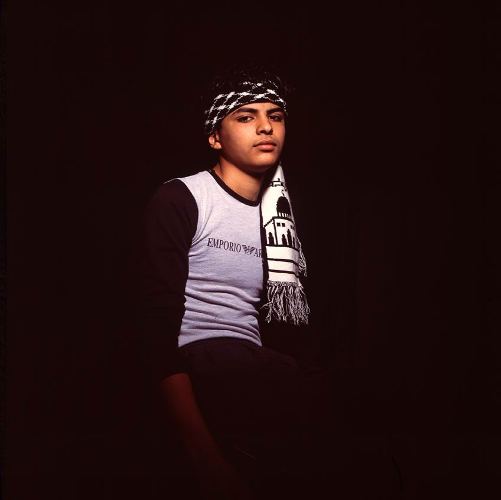 In a recent show at in Herzliya Museum Lea Golda Holterman's photo series had a specific aim: to expose a vein of sensuality among ultra-religious youth. . Her offering here – a solo portrait of a young man, dark skinned, wearing an Armani shirt and a scarf resembling a keffiyah with image of the Temple Mount – is ambiguous. Provoking questions about identity and stereotyping, it is no wonder that this photograph aroused comment when displayed for a short time on billboards around the city.
Also taking part in this lively show are Yael Efrati, Peleg Dishon, Tamar Harpaz, Lior Modan, Noga Inbar, Alona Rodeh and Maya Bloch who shows some intriguing figure paintings.
The exhibit will remain on display until August. Petach Tikva Museum of Art and Yad Lebanim, 30 Arlozorov Street, Petach Tikva. Tel: 03-9286300.