Bezalel's MFA graduate show is taking place this year in a cavernous space in Jaffa port. This is a good setting for the visually striking pieces amongst this mix of paintings, sculpture, video and mixed media installations by 24 artists, but not good news for the more intimate exhibits.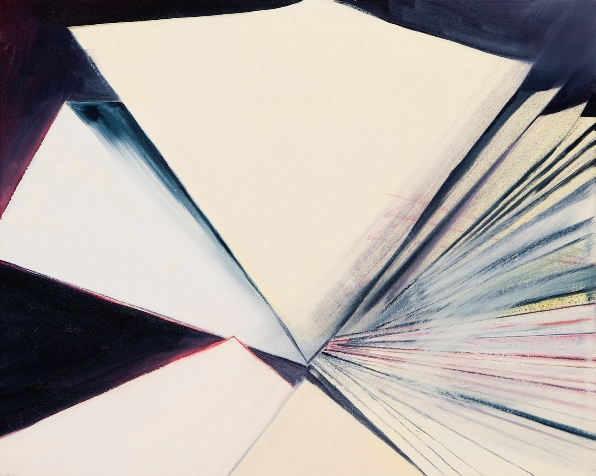 With philosopher, Prof.Raphael Zagury-Orly, now heading Bezalel's MFA program, it is not surprising to find that this show has a philosophical dimension. I refer to the catalogue text where each artist was asked to describe the concepts that underpin their work and relate them to a single, expressive keyword.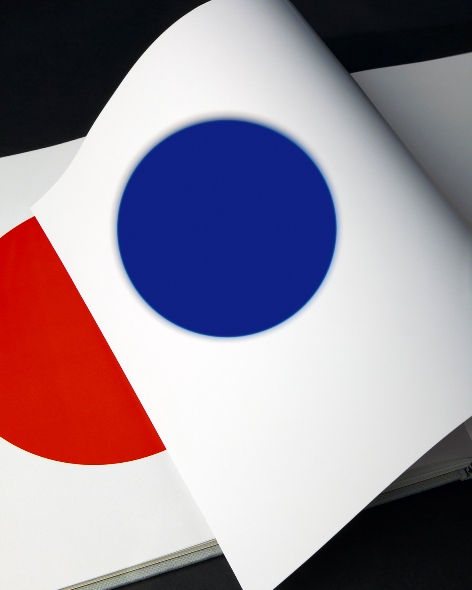 Concepts of movement, flight and transitory states are explored in some of the more significant pieces. Inbal Nissim's paintings, for instance, where pale sheets of paper float in space, twisting, turning and collapsing – metaphors, so it seems, for states of being. And then there are the color prints of Oran Hoffman, an artist who describes himself as either a sculptor who photographs, or a photographer who sculpts. His intentions are beautifully expressed in his Bilder Fleck series where colored 'sunspots' flicker between the pages of a book. These are subtle images hovering between exposure and disappearance, reality and memory.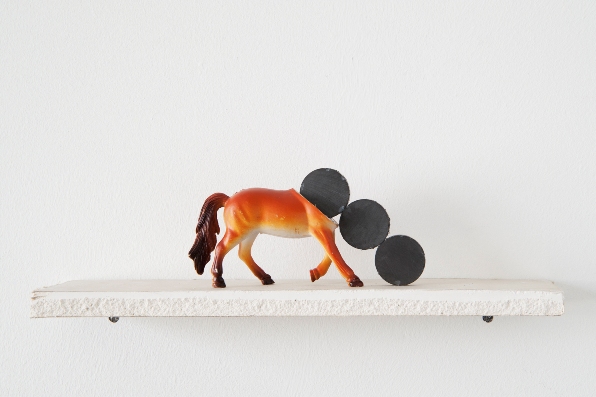 Not to be overlooked are the miniature wall installations of Merav Svirsky,  an artist with a background in dance, who creates works that have either moveable parts, or else convey a real sense of movement. In one of these, a flag attached to the mechanism of a watch, flickers every second; in another, a horse, its head replaced by three circles, appears to be prancing forward.  Rothschild Boulevard, the title of this little piece refers to two sculptural landmarks at different ends of this street: that of Meir Dizengoff on his horse; and a Menashe Kadishman abstraction on the Habima plaza.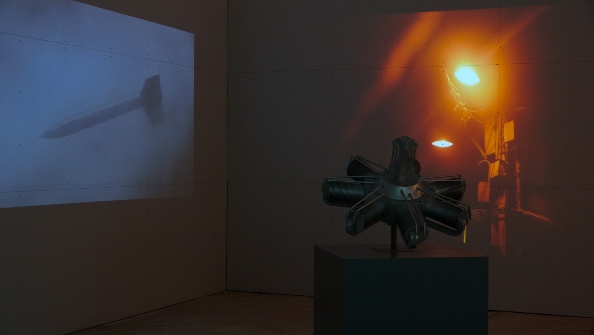 Supplying a brutal contrast to Sversky's gentle offerings is Ady Shimony's installation that also illustrates the concept of movement, but on this occasion, signaling approaching disaster. One of his video loops shows a man suspended in mid-air, another tracks the passage of a missile travelling through smoke. These images form the background to two floor-based objects, realistically fashioned from paper: a rocket; and the engine of a plane with rotating parts.

Several artists play imaginatively with concepts of space; among them Eyal Pinkas whose inkjet prints from his Daily Bread series create the illusion of objects not only suspended in space, but also in time. A fine example is his photo of a tennis racket 'frozen' in mid air, its strings echoing the pattern of the tile wall behind.  The exploitation of space is a central feature in Irit Tamari's fantasy landscape which is built up from cut and folded photos from a collection amassed while living in China.  With the figures of three men cleaning a swimming pool as her starting point, she has added in flying fish, trees and grasses, as well as reflections of both buildings and water, to create a lively scenario where multiple events are taking place simultaneously.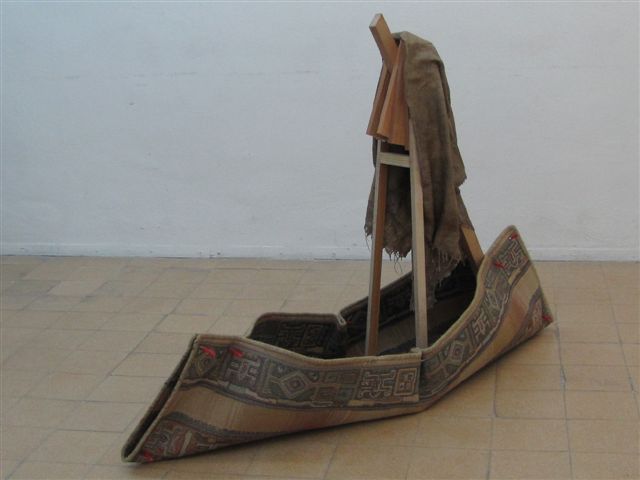 The concept of Binding – a keyword used by Tal Broitman in his catalogue text – refers to his desire to unite dissonant objects and materials in his work.  This theme is well illustrated in his installation made up of found and created images, among them the jaw of a bull, a painting of skulls; and a black landscape with apocalyptic connotations. But this macabre theme is not carried through; a floor-bound canoe (a means of escape?) and a colorful landscape painting introducing a playful note.
Conflicting elements and materials are also a feature of a large construction by Avraham Suliman; outsize heads of birds in painted ceramics 'guarding' a complex arrangement of green fluorescent lighting and aluminum bars, (traditional arts and crafts confronting the world of technology). But this synthesis does not jell into a unified work of art.
Only a few exhibits, not the most sophisticated, have a political or social intent.   Nissreen Najjar's installation To Go Lost, is an example. Her exhibition space is gloom-filled; the floor has been tarred and bars on a window prevent clear vision of the outside world.  On the walls are hung framed objects, among them a crucifix, all saturated with tar. While understanding Najjar's need to express herself in this way, she should realize that message art is dreadfully limiting. This comment also applies to the contribution of Naneci Yurdagül (an exchange student from Germany) that comprises worn prayer rugs donated by young Muslim boys living in the West Bank; and a wall decorated with balloons in different stages of collapse, presented under the title The Party's Over, Israel.
But overall, this show, with its many highlights, impresses; in particularly for the sincere efforts made by many graduates to stretch the boundaries of contemporary art making.
Hangar 2, Jaffa Port, Till June 18th.2011