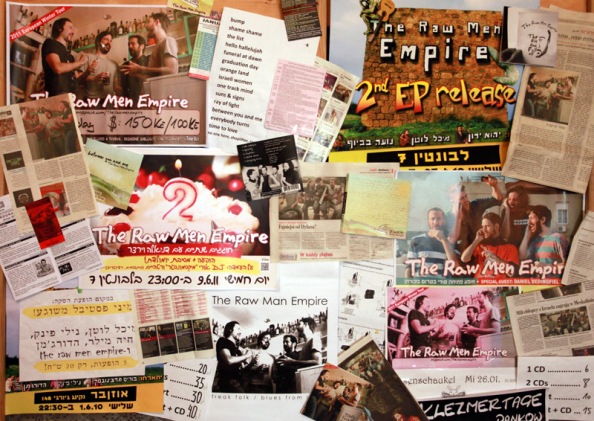 Sweet, slightly kinky (see video below) and full of surprises – the perfect recipe for a birthday celebration! Join The Raw Men Empire ("dangerously addictive music") birthday concert tour starting at Levontin 7 tomorrow, Thursday, June 9 at 23:00 with actress Daniela Wircer, surprise guests and a dance party after the show with DJ Uri "Mixmonster" Wertheim (The Apples & Radiotrip). Entrance is 40 NIS, but if you want to bake them a birthday cake, write to therawmenempire@gmail.com and they may decide to give you a free ticket.

The fun goes on to Jerusalem on Saturday, June 11 at 22:00 in Hakatze (4 Shushan St) with guest Noam Helfer of Kitzu, Avishai Efrat will open the evening….entrance is 30 NIS.
More raw fun in Haifa on Thursday, June 30 at 22:00 in Martef 10 (23 Jerusalem St) with Avishai Efrat opening. Entrance is 30/40 NIS.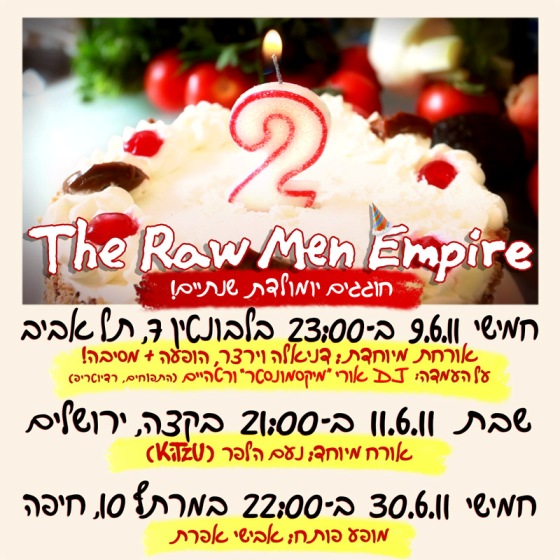 After their set in Haifa, this energetic foursome will find their way back to Tel Aviv to join the White Night all night party at Levontin 7. Ryskinder, Ed Turner and the Danilof Center & Lili Franko will perform at midnight with The Raw Men Empire joining in later on. White Night at Levontin 7 is free – so if you are scarily risk-averse about your music experiences, this is a good time to listen to some new bands.
In the meantime, enjoy the full internet experience – facebook birthday event page, bandcamp, twitter, and Midnight East's personal favorite – The Raw Men Empire YouTube channel.