Jan Tichy was the recipient of this years Nathan Gottesdiener Prize, awarded to the best Israeli artist under the age of 40. Tichy was born in Prague, immigrated to Israel in his teens and now resides in Chicago. The artist himself acknowledges that this outsider status "allows me to approach things from a different perspective". Tichy comes from a culturally rich, old-world European background – his father was a nuclear physicist and his brother runs a publishing house. Growing up in cold-war Prague, in a sense, informs a large part of the artists work; from a young age Tichy was versed in what was 'permitted' and what was not. His father distributed banned books in Samizdat, and while the Czech regime was not as dangerous as that of the USSR, as a child Tichy was probably conscious of the watchful eye of the state. A viewing of Tichy's work makes one aware of the gradual sense of unease hovering throughout, and it seems likely that there is a connection with this part of his life.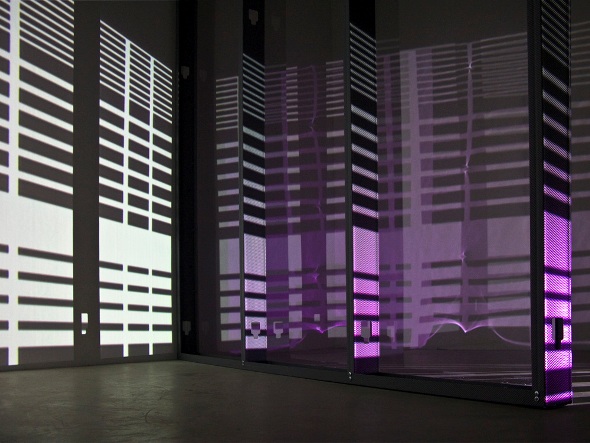 Upon arriving in Israel, Tichy studied political science and then art at the Musrara School in Jerusalem. It was here that his work developed a political edge which was to lead to works such as Bab el Musrara, Dimona and Facility 1391. The Centre for Contemporary Art in Tel Aviv exhibited 1391 in September – November 2010, as well as three other installations: Bats, Installation no.5 (threshold) 2008 and Installation no. 11. All the works bear Tichy's mark – in Dimona, inspired by the Israeli 'secret' nuclear facility, Tichy constructed a paper model of the building and placed the lone structure in a dark room. A projected ray of light travels over the model, giving us glimpses of the structure, but never allowing us a view of the whole. This obscuring effect is a constant in Tichy's work, resulting in shadowed city-scapes and shifting abstractions and a feeling created that things are not always as they might appear.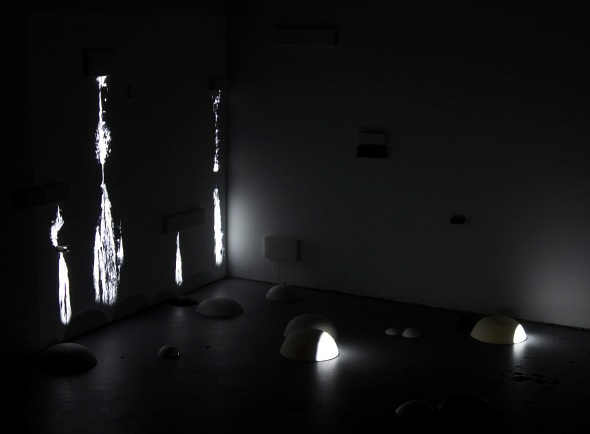 In Installation no.5 (threshold), we see projected slides of industrial infrastructure, mutating against prism-like objects on the walls. The work starts and finishes with the polar opposites of 'pure' white and absolute black, but what is interesting in this piece is what happens in between – the varying shades, the gradual transformations and the recurring theme of light and darkness and how it affects our perceptions.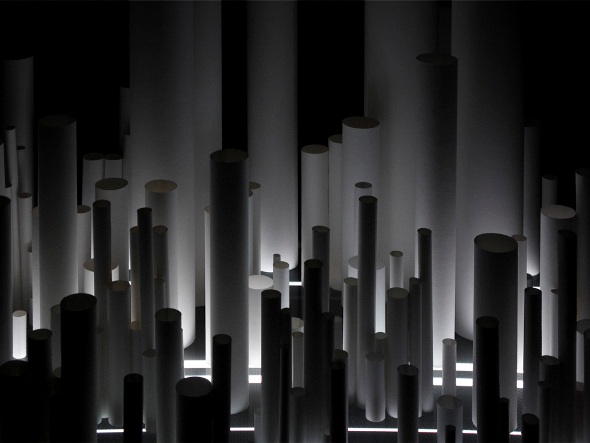 On first entering Jan Tichy's newest work, Installation no.13, recently shown at the Tel Aviv Museum of Art, one is immediately aware of two things – the quiet and stillness of the piece. Not that there is anything 'new agey' or soporific here, Tichy's work has a starkness and an edge that prevent the observer from ever getting too comfortable, but the muted and contained world created, and the gradual, shifting play of light and darkness, remove us from the outside world. Our senses adjust to a slow-moving environment, free from city noise and neon, resulting in a slowly concentrated awareness of the space and our place within it. There is nothing distracting or escapist present; Tichy's visual language is formal and minimalist, his themes are at times politically inspired, but because of the abstract and shaded ways in which he deals with his subjects, we become aware of a feeling of ambiguity, achieved through a gradual process of revealing and obscuring.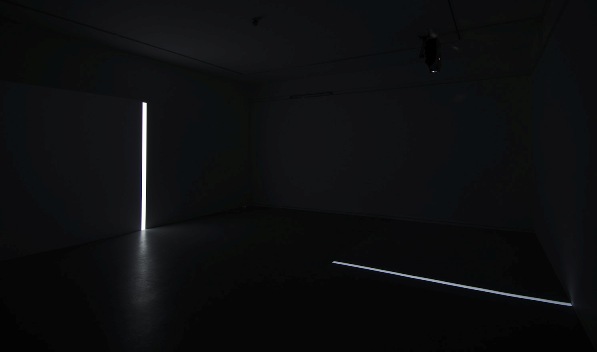 Installation no.13 revolves around the interplay between two large rectangular shapes, both created by projected light. Taking Tichy's stated starting point as a 'dark room', the two projections – one on the wall, the other on the floor – go through various stages of light and darkness. Each is set off by the others dynamic; a thin ray of light begins from the corner of the wall, slowly easing its way, defining its border. When the line has finished its journey, completing the rectangular shape, it reappears to continue a similar journey, defining a similar space on the floor. At times, the void within the rectangular shapes is broken by other sharp lines of light, one moment entering, the next withdrawing. Everything in this work takes place slowly, there are no extreme changes in tempo – light builds and darkens, obscures the space, then illuminates it. The high point in the work comes when a circle of bright white light, set against the dark backdrop, suddenly splinters into pieces like a fractured crystal, sending its bright sparks off in all directions and then gradually merging again with the darkness.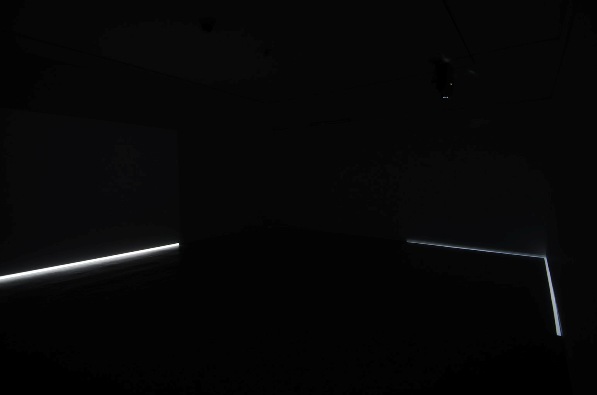 Tichy has acknowledged the influence of Laszlo Moholy-Nagy, a professor from the Bauhaus school and one of the first people to work in the field of light-art. A modernist aesthetic emerges in many of Tichy's installations, at times creating geometric patterns and constructionist compositions, as in the site-specific work Delineations, with Helen Maria Nugent and in Installation no.8 (Hancock). In Delineations, Tichy and Nugent fraction the space with shards of light, illuminating the forms and angles of the rooms, walls and hallways, creating linear shapes and grids reminiscent of architectural plans. These site-specific installations have a very distinctive 'feel' and atmosphere; being in the realm of abstraction, and at times, seeming to enter the realm of metaphysics creating moments of an almost ethereal and nocturnal beauty.