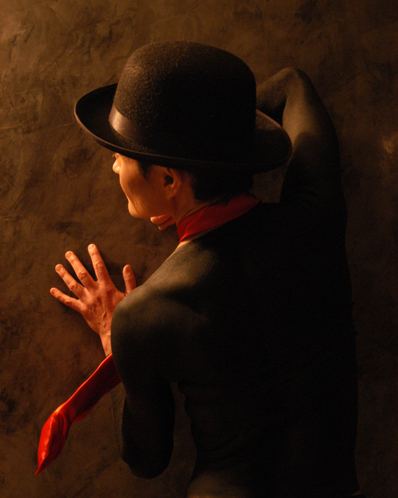 Some journeys can never be fully described or mapped; they must be experienced, for each of us travels alone. Clipa Theater, co-founded in 1995 by dancer and director Idit Herman and actor-creator-musician Dmitry Tyulpanov, creates performances that invite the audience on such a journey; their site specific creations for the Israel Festival are unique and ephemeral, performed only during the festival. The Observatory (HaMitzpe) was commissioned by the Israel Festival 2011, as part of the "Premieres in the Ulpan" program; it was designed to be performed in the vast black box that is the former Tel Ad television studio at the Jerusalem Theatre. Clipa's imagination and artistry render me starry eyed with wonder.
The Observatory is a journey into the intimate darkness of the unconscious, the world of dreams that cannot be described, for each of us dreams alone. There are only those few moments of consciousness before we drift away, and traces of images when we wake, lingering sensations, emotions and thoughts that we take with us into our waking lives; these I will attempt to share here.
The journey begins with the conjuror's trick of revealing in order to conceal. The audience gathers at the entrance in front of Dmitri Tyulpanov, a somber figure in black suit and tie, with a white hat and shoes, as he studiously uses a small mirror to paint his neck thoroughly black. Behind him a curtain hides the studio from view. He paints slowly with the utmost care, utterly focused on the task at hand. Removing his hat, he begins to paint it with the brush, then gives up, and dips the whole hat into the bucket of black paint. The crowd of marks is reassured by the gesture: now we know, or think we know, who he is, a sad clown who will amuse us with his mishaps and antics. We relax as he takes off one elegant white shoe, the routine is anticipated: he begins to paint the shoe, and then decides to dump it too, into the paint bucket. Now for the magic number three.
All black, with only his expressive face revealed, Tyulpanov begins to paint the lightbulb. As he paints, the lights dim. There is a slight frisson, a tremor of fear that is almost palpable, as we are plunged in darkness. We and all that we know become so small in the dark.
I could feel the space opening up before me and as I was there with a friend, reached out to touch her so we could walk forward together. Walking into a large room arranged with mattresses on the floor, we were instructed to sit anywhere and keep all body parts on the mattress. Lines of light and arrows projected on the walls defined the space and created a sense of movement.  Tyulpanov was in the space already, sitting like a puppet, eyes shut, on a platform. The entire performance of The Observatory is without words, but words drifted through my mind, like an invitation to a journey: Would you wake into this dream, this dark digital highway.
Here words end, verbal thought dissipates into image, sound, movement, emotion. To quote Gerard de Nerval "Ici a commencé pour moi ce que j'appellerai l'épanchement du songe dans la vie réelle." (Aurélia 1853). What followed was a tantalizing performance of exquisite beauty, generating realms of association. All aspects of the production from conception to execution were brilliant, the performers were excellent, and the dream-like effect so powerful that the critic's ability to note and recollect were willingly relinquished as I lost myself in the dream.
One certainty remains: I was in the presence of art. Tyulpanov is an artist who defies boundaries of genre, with talents that transcend comprehension matched by a dedication and openness to experimentation and risk.
The Observatory
Created by: Idit Herman, Dmitry Tyulpanov, Orit Bergman, Daniel Blanga Gubbay
Performing: Dmitry Tyulpanov, Idit Herman, Daniel Blanga Gubbay, Gabrielle
Neuhaus, Ronnie Heller, Kazuyo Shionoiri, Or Mashiah, Ilana Bellahsen, Orian Michaeli, Ilya Domanov, Oded Zadok
Music: Dmitry Tyulpanov
Music Performance and Arrangement: Johnny Tal
Animation: Orit Bergman