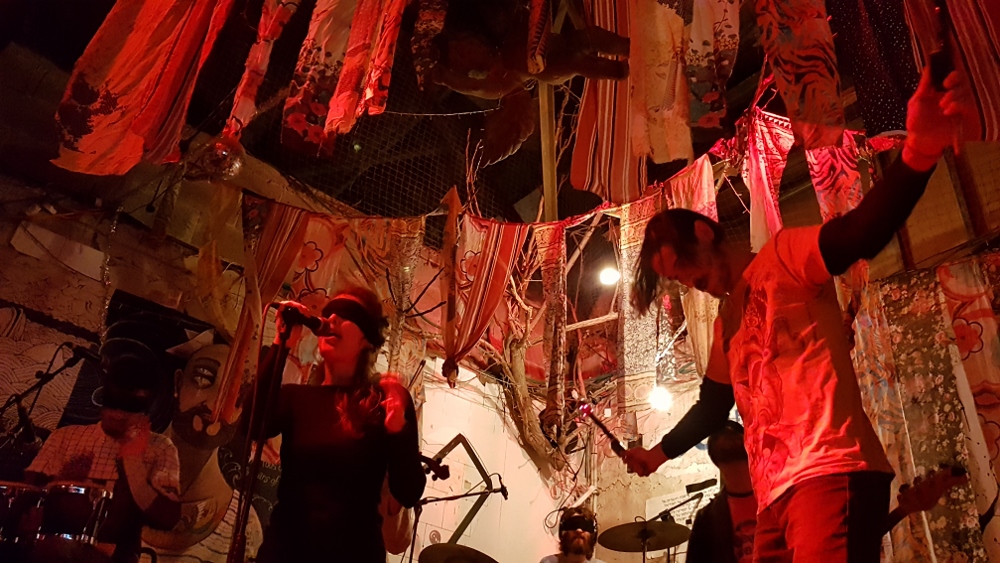 Blind Orchestra is celebrating their 5th anniversary on Wednesday, November 27, 2019, at Papaito (Shalma Rd 29)! Each concert is unique, every concert is amazing:
Listening to Blind Orchestra, is like listening to a concert with scripted music that's been struck by a lightning bolt, performed by terrific musicians. (Yearot Menashe, May 2019)
Blind Orchestra is the disappearing moment, the intricate design of a snowflake melting on your tongue, a dreamlike dance into the unknown, the essence of experience. Emerging from the perpetually creative brain of Dov 'Balu' Rosen (founding member of The Angelcy & Lo Dubim), the concept is very intriguing: in each performance a different ensemble of musicians performs blindfolded, in sets of improvised music, conducted by touch, with a different conductor for each set. It's all about freedom, diversity, and the willingness to take risks. The music you hear is created in the moment. No one knows what to expect. (The Container, January 2019)
What happens when you take a group of outstanding musicians and put blindfolds on them, for an improv-jam conducted by touch?  A wild night of music that's jazzy, melodic, psychedelic, hard driving rock, reggae and more, all swirling and merging into something entirely its own being, something different and fun, something that draws you in to listen, something that makes you want to dance! (The Zone, June 2016) .
Onstage at Papaito will be : Uri Yida Shehoah (Malabi Tropical, La Combina Sound System); Omri Scoop (Muki, Voodoo Love Hendrix Tribute); Itamar Ben Yakir (Sumsum, Hayelala, Hoodna Orchestra); Gili Sharabi (Dunia, Masalev); Dor Levin (WTF GROOVES); Nitai Marcos (Forestt, Groove Ambassador); Yahli Sharon (Dazys Fasulia, Pufferfish); Eyal Tafesh (Pufferfish); Dov Balu the bear (The Angelcy, Lodubim). Doors open at 20:30. Tickets are 40 NIS and may be ordered online via this link.
Check the facebook event for updates.