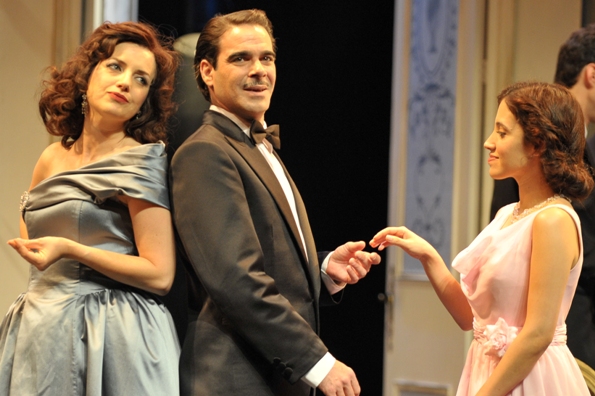 The Beer Sheva Theatre production of All About Eve, directed by Aya Kaplan, is a fun excursion to a realm where divas are divas, theatre is glamorous, and evil wears a sweet pink dress.
Margo Crane (Rama Messinger) is a famous actress, "a dream when she is not a nightmare" appearing in one hit after another penned by her friend the playwright Lloyd Roberts (Amir Kriaf) and directed by her current beau, Clement Howell (Yaron Brovinsky/Ron Biterman). Everyone dances to Margo's impetuous tune, including her friend Karen Roberts (Shiri Golan), Lloyd's wife. The only one who dares give her a hard time is her assistant Lyla (Ora Meirson). Cue: enter Eve, the young star-struck fan (Yonit Tobi) who has seen every performance of the play and dreams of meeting her idol, Margo.
For those readers who don't know all about it, the play is based on a short story by Mary Caswell Orr, The Wisdom of Eve, first published in Cosmopolitan in 1946, and later developed into the Academy Award winning film All About Eve (1950), directed by Joseph L. Mankiewicz, with Bette Davis in the lead role. While those familiar with the film will enjoy comparing the two (with a fun wink in the direction of Marilyn's famous, though out of context, cover of "Happy Birthday"), the play holds its own admirably as a separate entity. Ironically, while the film is quite involved with the issue of theatre vs. film, this theatrical version downplays that theme.
The story takes place almost exclusively in and around the theatre – onstage, backstage, and in the dark back alleys. Kaplan takes advantage of the self-referential aspect, utilizing the space of the theatre with actors not only onstage, but seated amidst the audience, moving through the aisles and looking down from the balcony. Set and costumes – both beautifully lush and evocative of the period, (respectively designed by Yehudit Aharon and Mony Madnik) do double duty as set and costumes in the brief snatches of the play within the play, underscoring one of the main themes – the fragile, fraught and intricate relationship between theatre and reality.
The enduring quality of the work lies in the witty, fast-paced script that strikes at some serious issues, even as it entertains – here in an excellent translation and adaptation by Nir Erez and Aya Kaplan. Taking the audience behind the scenes, into the conflicts between playwright and actors, stars and wanna-be-stars, the tension between building a career and having a life – these conflicts are ever-relevant, and always fascinating.
Appropriately named for the first and most famous leading lady – Eve – the play is as much about women as it is about theatre: their friendships, rivalries and internal conflicts. The three female leads represent different stages and choices in a woman's range of possibilities, with Margo as the successful career woman who has perhaps sacrificed her personal life for the sake of her profession; Karen has made the opposite choice – ever in the shadows of her husband and friend, always playing a supporting role in life; and the young Eve, with many crucial choices in the making.
One of the issues addressed in the play is the lack of roles for mature actresses – a situation which has perhaps improved somewhat in recent years, yet is still painfully relevant. Fighting to remain at the top of her profession requires the 40 year old Margo to continue to portray the young ingénue roles created by her friend Lloyd, yet she rebels, dissatisfied with the new play he has written for her, saying, "25 year old Cora is dreamy and fragile…Do I look fragile?" He has the ultimate answer to this argument, saying, "The play will succeed without you." Left without many options, Margo walks out of the room and the new role, saying, "Goodnight Mr. Ibsen, I'm too old to play in your doll house."
One's interpretation of the play and its themes depends on one's interpretation of Margo. Is she a has-been over-the-top diva with an inflated ego, narcissistic, domineering, selfishly concerned only with preserving her disappearing looks and status, or is she an intelligent, talented woman frustrated by the superficial nature of her profession trying to use her leverage to introduce change? She's all of above and then some; it's one of the best roles ever written for a woman. The current production seems to lean in the direction of diva Margo, and Messinger hams it up delightfully. Yet some of the quieter moments, such as when Margo sits apart from the group at Clement's birthday party, listening to Eve enthuse about the theatre, reveal a deeper potential that could have been attained with a more restrained performance.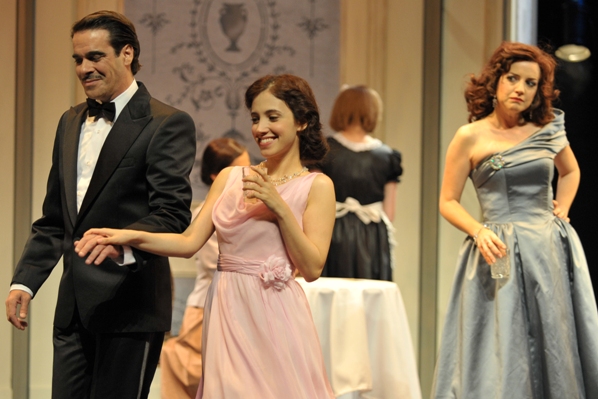 In this respect, some of the smaller, supporting roles add a welcome texture to the play. Meirson is subtly hilarious as Lyla, Margo's cheeky assistant. Her nuanced gestures – a tilted, skeptical shoulder as she listens to Eve regale the room with her sad life story; checking her watch; drawing a handkerchief out of her sleeve; the disapproving clack of her heels as she leaves a room – along with her rubbery, expressive features and great delivery are lots of fun. Golan brings warmth and a measure of complexity to Karen, who goes through several shifts of attitude and understanding in the course of the narrative.
But it is Yonit Tobi, as the not-quite-so-innocent ingénue Eve, who really won me over in this production – yet another reflection in this mirror-play of life and theatre. Her delicate, petite frame is an asset in this role, emphasizing her girlish simplicity in contrast with the elegant, yet somewhat hardened Margo. Tobi brings warmth and enthusiasm to her portrayal of Eve. Even this cynical writer, who was well acquainted with Eve's tricks and manners, was completely won over by her charm. Her interpretation of the role introduces a sense of ambiguity and depth to the character – yes, ultimately one knows that Eve is a scheming liar who will say and do anything to get ahead, but Tobi succeeds in convincing (this writer, at least) that her love of the theatre is genuine and passionate, and with that, she claims my sympathy and understanding.
While the male actors may feel somewhat neglected in this review, it's not for lack of appreciation – there were some fine performances by the men – but it really is all about the women.
All About Eve by Mary Orr, translated by Nir Erez and Aya Kaplan
Directed by Aya Kaplan
Set design: Yehudit Aharon
Costume design: Mony Madnik
Lighting design: Amir Brenner
Music: Dori Parnes
Choreography: Or Morag
Cast: Rama Messinger – Margo Crane; Yonit Tobi – Eve Harrington; Alon Ofir – Tally-Ho Tompson; Yaron Brovinsky – Clement Howell; Ron Biterman – Clement Howell; Shiri Golan – Karen Roberts; Amir Kriaf – Lloyd Roberts; Ora Meirson – Lyla; Adar Sidlik – Claudia Caswell; Lior Basson – Fibby, waiter; Idan Avisar – Harvey, stage manager; Koby Adert – George, stage hand.