What story does the article of clothing on your back tell? How about the jewelry and objects around you? Is it a tale of conformity or of individuality? Does it ignite sparks of a collective national trauma or conjure up the sweet fragments of a personal memory? Does it feel like a struggle in the face of a cruel urban reality or like relishing in the liberating flight of your imagination?
Last week, the Bezalel Academy of Art and Design's Fashion and Jewelry Graduates presented a remarkable array of artful exhibits, reminding us that the human wardrobe is filled with inspirational, and very intriguing, question marks. Sewing, cutting, casting, molding, drawing and printing, the artists have manipulated materials to show a wide range of conceptual pieces, all surrounding the human body.
This exclusive fashion show and exhibition took place last Wednesday, July 6, at Bezalel, Yaffo23 Gallery in Jerusalem, and featured the works of the Academy's 2011 thirty-six graduated of the Fashion and Jewelry Department. The minimalistic and bright interior design of the gallery complimented the exhibition; Flashes of video art were screened upon the walls; ambient sound design echoed in the halls; and neat rows of stylish hanging light bulbs illuminated the runway. The fashion show itself was a vital mix of attitudes toward materials and themes eliciting designs inspired by topics ranging from alternative silhouettes to gender driven ideas, from internal processes of the psyche to representations of current trends in the fashion world.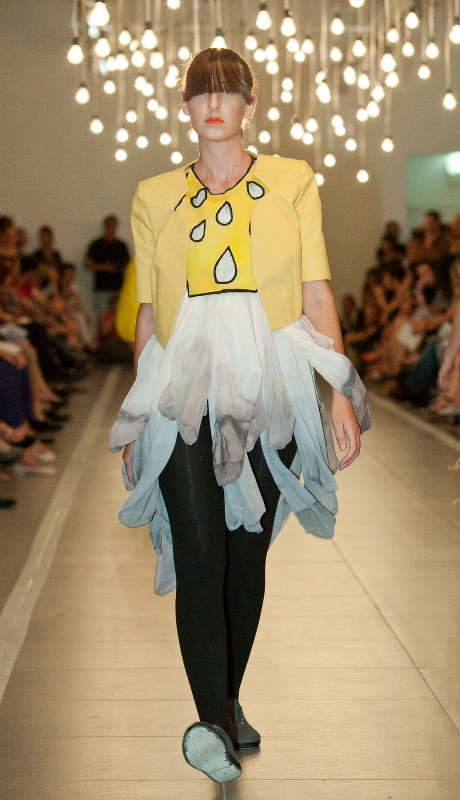 Fashion
Both Neta Dafna's collection, "More than Just a Garment?" and Maya Levy's "Globalism" address universal questions about fashion. Dafna's collection, portraying elaborate wrapping garments, stemmed from the artist's research into both the monastic and the consumerist cultures. Levy, on the other hand chose to examine the fashion-related cultural exchange and love-hate relationship between the East and the West. The garments exemplified a creative interpretation of oriental and Western styles.  Equally interesting contradictions were visible in other designers' works as well, which rather pertained to the intricate workings of the human psyche.
"Above and Under The Shell," a collection by Danielle Bitman, deals with the paradox which emerges following a post-traumatic situation, concentrating on the abysmal gap between a person's inner sensations and his or her seemingly unchanged external appearance. The garments, which were made with an eclectic set of materials such as trash bags, feathers, lace and linen, are half black and half white. Some resembled elaborate raincoats tied together with belts or metal chains. The dissonance between the internal and external selves is also apparent in "Please Act Accordingly", by Maayan Hod. The collection, which consists of different forms of mostly yellow-colored articles, draws its initial inspiration from the familiar and heavily clichéd "smiley" icon. The artist challenges the commonplace -yet utterly fake – façades of happiness. In "Me-mory", on the other hand, Tzela Presman Granot compares the dynamic workings of our memory's construction with the creative assimilation of her handbags, shattering conventional design.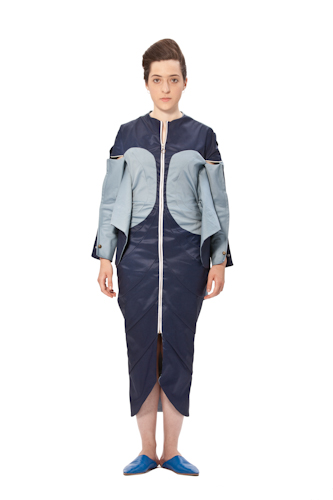 Looking for alternative body silhouettes and new formation techniques for garments was the objective of several other talented designers. In "Assia Remix", Asaia Weissberg fashions a disharmonic harmony with familiar and unfamiliar patterns, which vary in proportions. And both "Mechanical clothing", by Moran Ludrik, and "Seamless Form – Body as a joint", by Yitzhak Abecassis, successfully find ways of creating unconventional openings in their garments. The first collection allows the garment to open via force of a bodily gesture, and the latter inserted cuts in garments without a single seam or stitch, using a laser cutting technique. In "Volume in Process", Sivan Lee Waxman skillfully placed colorful structural iron elements on her models in order to create a radical new silhouette of the human body. The beautiful precision of these symmetrical constructions, which seems like an extension of nerves or DNA strands, burst out to extend the human form.
While Waxman builds the body up, Bettina Gurovich wants to take it apart. Gurovich's men's collection "Cease and Exist" is a product of her anatomical-medical research of the human body. The formal black and white pieces mean to examine the body as a sum of all its parts, rather than looking at it as a whole. Another collection of menswear, "Nature inside" by Adam Gefen – in which he combines elements from both urban scenery and wild nature – features organic textures with geometric forms.  A strong reference to nature is similarly seen in Sharon Golan's "My Shell" project, an incredibly inventive set of easy-to-assemble shoes made out of 16 modular parts. The parts are all inspired by the shell of the planet, mainly the layers of the earth's soil.
Some artists were inspired by Mother-Earth and others by their mothers, as is the case in "Women and Revolutions." Designer Mervat Hakroosh's mother was the first woman to ever dare to wear pants – instead of dresses or skirts – in the village of Dir El Assad. Her pioneer spirit drove Hakroosh to create a collection that bares a strikingly strong feminist statement, and is made predominantly of leather. Moran Levi, the creator of "The Power of a Body Part" also did not shy away from making her critical statement of a patriarchic society. Connecting wiry constructions to the models' bodies, she created a stirring exhibition of grotesquely shaped breasts. In the show she chose to place one of her creations on a male model, which appropriately refined the desirable effect of her statement even further. "Personal Belongings", a handbags collection by Ortal Reinish, also pertains to women, focusing on their constant need to carry intimate personal objects.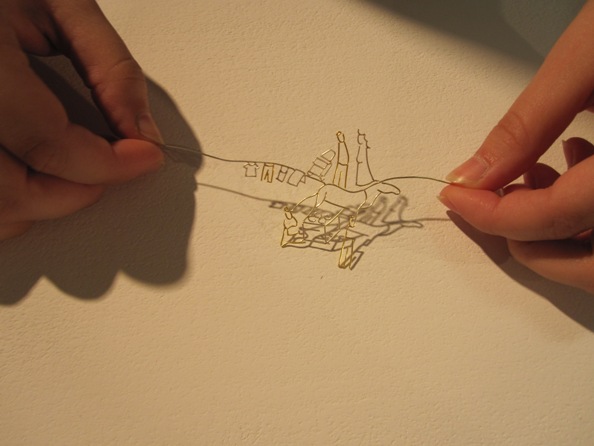 Jewelry
The Jewelry graduates certainly had their share of personal stories to tell as well. Shir Pins created a beautifully delicate collection of brooches, titled "They Say There Are Five Entrances to 8, Nathan Ha'navi Street." The address in the title is of the artist's home, where she paid close attention to every sound and din that entered from the busy street. She kept a diary of these sounds and generated imagined stories to accompany these urban "melodies", and then illustrated these reveries in fine lines of gold, sterling silver, and copper. It is a wonderful metaphor for the artist's state; the way he or she can delve into the smallest details of life and give them new meanings or identities.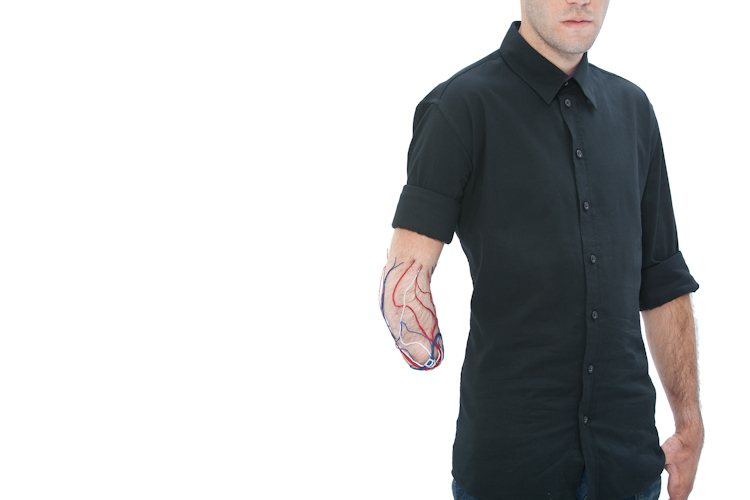 In Ester Klein's collection, "Tsitsiyot", the artist asks important questions about identities and the meanings and implications of being categorized. Using drawings, ready-made images, silver, and other materials, she cleverly brings forward the confusing hodge-podge of Israeli identities. Lulu Tehila Feinsilver rather chose to focus one recognizable identity of the Israeli landscape: the veteran. Her Jewelry series, titled "World War Me", is designed to evoke a dialogue about the place of war in our lives, and of the attitudes toward veterans who have lost limbs as a result of a war- injury. She created two jewelry pieces meant to be worn on a stump, and five lapel brooches, which allude to honorary military badges.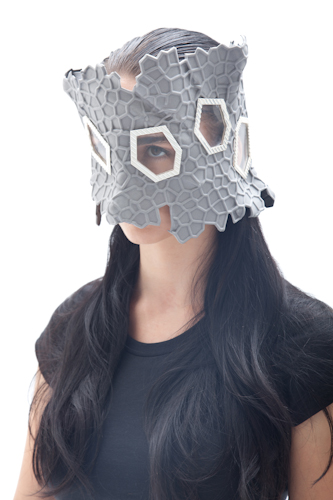 Addressing a different social issue, "An Urban Legend", by Moriya Kassis, deals with questions of assimilation versus individuality. Her set of vision accessories, both practical – she has stated that all are optically functional– and experimentally designed, examine human eyesight as a mirror for the soul. Using traditional casting techniques, as well as state-of-the-art 3D printing, she creates an interesting conflict between shapes and methods. Similarly, in "Fantasy of Cabbage", artist Keren Grinfeld meaningfully combines hand-made techniques on top of generic factory-made rings. In her work she examines her inner conflict between unique artistry and standardized industry, and has successfully found her middle ground to stand on.
Diving deep below sea level, Victoria Vainshtock and Doraya Avital, were both inspired by denizens of the deep. Avital's lighting fixture "Lumi – Luminous Connection", in which the contact between two units generates light, is inspired by the symbiotic interrelations of underwater creatures. It is possible to connect a large number – or an infinite number – of units to each other, and the result is a glowing organic-looking shape. In "Romantic Leftovers from the Sea", Vainshtock uses fish hooks, fish bones, nylon and silver tells the story of the journey sea creatures have traveled, starting from their mysterious habitat and ending up as leftovers.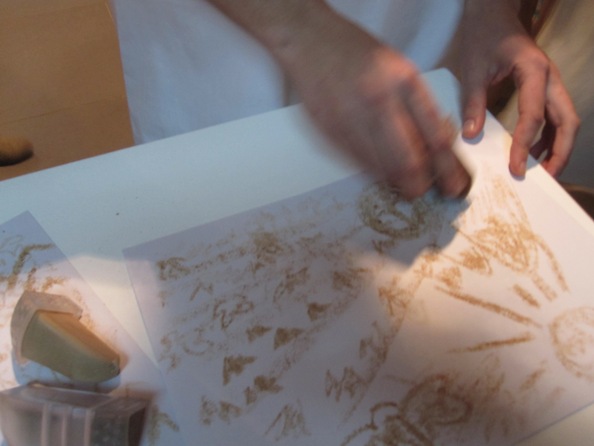 Memories of a different sort are also evident in Rinat Efrat Diamant's "Chocolate. Memory. Childhood." Diamant created molds in which chocolate coins can be made with an imprint of a childhood relic, a mold for a chocolate ball with childhood landscapes, and also a set of chocolate pencils to draw out and commemorate sweet moments of one's childhood. Dooby Abramovich also presented a sensory experience, with his series of objects pertaining to the uncontrollable passage of time. He contrasts the Western concept of time, which aims at moving through time as efficiently as possible, against the Buddhist concept of time, which sacrifices the moment.  His objects, made with 3D printing, aim at directing your attention to every fleeting second: a bracelet with which you can feel a pulsating beats, a beeping object to be placed on the head, and an interactive object which resembles a pocket watch.
After realizing that everything is ephemeral, and that we are all endlessly trying to chase time in vain, we can find a comforting refuge in artist Shirel Inglese's series of meditative objects, titled "Moments." Soft and delicate works made of leather, silk and taffeta, Inglese's objects create the sensation of interacting with something organic, like, for example, peeling a fruit or exposing the petal leaves of a flower. She wanted to slow the pace of urban everyday life, which is becoming increasingly demanding and cumbersome, and return, for just a little while, to a simpler existence. The Bezalel graduates certainly gave their audience precious moments to enjoy and reflect on their visions; the show was a truly delightful celebration of the human experience via the human body.